Power Floor Cleaning Equipment for Sale in Baltimore, Maryland Area
Don't trust just any scrubber for your Baltimore business. We offer affordable pricing on walk behind, compact, midsize and large industrial ride on floor scrubbers. We also offer sweepers for businesses across the Baltimore area (and beyond). Efficient and powerful scrubbers solve the problem of how to keep extra large areas or extra dirty floors clean on a daily or weekly basis. Bortek Industries offers scrubbers from today's leading manufacturers including Factory Cat and Powerboss. Floor scrubbers offer Baltimore businesses a more effective and efficient cleaning for their hard surface floors than could ever be achieved with a mop or broom.
---
The Best Scrubbers in Baltimore
Bortek Industries strives to lower the cost of cleaning with our quality line of floor scrubbers, setting the standard for superior performance in scrubbers. We only sell the brands that we believe in - the ones that we know will make our customers happy. Baltimore businesses can save time and money with the right equipment.
Contact Bortek Industries
to watch our floor scrubbers in action by requesting a free demonstration. Our knowledgeable sales staff would be happy to answer any of your questions. For efficient and reliable scrubbers, Baltimore businesses rely on Bortek Industries.
Scrubbers From a Local Company That Offers Continued Support
After your scrubber purchase, Bortek will stick with you and be available to continue supporting you!
Specialized Technicians, At Your Service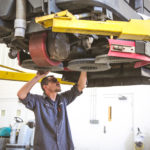 Our factory-trained service technicians are available to perform repairs or planned maintenance on your floor scrubber on-site or in our fully-equipped service center. If they see something you're doing wrong, they'll even give advice to help you run your machine more efficiently and help it last even longer.
Wearable Parts for Order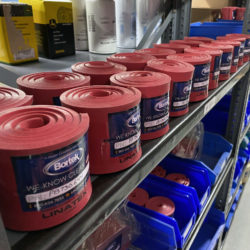 High-contact parts like brushes and squeegee blades will wear out over time. Bortek keeps a stock of the best OEM and quality aftermarket replacement wearable parts for industrial floor scrubbers. With Bortek as your convenient source of replacement parts, you'll be able to keep your scrubber cleaning like new, without downtime. You can
order floor scrubber parts online at BortekShop.com
. Not sure what you need?
Contact us and we'll help you identify the part you need
!
Scrubber-Safe Cleaning Detergents for Order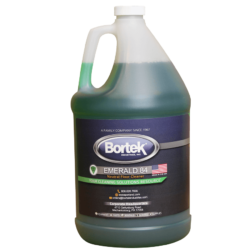 We're not just saying it; putting any old soap in your floor scrubber won't clean as well and can mess up your machine by creating foam that gets into the vacuum motor or agressively wears away seals and hoses. Instead, use a detergent that's specially designed for floor scrubbers.
Bortek floor scrubber detergents can be ordered online at BortekShop.com
.
---
Industrial Floor Scrubbers on Your Budget
If you don't want to buy a new floor scrubber or only need it for a short-term project, consider buying a used scrubber or renting a scrubber.
Floor Scrubber Rentals in The Baltimore Area
Rent an industrial floor scrubber of any size. Short-term and long-term rentals are available. We keep our rental fleet fresh with the latest models of floor scrubbers and thoroughly service them between rentals, so you can be confident that you'll be getting the best clean.
Check out our scrubber rentals here
!
Used Floor Scrubbers for Sale
Buy a used floor scrubber that fits your budget and your needs. Our specialist service technicians recondition pre-owned scrubbers before we list them online. Worn parts are also replaced with new ones as needed. These used scrubbers may come in from a customer trade or as retiring units from our rental fleet. With competitive warranties and accessible service and parts, you can buy used with confidence.
Shop our selection of used floor scrubbers for sale here
.
---
How Floor Scrubbers Work
At the most basic level, every floor scrubbing machine is designed to remove and contain dirt, soils, and grime from hard surface floors by following the same few steps:
Agitate the Dirt by dispensing a detergent solution through poweful spinning scrub brushes to loosen and emulsify the soils on the floor both physically and chemically.
Contain the Dirt by capturing the now dirty soap and water from the floor with a squeegee and vacuum system on the back of the machine. The dirty water is collected by the squeegee and vacuumed into a recovery tank for easy disposal, leaving a clean and dry path behind the scrubber.
Bortek Industries scrubbers work fast and efficiently to give you a better clean in a shorter amount of time. That means cleaner, safer floors and long-term savings from time saved cleaning.
Choosing a Scrubber for Your Baltimore Company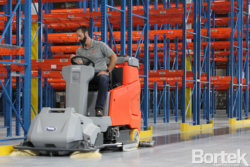 Your perfect scrubber will vary based on your facility's needs. To accommodate many applications, we offer walk-behind, compact ride-on, midsize ride-on and industrial ride-on floor scrubbers. Baltimore workers love how our scrubbers are designed for comfort and ease-of-use, but more importantly, for exceptional cleaning ability and tough as nails durability. Don't worry about figuring this all out yourself! The first step in buying a scrubber is for us to get on the same page as you to understand your unique needs. We'll check out your facility and recommend options based on your floor type, the soil type, and the area and frequency you'll be cleaning. You can
shop the industrial floor scrubbers available in your area
to get an idea, but you'll definitely want to
contact us and get a free survey and demo
. We'll prove that we've got what you need to solve the problem. Seriously, it'll blow your mind.
---
Other areas we serve: