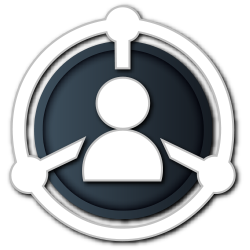 OUR AFFILIATES
LOCAL COMPANIES
Consistently Providing Quality Services
---
Here are a couple of our business affiliates that share our drive in consistently delivering quality products, customer service, and reliability to customers!

About Hammerhead Cleaning Equipment Company
Hammerhead was originally designed in partnership with its manufacturers and Bortek Industries in 2014. Noticing two of the major scrubber and sweeper brands in the US trending toward higher costs and a decline in quality, Hammerhead was formed to meet the demand for low-cost, high-performance cleaning equipment.
To provide a solution to customers with a more limited budget, Hammerhead follows the design philosophy of "Engineered Simplicity". Floor scrubbers and sweepers from Hammerhead are made for ease-of-use, accessible quality parts, and excellent cleaning ability. For those who don't need specialized add-ons and features, Hammerhead equipment focuses primarily on its core function: cleaning.
In 2019, Hammerhead Cleaning Equipment, LLC. was started as its own company, in order to give it full reign to build its brand and to give its customers across the entire US access to this focused offering through its website. Now exclusively online, everyone can access the value initiated by a tenured and reputable company in the cleaning equipment industry!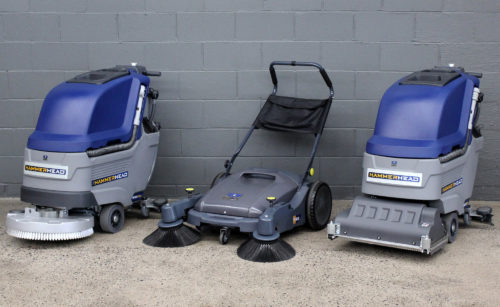 Shop Hammerhead Scrubbers & Sweepers
Floor Scrubbers
Hammerhead currently offers walk-behind floor scrubbers with either disk or cylindrical scrub decks. These scrubbers are compact, easy to operate, and provide efficient deep cleaning for virtually any hard surface floor.
See Hammerhead's current selection of floor scrubbers here.
Sweepers
Hammerhead's walk-behind sweepers pick up debris with ease. Go battery-powered with the rugged 900SX, or keep it extra simple with the collapsible 900MS manual sweeper. Either way, you can enjoy the comforts of the 21st century and give up the old broom and dustpan.
Check out Hammerhead's sweepers here.
---

As our affiliate, Central State Door Service (CSDoors.com) shares in our passion to provide you with the best solutions, products, and service in our respective industries. We both share a history as Central State Doors' president, Dan Boarman, is brother to Bortek's president, Jeff.
Dan was partners with Jeff for many years at Bortek until he tackled the opportunity to grow and build Central State into the brilliant company it is today. For decades, we've used these folks for all our door and leveler needs and quite honestly, they're the best at what they do.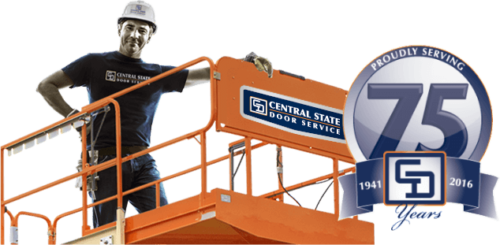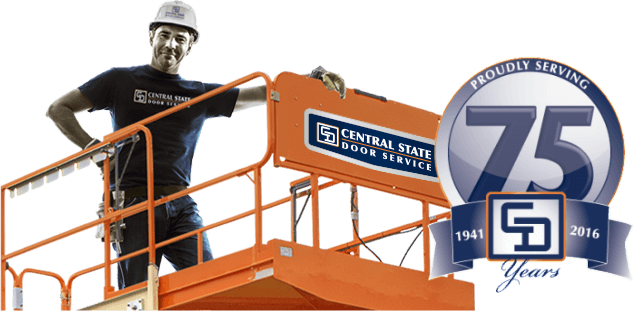 Central State Door Service has been a specialist in all things door-related since 1941. Based in Harrisburg, they proudly serve both homes and businesses throughout central PA, selling products and systems created by some of today's best-respected manufacturers.
They provide ongoing warranty and maintenance support for as long as you own your purchase. As mentioned previously, they also take care of all of Bortek's door sales and service needs and have enjoyed the mutually beneficial relationship that we've both fostered over the years!

Commercial and Industrial door systems have remained the core of their garage door business for over 75 years. To meet the needs of businesses in any industry, they carry one of the most diverse product lines on the market today. They offer everything from functional rolling steel doors to heavy-duty sectional products. Whether your priorities include maintaining strict access controls, keeping heating and cooling bills low or simply putting your best face forward to your clients, they can put together a complete package for your business.
Maintaining a streamlined workflow is an essential consideration in shipping and warehousing operations. Their dock levelers, restraint systems and other industrial door products are engineered to promote maximum efficiency in any operation.
To ensure your doors are performing at their maximum effectiveness, they provide door and accessory service to you. They even offer 24/7 support so that you're completely covered, should you need a helping hand.
Whatever type of door or accessory you are in the market for, trust Central State Door Service for the best products, expert installation and long-term support that helps you make the most of your purchase.
Contact them to get the quality door service and support that you and your team deserve!