Paper Mills & Manufacturing Facilities Cleaning Equipment
Effectively Clean & Maintain | Increase Productivity & Maximize Safety
---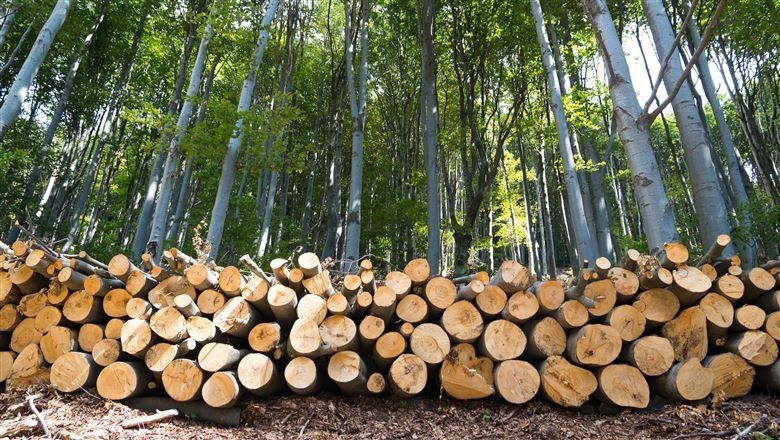 Paper products are likely one of the most often overlooked marvels of engineering. In the commodities market, prices are tight and margins are an exact science. Where the paper product industry thrives is in volume. Like most large-scale and high-volume manufacturing, the amount of ingenuity and engineering that goes into manufacturing the paper cups, plates, copy paper, toilet paper, paper towels etc. in order to keep up with demand is remarkable. The inside of these facilities are an orchestra of many machines and systems all working together, completely in sync.
The whole process starts with procuring the raw materials. The right way to start here is to begin the process by responsibly sourcing the raw materials through a sustainably managed forest. The procurement team typically separates this carefully selected timber into the classes of wood– hard wood and soft wood. Quick did-you-know: hard wood trees have leaves, while soft woods have needles.
Hard wood timber gets separated into three grades, reflecting the three sections of the tree. These grades include veneers, low grade, and pulp wood. Veneers are used to make cabinetry, flooring, and furniture. Low grade timber is typically used to make shipping pallets, railroad ties, rough cut frames for barns. Finally, pulp wood is used to make paper, mulch, and other products. A similar approach to separate the grades is made with soft wood timber, though with only two grades applied– construction lumber and pulp wood. Construction lumber is used to make things like decking boards, 2×4's for homes, and treated lumber. The other grade is classified as pulp wood and, you guessed it, can be used to make paper, mulch, and other products.
What we're interested in right now is that pulp timber. The hard wood and soft wood timber is transported and separately processed into wood chips. From there, it's sent to the paper manufacturing plant. As you can see below, every single hard and soft wood chip is dumped and sent to their respective collection area through a series of conveyers and equipment. Now the plant is set to actually begin the process of making the paper. Chips are sent up the conveyor into the digester where it's heated to over 170°C and treated to separate the pulp fibers. This "pulp" is then sent to be bleached in what's called ECF (environmentally chlorine free) chemicals, which is the standard now, as it is more environmentally friendly. This process turns the natural brownish hue to white.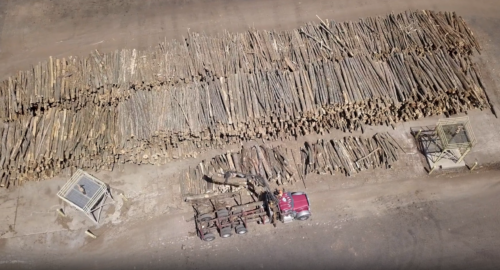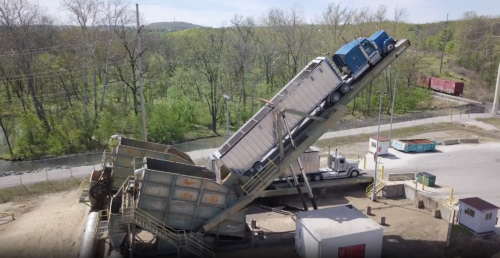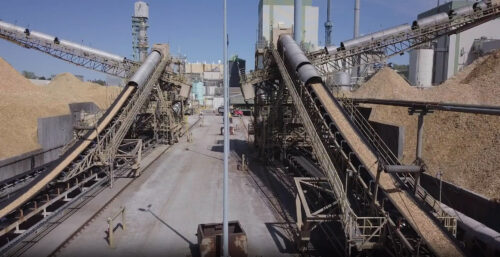 The freshly bleached pulp is then sent a massive paper machine where the soft wood pulp fibers are refined and mixed with specific proportions of hardwood pulp and other fillers to improve optical properties and consistency. This mixture is called the "furnish" and sent through up to four football fields' distance at up to 60mph througt the paper machine to remove the water and chemicals and turn into a solid sheet of paper. Starch is often applied to enhance printability as well. At the end of the road, it is wound onto a massive steel spool that can hold up to 15 tons and sliced into smaller spools to be shipped. These spools can also be sent to become other forms of paper such as reams of printer paper.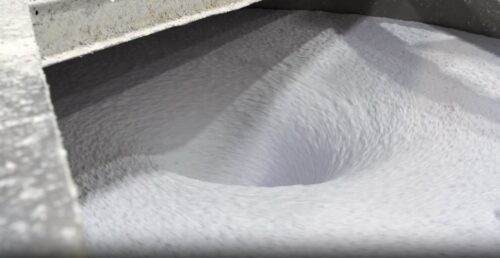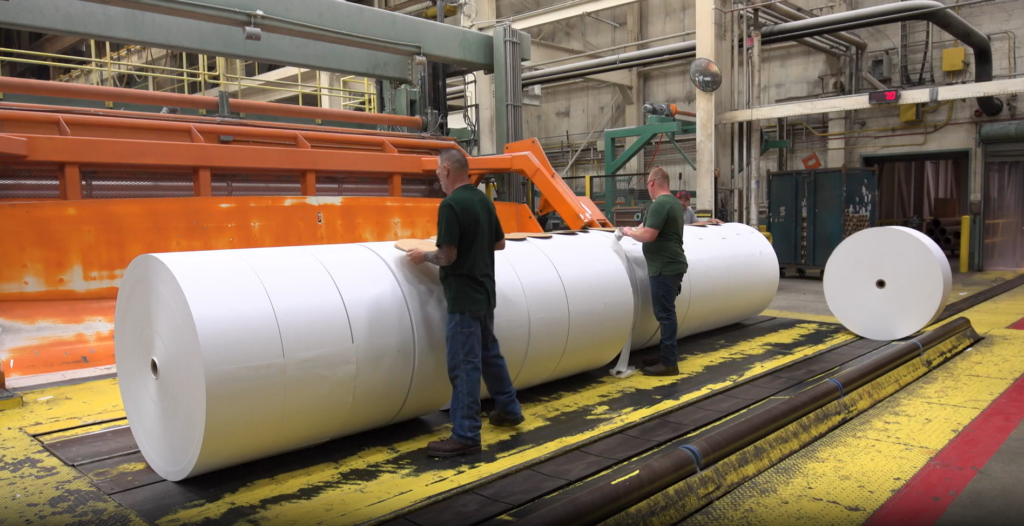 The rest of the giant rolls of customer-designated paper go to the next step in the manufacturing process to be used as the "raw material" to create things like paper plates, cups, and other containers for us to use. This is where the rolls are printed on, cut to size, then the foldable material is slotted into place. The automated manufacturing system takes hold and positions, folds, seals, glues, and packages a huge amount of product in a relatively short amount of time, with minimal supervision. This whole manufacturing process outlined is a general overview and we encourage you to do your research into the fascinating world of large-scale manufacturing.
Of course keeping the operation running isn't the only priority here. Worker health and safety is of the utmost importance. There are many hazards that workers have a chance of being exposed to. From the chemicals used in the process, wood dust, and potential molds. Bleaches and brighteners should be contained and kept away from workers, and any areas that house fumes and/or mists must be met with the proper PPE to mitigate those risks. Wood dust is a carcinogenic and absolutely must be kept under control. Always keep in mind when warmth, moisture, and lack of light come into a manufacturing facility, mitigating mold and fungus must be taken into account.
As has been more recently brought to the forefront of the country's attention, with 1 dead and close to 100 people impacted directly, a paper mill in Michigan was a victim of an outbreak of Blastomyces, a form of fungus. The spores, when inhaled, begin with common respiratory illnesses like a fever, fatigue, and a cough (like some other jerk we all know). People are often infected after inhaling dusts or debris from moist soil and decaying wood or leaves where this fungus thrives. Blastomycosis can be fatal, especially in people with weakened immune sysems or who are not diagnosed early on. Surgery could even be involved if the fungus infects the spine or other parts of the nervous system (The Last of Us?). All of this said, it is of vital importance that facility's cleanliness is a major factor in the operation. People provide the most value to any business and taking care of them should always be at the top of the priority list.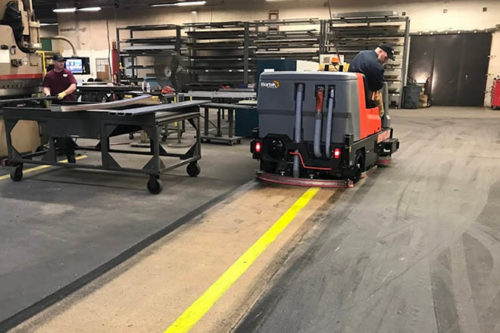 To keep these facilities running as efficiently as possible, regular maintenance to the machines and consistent cleaning is paramount. To keep the floors and large open areas clear of debris from the manufacturing process, ensuring a more efficient operation, only the most reliable equipment can be considered. From dust-free sweeping the pulp storage areas to scrubbing the loading dock, we've got you covered. Dulevo 6000 Revolution outdoor sweepers are sweeping powerhouses that have an unmatched level of built in dust control that is a perfect match for sweeping up large amounts of wood chips and dust and keeping said debris housed in its large onboard hopper– an excellent option for maintaining the outdoor areas of any paper manufacturing facility. Pair that with a PowerBoss Armadillo 9X with the Full-Dust-Control option, you'll reach every corner of your facility with maximum sweeping and minimal dust.
Any of the Factory Cat and PowerBoss Floor Scrubbers will pair perfectly with the areas around the paper machines that turn pulp into paper. Same goes for areas that are managing the actual creation of the paper cups, plates, and other products. Both lines of floor scrubbers are built to last and can handle the abuse that goes with cleaning demanding environments like a paper product manufacturing facility. An important aspect to think of, too, would be how your air ventilation is managed and cleaned. Delfin provides phenomenal solutions for facility wide air filtration– protect your lungs, you don't have any to spare.
Moving on towards the packaging, warehousing, and shipping areas, it is always best to pair an area like this with two machines– a sweeper and a scrubber. Now I hear ya, "but what about the sweeper/scrubber that does both in one pass?" As I will always say, those are great machines, but always keep in mind that unless you have a quality Planned Maintenance Program in place, it is likely that a machine will go down due to one problem or another. Having two machines ensure that's you're still able to at least sweep or scrub, depending on which machine is still up and running, every day. This will ensure your shipping & distribution operation will continue to run without interruption. That said, a great option to cheat that rule is the Scrubmaster B260 with the sweep option– the detachable sweeping module provides maximum flexibility to an already impressive level of clean. Overall the goal is to protect, maintain, and improve your operation while avoiding unnecessary production delays and/or shut downs and regular cleaning is a large part of that.
---
Paper Product Mills & Manufacturing Facilities Cleaning Equipment | 360° Cleaning
Industrial Rider Sweeper
Another favorite, the PowerBoss 9X provides a hugely effective cleaning ability for large facilities. Industrial Grade, steel construction ensures it can handle any heavy duty sweeping task tossed its way. Built with a large 62″ sweep path that can be increased to 77″ with the retractable side brooms. The 9X also has an optional MERV 17 HEPA filter for effective silica dust management.
LEARN MORE ABOUT THE ARMADILLO
Severe Environment Sweeper
The Dulevo 6000 Revolution Street Sweeper in a nutshell is known for its innovative design, robust construction, effective solutions for applications, and the large, unique waste hopper. This street and parking lot sweeper is the definition of cleaning perfection regardless of extreme temperatures, snow, rain, or shine. It will get the job done in all severe dust & debris environments.
LEARN MORE ABOUT THE 6000
Facility Vacuum Systems
Innovation, experience, and knowledge of the market provide you with specific solutions for every need. Delfin industrial-grade vacuum systems are absolutely essential for facilities & manufacturing plants by addressing hazardous & combustible dust, providing a safer way to clean, avoiding cross-contamination, mitigating slip fall concerns, and lifting/transporting of product.
LEARN MORE ABOUT DELFIN
Walk-Behind Industrial Floor Scrubber
Versatility best describes this battery powered floor scrubber. Large enough to be highly productive yet small enough to maneuver easily thought doorways and in confined areas. Add the ZerO3 Aqueous Ozone chemical-free cleaning system and clean better, chemical free leaving your facility shining and smelling fresh. The Mini-HD is known for its simple design and durable construction.
LEARN MORE ABOUT THE MINI-HD
Floor Sweeper/Scrubber
Every job site holds its very own challenges in terms of professional floor cleaning. Whether it is high levels of pedestrian traffic, particularly complex areas, cleaning during running operations or coping with various different production residues – the Scrubmaster B260 R masters each challenge perfectly & can be equipped with four different brush units that meet every cleaning need.
LEARN MORE ABOUT THE SCRUBMASTER
Need something short or long term? Explore our Paper Manufacturing Facility Cleaning Equipment Rentals
Source of Paper Manufacturing Process & Images: Pixelle