Factory Cat Sanitation- Floor & Surface Cleaning and Disinfecting
Specifically designed to Effectively and Efficiently disinfect your facility's Floors & Hard Surfaces that experience high amounts of touch/foot traffic.
While the rest of the industry drags their feet, Factory Cat is pioneering specific tools for you to use in order to combat the COVID-19 Coronavirus. And we're here to hook you up. These lean, mean, safety-green cleaning machines are perfect to effectively and efficiently clean and disinfect your floors and, paired with the 100 PSI Disinfecting Spray Gun, additional surfaces your team and customers may come into contact with.
According to the CDC, your floors are.. well, they're pretty gross. These often overlooked surfaces harbor a ton of bacteria and other contagions than most any other hard surface in your building– leading to a higher risk of infection or illness (just think about what you might be tracking into your own home!). Fortunately, we're here to help! Regular cleaning goes a long way to fix that problem. Regular disinfecting protocols go even further.

The focus at the moment seems to be a lot on the "now," to include wiping down high touch objects (door knobs, light switches, hand rails, microwaves, etc.). Which is hugely important, so seriously– keep doing that, but let's think about the "next step" — particularly for the folks who were forced to close their doors. Are you prepared for your awesome employees to come back to work? Will they be safe and remain healthy? Have you taken steps to ensure there's not a chance of infection?
Our Factory Cat Sanitation Line of cleaning equipment are the perfect tools to do just that. It's simple to clean your floors and disinfect surfaces at the same time, ensuring they're safe for folks to interact with. Scrub your floors and use your on-board Spray Gun to disinfect tables, work benches, light switches, common areas, etc. with minimal effort!
Effectively Clean & Disinfect Your Entire Facility with One Machine
Ordinary tap water in the solution tank is transformed into aqueous ozone, which, like chlorine, is a powerful oxidizer. The 3-gallon tank installed on the front is dedicated to approved disinfectants, which can be applied to surfaces with the 100-psi Handheld Spray Gun.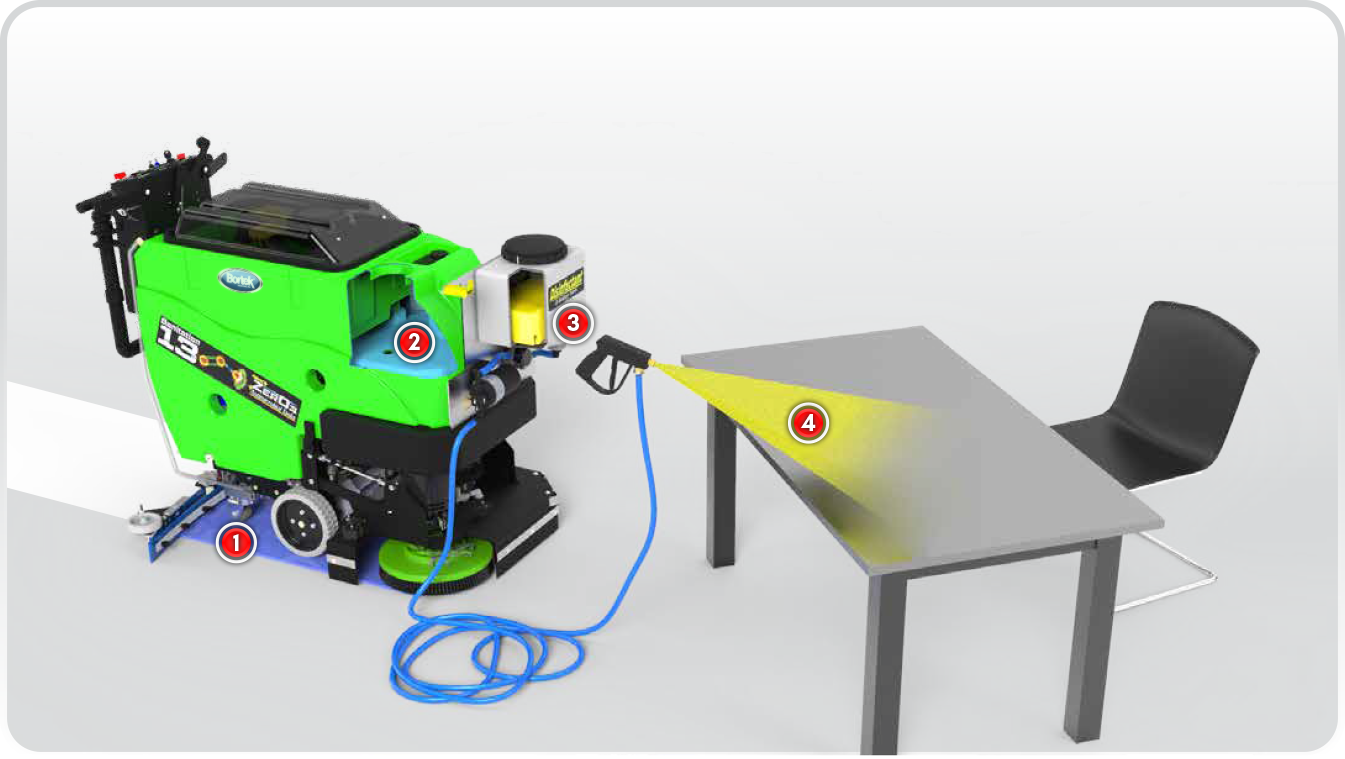 1-
Here you have the
Aqueous Ozone
, supplied by the on-board
ZerO3 System
. We'll just say it, this tool is awesome. You literally electrocute standard water to create ozone. That SPLITS the O
2
in the water and creates individual O
1
molecules– these attach to the remaining O
2
molecules, creating O
3
. These temporary passengers then jump off when they touch a contaminate and oxidize its cell wall, effectively killing said contaminate. You've essentially got a thunderstorm rolling around with you in these machines.
2- Simple tap water loaded up in the Solution Tank that powers the ZerO3 System (your personal thunderstorm). This can also be a mixture of water and your favorite disinfectant or cleaner. Your thunderstorm doesn't discriminate. Two birds, one stone.
3- Optional Misting Disinfectant System with a 3-gallon tank. This feature can be easily removed and stored, if you'd like to use at a later date. This keeps things simple, scrub the floors and disinfect common areas as you go!
4- 100-PSI Spray Gun mists disinfectant onto commonly used areas– effectively killing any contaminant and eradicating the risk for infection. No need to walk around and individually clean light switches with a paper towel or wipe. Spray and go, folks. Spray and go.
Our Factory Cat Sanitation Package Options
Each machine equipped with a the Sanitation Package arms you with the best tools to safely and effectively disinfect and clean your facility, ensuring it's safe for your employees and customers to get the job done. Below are our recommended Sanitation Options. Keep in mind, you can pick and choose your sanitation options here, however you can get these at a reduced rate if you purchase the full Sanitation Package.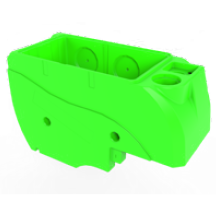 Antimicrobial Tank
– Molded with special additives to kill or inhibit growth of bacteria and fungi.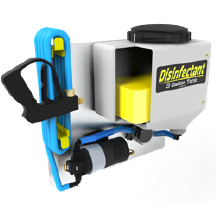 3-Gallon Disinfectant Tank & 100-PSI Spray Gun
– An independent, 3-gallon Tank with 15′ hose & Spray Gun, for approved disinfectants at full concentration.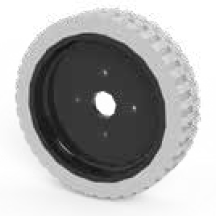 Non-Marking Gray Tires
– For sensitive or easily marked up floors.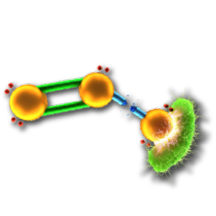 On-Board ZerO3 System
– Supplies aqueous ozone at 1.5 ppm to scrubhead only and allows for replacement of many detergents (chemical-free cleaning).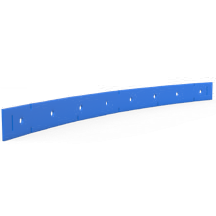 Urethane Squeegee Blades
– Able to withstand Ozone.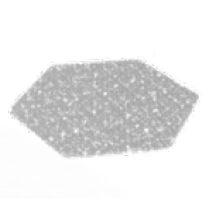 0.2 Micron Vac Filter
– For improved airborne contaminant capture.
---
Factory Cat Sanitation Cleaning & Disinfecting Equipment Specifications
Optional 3-Gallon Disinfecting Tank With Spray Gun.
#13 | 24″ Orbital shown
#21 | 28″ Disk shown
#30 | 29″ Cylindrical shown
#46 | 33″ Cylindrical shown
Disk Scrub Path:
17″, 20″ & 26″
43.2, 51 & 66 cm
26″ & 28″
66 & 71.1 cm
30″ & 34″
76.2 & 86.4 cm
30″ & 34″
76.2 & 86.4 cm
Cylindrical Path:
25″
63.5 cm
25″ & 29″
63.5 & 73.7 cm
29″ & 33″
73.7 & 83.8 cm
29″ & 33″
73.7 & 83.8 cm
Orbital Path:
20″ & 24″
51 & 61 cm
24″ & 28″
61 & 71.1 cm
28″ & 32″
71.1 & 81.3 cm
N/A
Dimensions (L x W x H):
* Dimensions listed are for the largest width deck configuration and squeegees removed from the machine
45″ X 21″ X 39″*
114.3 x 53.3 x 99.1 cm
52″ X 22″ X 40″*
132.1 x 55.9 x 101.6 cm
55″ X 26″ X 40″*
132.1 x 66 x 101.6 cm
62″ x 32″ x 57″*
157.5 x 81.2 x 144.8 cm
Solution Tank:
13 Gal
49.2 L
21 Gal
79.4 L
30 Gal
124.9 L
46 Gal
174.1 L
Recovery Tank:
15 Gal
56.8 L
23 Gal
87 L
32 Gal
117.3 L
49 Gal
185.5 L
RunTime:
* Based on continous scrubbing, ntimes, standard batteries, low down pressure and all options off
Up to 2.5 Hours*
Up to 3.5 Hours*
Up to 5 Hours*
Up to 5 Hours*
Theoretical Coverage:
* Coverage is based off ISSA 2010 Cleaning Times
27,027 ft2 / hour*
2,510.9 m2 / hour*
27,027 ft2 / hour*
2,510.9 m2 / hour*
31,915 ft2 / hour*
2,965m2 / hour*
46,875 ft2 / hour*
4,354.8m2 / hour*
---
New Sanitation Spray Bar & Handheld Gun on Factory Cat Riders
Factory Cat, always looking out for you, has developed an aftermarket spray bar and wand with V-tip system that's perfect for sanitizing your facility as you clean your floors on your rider (like the Factory Cat XR, Pilot, GTR, or GTR-XL).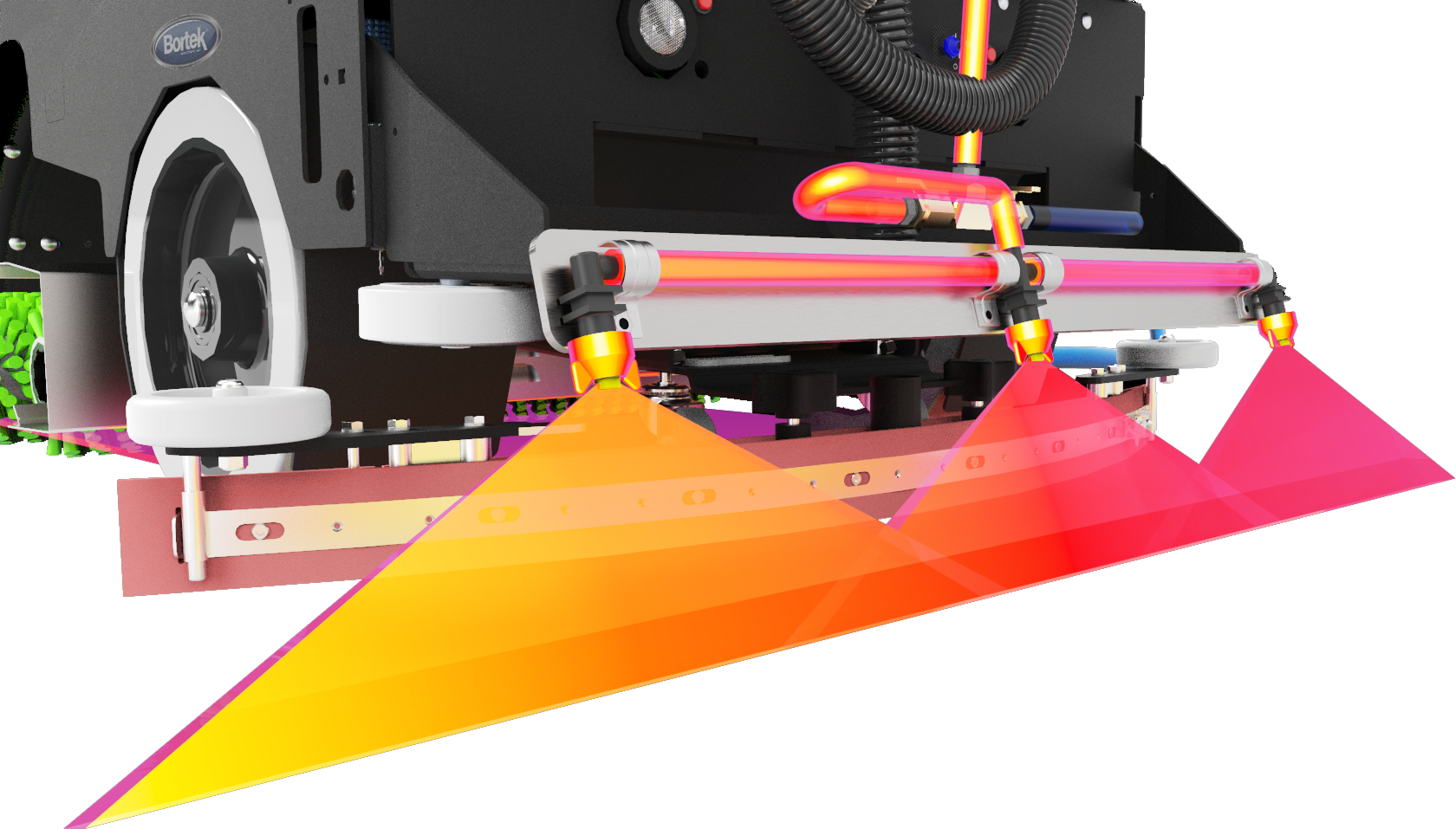 ► Spray Wand w/ V-tip – Plumbed to Solution Tank for Disinfectant use
► Rear Spray Bar – Plumbed to Solution Tank for Disinfectant use
► Convenient & Simple solution to clean & disinfect your facility
► Supplied to you by Factory Cat, an industry leader in quality, reliability, & effectiveness
► Can be installed on the machine you already have
Factory Cat Spray Bar Attachment & Misting Spray Wand
Complete Disinfection Package for Maximum Coverage
This bundle complements the exceptional cleaning effectiveness of your Factory Cat Pilot, GTX, and GTR. The Misting Spray Bar simply attaches to the rear of your machine and the spray wand hooks right up to your hose option. This allows for you to operate your machine and clean your facility while having four cleaning methods to make use of to do so!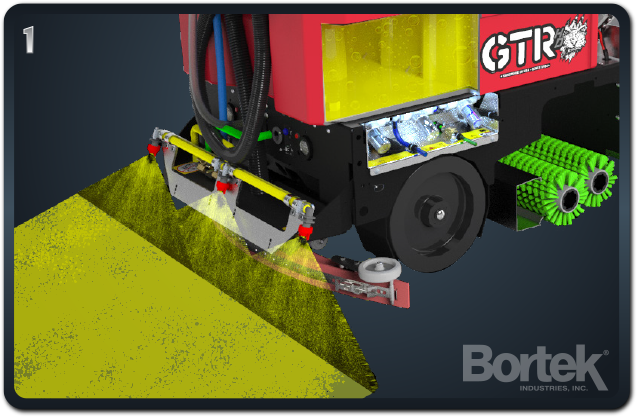 Cleaning Mode 1: Spray Bar
The operator independently uses Rear Spray Bar ONLY to spray approved chemical at 62,000 square feet per hour, and full shift of operation on a charge. Over 500,000 square feet of floor surface treated in an 8-hour shift.*
*GTR with 12″ fwd spec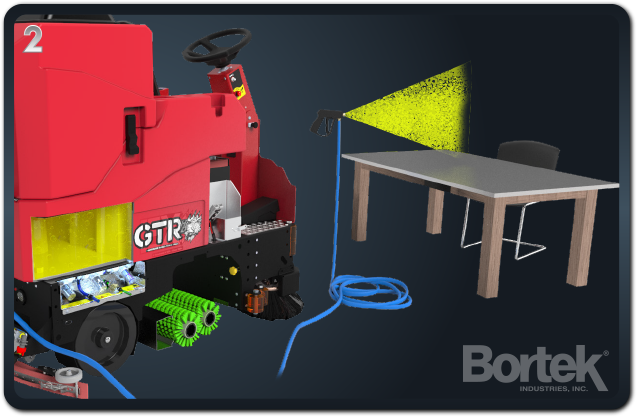 Cleaning Mode 2: Spray Wand
Handheld remote spray wand with 100 PSI misting V-tip (0.8 GPM) allows operators to clean up to 15 ft away from the machine. Reach all your high-touch surfaces such as: doorknobs, chairs, elevator buttons, stair railings, restroom surfaces, material handling equipment and more.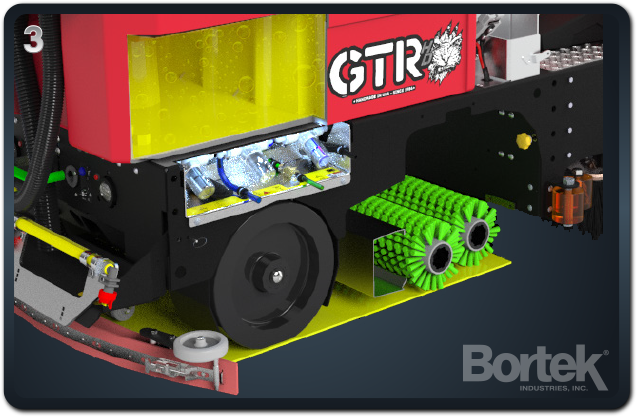 Cleaning Mode 3: Scrub & Dry
Traditional Scrubbing and Drying in a single pass, with the Rear and Handheld spray systems OFF. This is how the machine will be used most often, so you're not investing in a single purpose spraying only machine.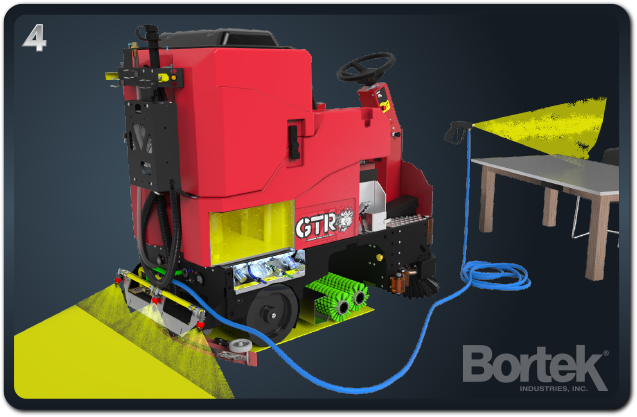 Cleaning Mode 4: All On
Combine Floor Scrubbing and Drying with the application of an approved cleaner behind the machine. Our fine tips provide complete coverage for dwell time, but acceptable drying time so the floor is ready for traffic soon.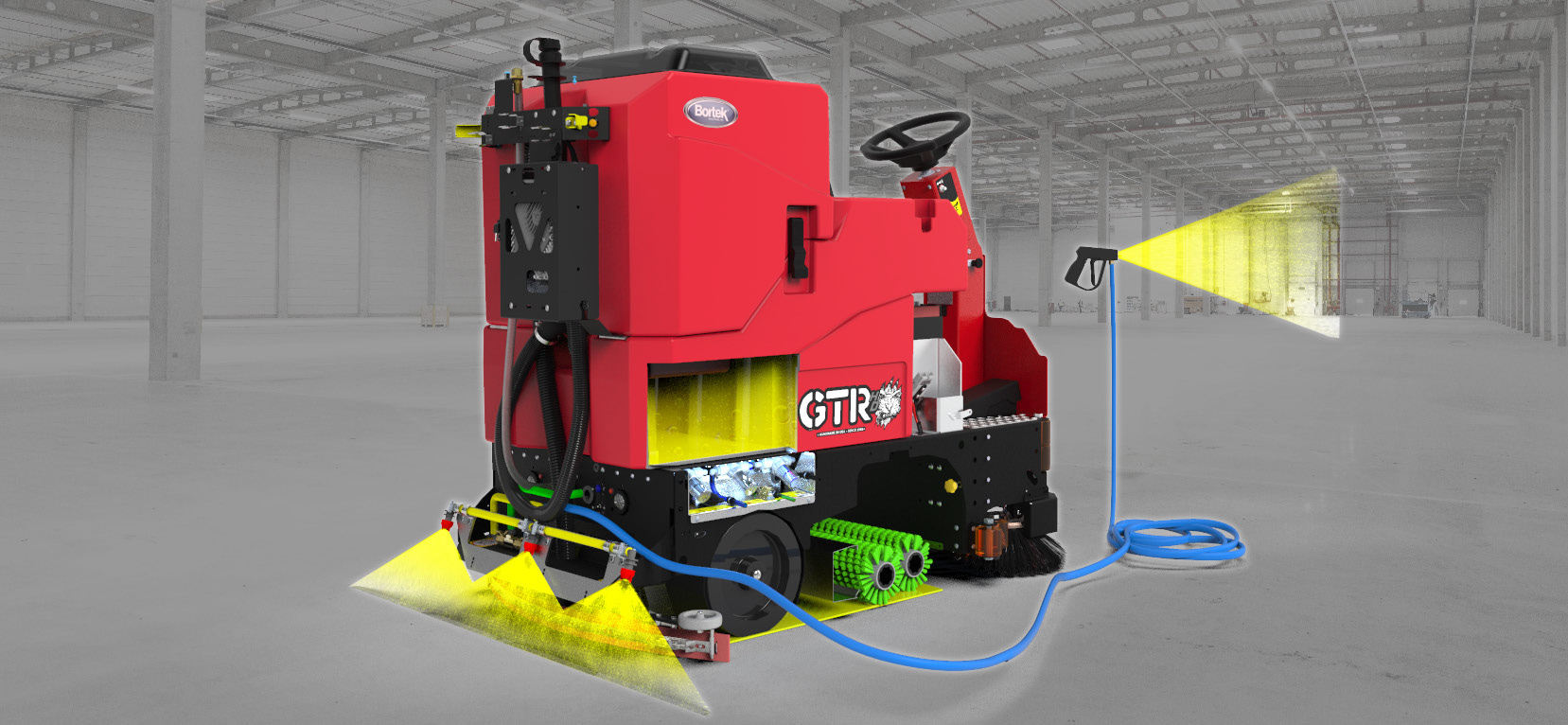 ---
If you're diggin' what we're showing you here, be sure to check out the rest of our selection of Floor Scrubbers, Sweepers, Street Sweepers, Commercial Equipment, Vac Trucks, and Hydro Excavators here! You can also take a goosey gander at more Facility Disinfection & Sanitizing Machines here! These machines are highly effective, reliable, & efficient and simply perform. You really gotta check these out!
On a budget? We dig. Check out our Pre-Owned & Reconditioned Equipment Here! We have each machine thoroughly inspected, parts replaced, power washed, dried, painted (if needed), massaged, read a bedtime story, and sent off to their next home! Wow, you read that? Most folks don't get past the link.. I'm.. I'm a little embarrassed now. These machines really are a great value, though. No joke!
Maybe you just need a little somethin' somethin' to use temporarily– Great! We have a wide selection of Cleaning & Municipal Equipment ready for rent! Our Rental Program is comprehensive. Floor Scrubbers, Sweepers, Street Sweepers, Hydro Excavators, Vac Trucks, etc. are all current models, well-maintained, and ready for you to nab and take for a spin. You can schedule daily, weekly, monthly, or long-term "spins," whichever works best for your situation!
*panting* You're still reading? Thought for sure that info about Rentals would've grabbed your attention. It's cool, I'm glad you're here. Want to chat? Do you need help finding something in particular? We're happy to assist! Simply give us a call, e-mail us, or fill out a contact form! Looking forward to hearing from you. Stay safe!