Foundry & Metal Recycling Power Cleaning Equipment
Maintaining Cleanly Swept Floors in Industrial Environments
---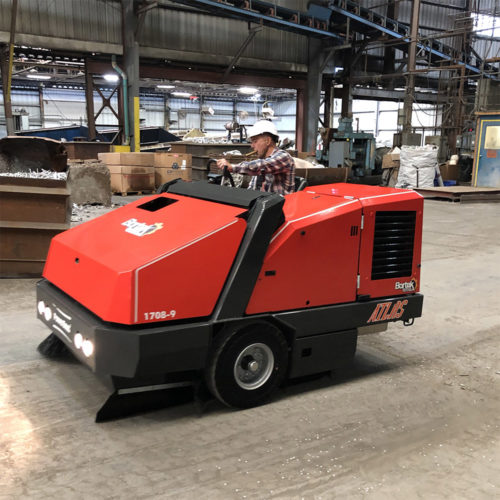 The dust, shavings, and small debris generated from scrap metal recycling or other foundry work inevitably accumulate on the factory floor. When all this dirt and bits of metal accumulate at such a rapid rate over such a large area, cleaning it can seem like an impossible task. But even in a work environment as tough as a foundry, keeping clean floors under control is an essential part of the operation. Not only does a cleaner work environment demonstrate the order and efficiency of the facility, it also helps to provide safer paths for foot traffic and to collect and contain dust.
Fortunately, there are industrial-grade sweeping machines that are designed specifically for this purpose. The variety of available sweeping equipment can accomodate indoor and outdoor areas, narrow and wide paths, and can run on battery, gas, or diesel. No matter the type of factory, foundry, or recycling facility, we're here to help you find the ideal solution to your big cleaning problems. Get an idea of what's available below and then get in touch to find out more about pricing, customization options, and a free demonstration at your facility.
---
Industrial-Grade Sweepers | For dry sweeping your foundry or recycling facility
Large Factory Floor Sweepers | For Heavy Duty Power Sweeping
Looking for Rental Cleaning Equipment for Your Foundry?
---