About Us
It's About You!
Since our start in 1967, Bortek Industries, Inc. has been all about providing solutions for our customers' maintenance, cleaning, and sanitation needs. We understand that every situation is unique - and we have the experience and options to accommodate. We are customer service focused in every part of the business - from our delivery drivers to our technicians. We're happy to assist you!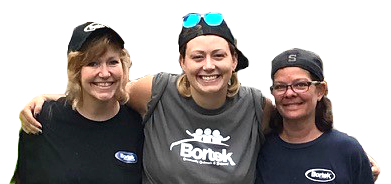 Our History
Family Owned. Family Operated.
Founded by Gerald Boarman, Bortek Industries began as "Janitor Supply House" located in Harrisburg, PA in 1967. Ever since, we've been growing, adapting, and influencing the cleaning industry across the northeast. Headquartered in Mechanicsburg, PA since the early 70s, now with the help of four additional locations, we bring cleaning solutions across Pennsylvania, New York, New Jersey, Connecticut, and beyond. Over all these years, we've worked hard to be your best cleaning resource - from "janitor supplies" to street sweepers and floor cleaning equipment.
First in Power Cleaning Equipment®
Street Sweepers to Floor Scrubbers
Buy, Rent, and Service
If you're looking for heavy-duty cleaning machines, you've come to the right place. Street, parking lot, and floor care is our specialty. No matter the surface, we can help you find the perfect tool for the job, whether it's a street sweeper, floor scrubber, sweeper, or industrial vacuum. We want what's best for you, so we've got new and reconditioned machines available for both sale and rental.
Get Clean, Stay Clean
Even after you're equipped to clean, Bortek's got your back. We offer convenient and reliable planned maintenance, replacement parts, and competitive warranties to make sure you get the performance you want - and keep it that way. It's all thanks to our friendly and factory-trained technicians. Seriously, we love our team and our customers do too.