OEM & AFTERMARKET PARTS
EQUIPMENT PARTS YOU CAN COUNT ON
We carry an extensive array of both aftermarket & OEM parts for your equipment. Whether you need a fresh set of brushes or brooms, acompletely new engine, sewer maintenance tools, or a simple little bolt, we've got you covered. We'll take care of everything and get you the parts & accessories you need to keep your machine up and running at peak productivity!
Industrial Cleaning Equipment Parts from Bortek
Why order from Bortek?
We sell replacement parts for just about every brand and model of Floor Scrubber, Sweeper, Street Sweeper, Jet/Vac Combination Sewer Cleaner, Water Jetter, and Hydro Excavator.
Our parts inventory is stocked with the most common wearable parts for industrial, commercial, and municipal cleaning equipment, and we can also provide more unique parts for repairs as needed.
We sell both OEM and quality aftermarket parts.
We have over 50 years of cleaning industry experience! Our service technicians are factory-trained and specialize in scrubbers, sweepers, and street sweepers. We know these machines inside and out, and are happy to share our knowledge with you to get you exactly what you need. We also do repairs and maintenance.
---
Order Parts
---
Equipment Manuals
---
Replacement Parts for Sweepers, Scrubbers, Street Sweepers from:
PowerBoss
Tennant
Factory Cat
Schwarze
Global Environmental
Johnston Sweepers
Stewart-Amos
Nite-Hawk
and pretty much everything else!
Parts and repair service for Hydro Excavators, Water Jetters, and Combination Jet/Vac Sewer Cleaner Vehicles from:
Aquatech
Hi-Vac
O'Brien
X-Vac
Vac-Con, Inc.
Vactor
USB-SEC
---
Common Replacement Parts for Scrubbers and Sweepers
For best cleaning performance, and to avoid damage to your machine, be sure to maintain and replace wearable parts as recommended by your machine's manufacturer.
We recommend keeping your own stock of the most common parts on hand, to minimize potential downtime. Consult your machine's user manual to learn about how to best care for your scrubber or sweeper, and to identify part numbers.
While there are hundreds of parts for various models of floor cleaners, the following are the most well-known and most likely to need attention:
Engine Air Filters and Oil Filters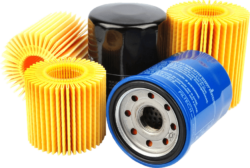 For sweepers in particular, we highly recommend investing in a quality air filter, especially in dust-heavy facilities. Whether OEM or aftermarket, just make sure you get a good one. Filters are in place to prevent dirt that is collected from the ground to access the motor. Therefore, a blocked filter could affect airflow or eventually wear out, which could damage the motor of your cleaner. Filters can and should be cleaned after each use, and you should replace them when they become brittle or old. Check the packaging of your filters for more information — each filter has its own recommendations for usage. Some filters can be rinsed with water, and others are not replaceable.
Scrubber Squeegee Blades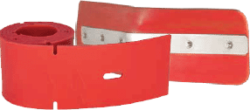 One of the most important floor scrubber parts is a squeegee blade. These rubber blades attach to the machine and are used to wipe liquid from flat, smooth surfaces. When used in combination with a pressure pump, squeegee blades release grime from the floor and wipe it away to create a clean, new surface. If your floor scrubbing machine is starting to leave lines of dirt or liquid behind after use, it could be a sign that a squeegee blade is beginning to wear down (or that
it needs to be adjusted
). If the squeegee has holes, tears, or cracks, or seems brittle, it should be replaced. New blades should be the same size as the blades being replaced. The user manual of your machine should describe the replacement process in detail.
Scrubber Brushes & Sweeper Brooms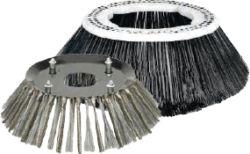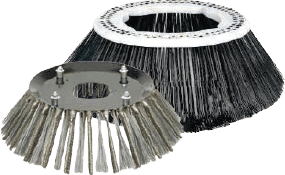 Machine Batteries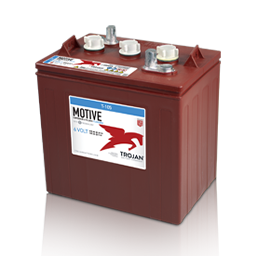 When it comes to your equipment, powering your machine should be easy, effective, and efficient. That's where we come in. We provide you with a dependable source for your equipment's power needs. Everything from the batteries & accompanying chargers, on down to the cables, terminals and maintenance items– your machine will always have the power it needs to provide you with maximum uptime. We work to ensure you get the quality products you deserve so powering your machine doesn't have to even be a concern. As such, we care the best brands you know– such as Trojan Battery, Ultra Power, Interstate, Fullriver, Flow-Rite, and more!
Try the Battery Finder to identify the battery your machine needs.
Equipment Belts and Chains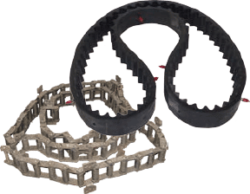 When vacuums, floor scrubbers, extractors and other pieces of cleaning equipment operate, they generate heat. The heat from regular use causes rubber belts inside of the machines – belts that allow for smooth operations – to stretch and slip. Because these belts are responsible for spinning brushes and other cleaning mechanisms, a machine with an old belt won't function as effectively as one with belts that are changed regularly. Belts are critical and should be checked regularly. You can replace them every 6 months to one year, depending on use.
Scrubber and Sweeper Accessories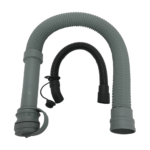 Attachments and accessories can get lost or damaged due to their external or detachable nature. When any of the variety of parts tailored for your specific cleaning application wear out or go missing, let us help you find a replacement.
---
Contact us today! We're ready to answer your questions, and we're happy to assist in the maintenance, parts, and buying processes.