Are You Looking to Upgrade Your Fleet of Cleaning Equipment?
After repeated use over an extended period of time, even the best-built industrial cleaning equipment will need to be replaced, or at the very least, repaired. Additionally, as technology evolves, what were once reliable machines might have to be sold to make room for newer models simply because newer ones allow cleaning technicians to be considerably more productive.
By making use of new cleaning equipment, you are not only making sure that the floors of your facilities sparkle, you're also reducing the likelihood customers or employees will be injured by slipping and falling on an unclean or slick surface. Beyond that, new cleaning equipment — while carrying a heavier price tag upfront — will likely save you money down the line as you won't have to worry about incurring unforeseen repair costs on a regular basis.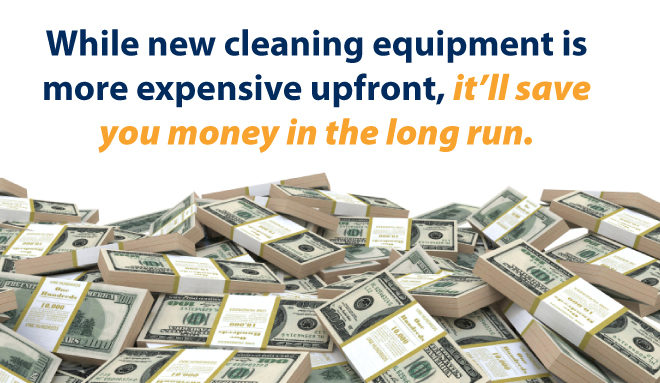 If you've recently noticed the industrial cleaning equipment you've relied on for years is no longer getting your floors as shiny as it used to, there's a good chance it's time to trade in your older equipment and grab some new machines.
At Bortek Industries, we're happy to carry a complete line of industrial cleaning equipment, including:
Floor scrubbers. From small walk-behind scrubbers to the largest ride-on scrubbers, we carry a comprehensive selection of some of the best scrubbers on the market today. No matter the size and scope of your facilities and projects, we've got you covered at Bortek Industries.Our offerings include models from HammerHead®, Advance, Clarke, Viper Fang, Factory Cat and PowerBoss®. You'll have no problem finding the machines you need to get the job done right when you shop at Bortek Industries.
Floor sweepers. Whether you have small, narrow aisles to sweep or enormous factory floors, you'll find the sweepers you need to produce the cleanest floors at Bortek Industries. Just like our selection of scrubbers, we have sweepers of all shapes and sizes.Choose from our offerings of Advance, Clarke, Factory Cat, PowerBoss® and HammerHead® machines once you figure out the size of the sweeper you need as well as whether you prefer a ride-on or a walk-behind machine. You can also choose between sweepers that are powered by gasoline, diesel, battery or LP.
Sweeper/scrubbers. The best of both worlds, combination sweeper/scrubber machines make your cleaning technicians' jobs incredibly easier since they're able to cover a lot of ground quickly without having to deal with two separate machines.Bortek Industries carries a complete line of this equipment, including PowerBoss®, Advance, Clarke, HammerHead® and Factory Cat. Again, you're able to choose whether you want a walk-behind or a ride-on machine, as well as what kind of power source your sweeper/scrubbers should have — battery, gas, LP or diesel.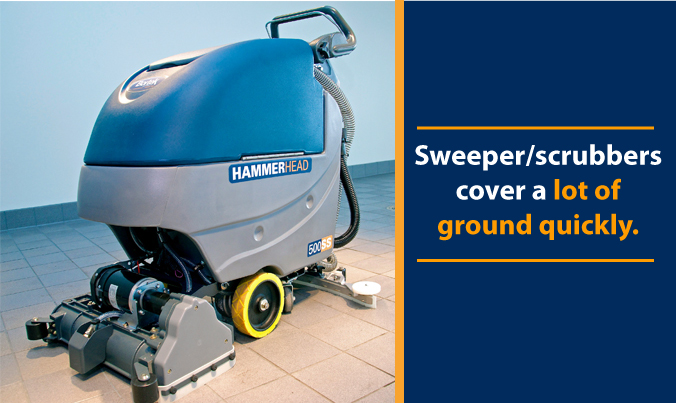 Floor machines and burnishers. Have you noticed your floors are looking a little duller than you'd like? If so, it might be time for you to treat them with floor machines and burnishers to polish them up and make them more attractive. Bortek Industries carries a sizeable line of floor machines and burnishers, including models made by Advance, Fusion, Pioneer Eclipse®, Viper, Clarke, FM and Ultra Speed®.Choose between walk-behind and ride-on equipment, as well as whether you want battery-powered, electric cord-powered or propane-powered machines.
Carpet extractors. In order to get your carpets as clean as can be, you need to put carpet extractors to work. Using a combination of cleaning supplies, heat and suction, such machines provide the deepest level of cleaning possible, helping restore your carpets to like-new condition.At Bortek Industries, we carry a large line of extractors, including The Torrent®, as well as machines made by King Cobra®, Advance, Clarke, Viper, BEXT® and more. In addition, we carry carpet dryers and tools to clean upholstery and drapery, among other related items.
Vacuums. Bortek Industries carries a wide selection of vacuums made by Clarke, Nilfisk, Advance and Viper, so no matter the specific demands of your facilities and grounds, we've got them covered. You'll find we carry countless varieties of vacuums, including backpack vacuums, canister vacuums, industrial explosion-proof vacuums, industrial coolant vacuums, industrial standard pneumatic vacuums, industrial specialty vacuums, industrial three-phase vacuums, rider vacuums, upright vacuums, walk-behind vacuums, wet/dry vacuums and more.Our lightweight and powerful vacuums will certainly get the job done. Your floors will thank you.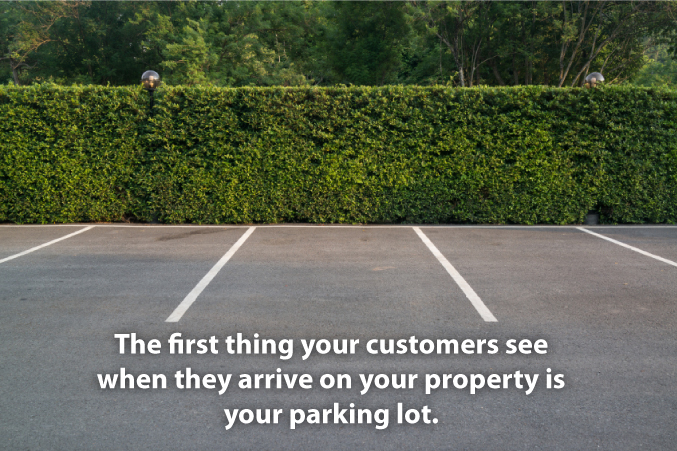 Parking lot sweepers. The first thing your customers see when they arrive on your property is your parking lot. While you might not think too much about it on your own, ask yourself a simple question: What kind of impression would you get if you arrived at a business only to find a parking lot cluttered with dirt and debris? Chances are it wouldn't be a great one.Bortek Industries also carries a full line of parking lot sweepers, so you can rest comfortably knowing your customers will be less likely to slip on something or damage their cars in your lot. We carry Advance, Nite-Hawk and PowerBoss® models.
Street sweepers. In order to maintain pleasing aesthetics and reduce the likelihood accidents will occur on your grounds, it's recommended you make use of a street sweeper to keep your industrial complexes clean.Bortek Industries carries a collection of powerful and efficient street sweepers, including models made by Nite-Hawk, Stewart-Amos and Wayne brands. With so many different models to choose from, you are certain to find the exact machine you need for your specific applications.
Floor care chemicals. We also carry products that rival competitors' cleaning supplies. Our inventory includes floor cleaners, degreasers, granite concrete sealers, floor maintainers, floor sealers, floor strippers and more. Bortek Industries sells Sanifil® detergents, Pioneer Eclipse® floor care chemicals and other industrial cleaning supplies. We can match any Lancaster Area competitors' janitorial products.
In other words, if you're in the market for industrial cleaning equipment and supplies, you've come to the right place. Bortek Industries carries a complete line of new and used cleaning equipment — as well as a host of other related items — so you'll have no problem finding the products you need to make sure your facilities are in tip-top shape and your customers and employees are safe.
In the Market for Cleaning Equipment Rental in York, PA?
While it certainly makes sense for companies that have to use industrial cleaning equipment often to buy and maintain their own fleet – they'll save money over time – for many organizations, obtaining rental equipment is usually a better option. If you're thinking about getting some industrial cleaning equipment but aren't sure whether you should buy it or rent it, consider the following:
Rental equipment works. Any machine that's used repeatedly will wear down over time. When that happens, they'll either work less than optimally or they won't work at all. Your cleaning technicians won't be able to get their jobs done when they're working with equipment that's not operating as designed. When you rent industrial cleaning equipment instead of buying it, you get the peace of mind that comes with knowing the machinery will work the moment you put it to use. There's no downtime.
You'll get access to the latest technologies. Over time, technology evolves. As such, newer models of industrial cleaning equipment enter the market. While some folks might love the machinery they've relied on over the years, the fact of the matter is newer machines often offer innovative features and additional efficiencies that simply aren't found in older models. When you use rental equipment, however, you can always make use of the latest technologies on the market. The end result? Jobs will be done quicker — and better.
It's cheaper to rent. In addition to being able to write off rental equipment you get in Lancaster, PA, or anywhere else as a business expense, companies that choose to rent these machines will also benefit from healthier cash flow. With more cash on hand, your business will be able to quickly respond to new opportunities and won't have to scramble to find out how to pay the bills. You also won't have to incur any depreciation expenses. Simply put, you'll save a whole lot of money — and have more cash in your company's purse — when you rent.
You won't have to store the equipment. When you own your own fleet of industrial cleaning equipment, you'll have to figure out where to store it. That means you'll have to devote some warehouse or garage space to the effort — assuming, of course, you have it to spare. Rental equipment frees you from having to store any of your cleaning equipment, so you'll need less space for operations.
You won't have to maintain it, either. Companies that buy their own industrial cleaning equipment need to maintain it from time to time if they wish to continue to enjoy it for the foreseeable future. By choosing to go with rental equipment instead, you're making sure your business doesn't have to budget for any kind of related maintenance or repairs.
While it makes sense for many businesses to buy their own cleaning equipment, some companies are much better off renting it. You'll have to do your due diligence to figure out what makes the most sense for your particular company. If you have any questions or are unsure about equipment rental in Lancaster, PA, please don't hesitate to reach out to the friendly and knowledgeable staff at Bortek Industries.
Does Your Industrial Cleaning Equipment Need to Be Repaired?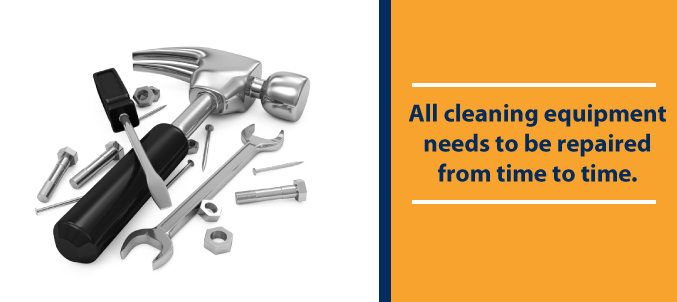 From time to time, all cleaning equipment — just like all other pieces of machinery — will need to be repaired and serviced in order to be restored to their optimal working condition. Such is life.
If you find your fleet in need of some fine-tuning, let the skilled technicians at Bortek Industries give your industrial cleaning equipment the care it needs to get the job done. We offer custom, flexible service solutions, so give us a call and our technicians will work with you to make sure your fleet is always operating as expected.
Our service programs are built around your exact specifications. We'll service your cleaning equipment on your schedule, so you can always be confident your fleet will be operating as designed the moment you need it. Our mobile service reps — who have all gone through rigorous background checks — will deliver the parts and support you need to grow your business and keep operations running smoothly.
In order to reduce the likelihood your fleet will incur any downtime whatsoever, you may wish to take advantage of our planned maintenance services, too. These services include 50 checks and adjustments to your machines, all of which are designed to increase the useful life of your fleet. We will work to ensure your equipment is always operating at peak productivity.
Bortek Industries – A Name You Can Trust
Do you need to upgrade your old industrial cleaning equipment to newer models? Are your machines breaking down and in need of repair? Are you deciding between whether your business needs to buy its own fleet of industrial cleaning equipment or rent it?
Whatever your needs may be, you've come to the right place. As you search for the cleaning equipment you need to get the job done, you may very well have a lot of questions. After all, with so many different kinds of machines and models available, it can feel overwhelming just finding the right sweeper, for example.
Please don't hesitate to reach out to our friendly associates who know the ins and outs of industrial cleaning equipment. They'll answer any and all questions you may have, so you can be sure you're making the most informed decision and getting the right equipment.
Getting your floors clean and maintaining that cleanliness is certainly not the easiest of tasks. But there's no sense in making that responsibility any more difficult than it needs to be. With the right cleaning equipment operating at maximum efficiency at your disposal, your floors will be easier to clean and easier to maintain. And your cleaning technicians, employees and customers will certainly appreciate your efforts.