Bensalem, PA Industrial Sweepers for Sale & Rental
Looking for an indoor or outdoor sweeping machine for your Bensalem business? We've got 'em. We offer affordable pricing on new and used walk behind, compact, midsize and large industrial ride on floor sweepers, parking lot sweepers, and street sweepers. We also offer sweepers rentals for businesses across Bucks County (and beyond).
Bortek Industries offers sweepers from today's leading manufacturers including Factory Cat and Powerboss. Sweeping machines provide Bensalem businesses with a more effective and efficient way to clean dust and debris from floors, sidewalks, and parking lots than could ever be achieved with a simple broom.
No matter the size of your facility, there's a sweeper to accomodate your needs. Bortek has options for manual, battery-powered, LP, and diesel sweeping machines and can add custom options to fit your situation. They've all got dust filtration, but for silica dust we can even do MERV 17 HEPA filters on these machines. Let us help you find what you need to best solve your cleaning problems.
---
The Best Sweepers in Bucks County
Bortek Industries strives to lower the cost of cleaning with our quality line of sweepers, setting the standard for superior performance in indoor and outdoor sweeping. We only sell the brands that we believe in - the ones that we know will make our customers happy. Bensalem businesses can save time and money with the right equipment. Contact Bortek Industries to see our sweepers in action by requesting a free demonstration. Our knowledgeable sales staff would be happy to answer any of your questions. For efficient and reliable street sweepers and floor sweepers, Bensalem businesses rely on Bortek Industries.
Indoor and Outdoor Sweeping Machines From a Local Company With Continued Support
We're not here just to sell you a machine and bail on you; we want you to love your sweeping machine for years to come. That's why we're proud to be available for longterm support and service when it comes to the regular upkeep and parts replacements for your machine, or any repairs that are needed down the line.
Specialized Technicians, At Your Service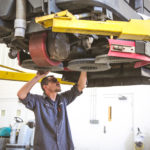 With our recommended Planned Maintenance programs, you'll have the peace of mind that your sweeper is being regularly checked on and serviced. If we notice worn parts, we'll replace them. If we notice evidence of improper use, we'll let you know and teach you how to get the best cleaning results and longer life out of your machine. Our factory-trained service technicians are available to perform repairs or planned maintenance on your sweeper on-site or in our fully-equipped service center.
Wearable Parts for Order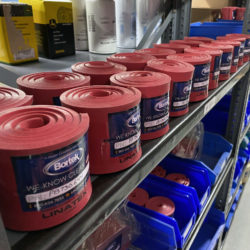 High-contact parts like brushes, brooms, and seal flaps will wear out over time. Bortek keeps a stock of the best OEM and quality aftermarket replacement wearable parts for industrial sweepers. You won't have to worry about downtime thanks to the great sweeper parts availability and online ordering With Bortek.
You can order parts for floor sweepers and street sweepers online at BortekShop.com. Not sure what you need? Contact us and we'll help you identify the part you need!
---
Industrial Sweepers on Your Budget
If you don't want to buy a new sweeper or only need it for a short-term project, consider buying a used sweeper or renting a sweeper.
Bensalem Used & Rental Floor Sweepers and Parking Lot Sweepers
Rent an industrial sweeper of any size. Short-term and long-term rentals are available. We keep our rental fleet fresh with the latest models of sweeping machines and thoroughly service them between rentals, so you can expect a heavy-duty debris collection and dust-free clean. Check out our sweeper rentals here! Or shop our selection of used sweeping machines.
Buy or Rent Street Sweepers in Bucks County
Lest you forget, Bortek has honest-to-goodness street sweepers for sale and rental as well. Just like our floor sweepers, our road sweeping trucks come in all shapes and sizes according to your needs. Just a few examples are electric street sweepers, highway speed capable street sweepers, and high side-dumping street sweepers.
---
Choosing a Sweeper for Your Bensalem Company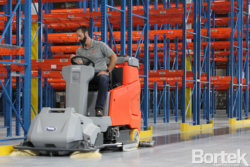 Your perfect sweeper will vary based on your needs. To accommodate many applications, we offer walk-behind, compact ride-on, larger industrial ride-on sweepers for indoor and outdoor use, as well as street sweepers. Bensalem workers love how our sweepers are designed for comfort and ease-of-use, but more importantly, how they're built to last and absolutely devour dust and debris.
Don't worry about figuring this all out yourself! The first step in buying a sweeper is for us to get on the same page as you to understand your unique needs. We'll check out your facility or work site and recommend options based on your cleaning area, debris type, and the frequency you'll be cleaning. You can shop the industrial sweepers and street sweeeprs available in your area to get an idea, but you'll definitely want to contact us and get a free survey and demo. We'll prove that we've got what you need to solve the problem. Seriously, it'll blow your mind.
---
Other areas we serve: