FEATURES & HIGHLIGHTS
FOCUSED ON WHAT MATTERS
For the cleaning of medium to large sized facilities like warehouses, industrial facilities, shopping centers, and fulfillment/distribution centers, the PowerBoss Scrubmaster B175 R is the machine for the job. It is designed for ease-of-use, with accessible parts, and a built-in chemical dilution control option. In the same vein, all of the functions on the control panel are performed at the push of a button. For example, activate Slow Mode for a focused and controlled 2.0 mph working speed, or lay down the law with the Boost Button, which activates maximum water flow and brush pressure. It's powerful enough to get rid of tough soils and agile enough for 90-degree tuns and cleaning right up to the wall.
SPECIFICATIONS
POWERBOSS SCRUBMASTER B175 R SCRUBBER AT A GLANCE
Working Speed:

4 mph
Solution Tank Capacity:
Recovery Tank Capacity:
Productivity (Theoretical):
Productivity (Practical):

57,000 sqft/hr, 60,000 sqft/hr, 74,000 sqft/hr
Weight:

2,205 lbs, 2,227 lbs, 2,238 lbs
System Voltage:

280-320 ah
Power:

1 hp
Tank Material:

Poly
Brush Deck Options:
Standard Battery:

36V, 315AH
MACHINE OVERVIEW
STANDOUT FEATURES
POWERBOSS SCRUBMASTER B175 R BENEFITS
TO MAKE YOUR LIFE EASIER
Squeegee folds up manually for easy maintenance and daily cleaning
Large recovery tank opening makes it simple to clean
Fold-out side skirts for easy brush changing
Flip up the seat for quick battery access.
Brushes can be automatically ejected and installed. Changing the brush only takes a minute!
Super comfortable seat to make operation a pleasant experience
OPTIONAL FEATURES
MAKE IT YOUR OWN
Pre-sweep Unit: This small sweeper attaches to the front of the Scrubmaster and collects solid debris, eliminating the need for time-consuming pre-sweeping with another machine. Plus, it's easily removable if you only need to use it some of the time.
Spraying Nozzle: A spraying/suction tool and holder can be added to the rear of the machine for cleaning hard-to-reach areas, or cleaning the machine itself.
Many more! We bring all our machines to you with all the options you need to effectively clean your facility. You'll receive a one-of-a-kind machine for your specific situation
---
FLOOR SCRUBBER RENTALS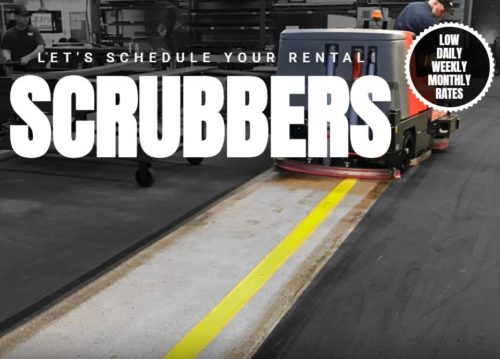 Rent your machine today! Clean your floors with efficiency and power. Our floor scrubbers cut through built-up grime and soil with ease. These maneuverable models are perfect for small or mid-sized cleaning areas or narrow, tricky spots. Choose from a wide variety of scrubber types, just like this PowerBoss Scrubmaster B175 R Scrubber to best solve the job at hand!
Choose Your Rental
---
DOCUMENTS
FOR THE POWERBOSS SCRUBMASTER B175 R SCRUBBER
---