For the cleaning of large facilities like airports, warehouses, industrial facilities, shopping centers, and fulfillment/distribution centers, the PowerBoss Scrubmaster is the machine for the job. It is designed for ease-of-use, with accessible parts, automatic brush-changing system, and built-in chemical dilution control. In the same vein, all of the functions on the control panel are performed at the push of a button. For example, activate Slow Mode for a focused and controlled 2.0 mph working speed, or show no mercy with the Boost Button, which activates maximum water flow and brush pressure. It's powerful enough to get rid of tough soils, even on inclines, and agile enough for extremely tight turns.
Accessibility
Squeegee folds up manually for easy maintenance and daily cleaning
Large recovery tank opening makes it simple to clean
Brushes can be automatically ejected and installed. Changing the brush only takes a minute!
Flip up the seat for quick battery access.
Side skirts fold out sideways.
Three Sizes Fit All
The Scrubmaster comes in three main models which differ in cleaning width and scrub brush type.
Technical Specifications
Scrubmaster B175 R
SM3346
SM3546
SM4246
Scrubbing Style
Cylindrical
Disc
Disc
Sweep Capable
Cylindrical Wet Sweep w/ 2 Side Brooms
Optional Dry Swep
Optional Dry Sweep
Working Width
33″
35″
42″
Solution/Recovery Tank
46/46 gal
46/46 gal
46/46 gal
Theoretical Cleaning Area
64,045 sq.ft/hr
67,813 sq.ft/hr
81,375 sq.ft/hr
Working Speed (Max)
4 mph
4 mph
4 mph
Nominal Voltage
36 V
36 V
36 V
Battery Size
280 – 320 Ah
280 – 320 Ah
280 – 320 Ah
Power Consumption Brush Motor
2 x 920 W
2 x 930 W
2 x 930 W
Pow Consumption Vacuum Motor (1/2 turbines)
640/1,280 W
640/1,280 W
1,280 W
Number/Type of Brushes
33″ Cylindrical (2)
17.5″ Disc (2)
12″ Disc (3)
Brush Motor / RPM
(2) 1 HP / 850 RPM
(2) 1 HP / 210 RPM
(2) 1 HP / 210 RPM
Brush Pressure
2 Settings (Regular / Heavy)
2 Settings (Regular / Heavy)
2 Settings (Regular / Heavy)
Active Squeegee Width
43″
43″
50″
Width without/with Squeegee
37″/45″
37″/45″
44″/51″
Total Weight ready to use
2,205 lbs.
2,227 lbs.
2,238 lbs.
Optional Features
As with all PowerBoss scrubbers and sweepers, the Scrubmaster can be customized with a wide variety of optional features according to your needs, such as:
PowerBoss Chemical on Demand: Cut chemical usage and operating costs at the press of a button, using chemical only when necessary on the toughest soils.
Pre-sweep Unit: This small sweeper attaches to the front of the Scrubmaster and collects solid debris, eliminating the need for time-consuming pre-sweeping with another machine. Plus, it's easily removable if you only need to use it some of the time.
Spraying Nozzle: A spraying/suction tool and holder can be added to the rear of the machine for cleaning hard-to-reach areas, or cleaning the machine itself.
Many more!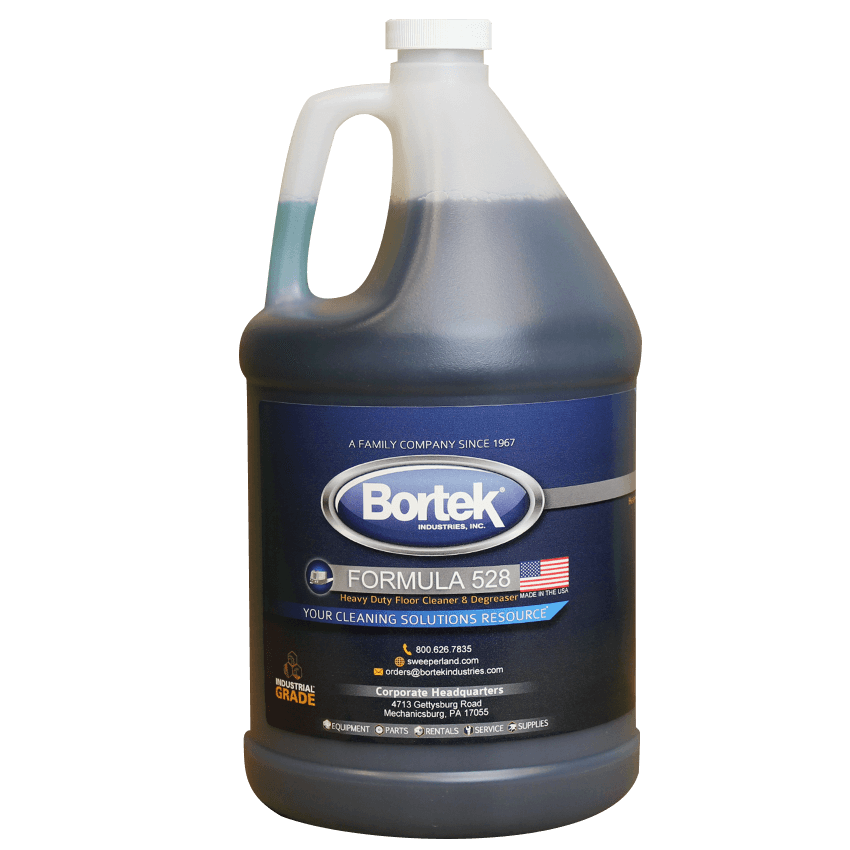 We highly recommend using Bortek brand chemical products in this machine. Our cleaning solutions are made with scrubbers in mind, and designed to be low-foaming in order to prevent hazardous overflows.