Highest Quality Industrial Cleaning Equipment
PowerBoss makes some of the highest quality industrial cleaning equipment on the market. American-made in Chicago, their equipment is manufactured with reliable, high-performance parts, and innovative overall design. Even the distinctive orange appearance isn't just for show – it's a safety feature for visibility.
Accessibility
PowerBoss machines are designed with ease-of-use in mind. These sweepers and scrubbers are simple to operate, with well-labeled and intuitive controls. Even cooler – they're a breeze to work with under the hood as well. Any component you could wish to get at is easily accessible behind tool-free panels. Some models, like the Armadillo, even feature swing-out engines.
Aqua-Stop
Many new PowerBoss scrubbers can save you 50% of your water and chemical usage with Aqua-Stop. This new design keeps the water and cleaning chemical in the brush deck where it's needed, eliminating the waste of fluid that occurs in most ordinary floor scrubber designs.
Thermal Green Technology
Available on Nautilus sweeper-scrubbers, Thermal Green Technology (TGT) makes use of the heat already created by running the machine in order to heat the chemical solution for improved effectiveness. It's an efficient and effective way to make cleaning even easier and decrease the amount of detergents required. Read more!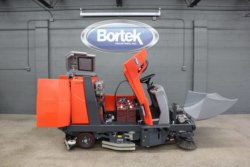 ---
Do you need maintenance for your PowerBoss equipment? Look no further than Bortek Industries. For over 50 years, our service technicians have been helping the cleaning industry keep their machines running at peak performance. From large industrial ride-on sweepers to small, walk-behind scrubbers, we can service them all. No matter what the problem, we have the know-how to fix it. Keep your cleaning equipment at the peak of productivity with the help of our expert mobile service technicians; contact Bortek Industries to schedule maintenance for your machine today. We also offer Planned Maintenance so that you're new machine can stay in top shape with regular tune-ups.
Through no fault of yours or the machine, certain parts will become worn and need to be replaced from regular use. Bortek carries a complete line of replacement parts for your cleaning equipment for all the major brands. We highly recommend keeping replacement wearable parts on hand to keep your machine cleaning at its best at all times. Failing to routinely replace worn parts can lead to more serious issues.
Our technicians are factory-trained cleaning machine specialists. Whether your machine needs a tune-up or more serious repair, we can get it done. You can trust Bortek to know your equipment and identify problems without wasting resources on unnecessary parts replacements.
---