FEATURES & HIGHLIGHTS
FOCUSED ON WHAT MATTERS
100% electric, 100% performance: The Dulevo D.zero² philosophy is based on four fundamental characteristics that make it unique in the sector.
Zero emissions: Dulevo D.zero² means zero emissions of CO2, zero harmful gases, and zero dust re-introduced into the environment. And what's more, its electric motor means a drastic reduction in noise emissions, enabling operators to work at night without disturbing the peace.
Zero maneuvering problems: Thanks to the center joint and two semi-frames, the Dulevo D.zero² makes even complex movement a simple matter. Its size and maneuverability allow this articulated street sweeper to work in town centers, green, and crowded areas, perfectly reaching even the smallest, narrowest spaces.
Zero limits: The Dulevo D.zero² sweeper has excellent autonomy: it can work a full shift with no need to be recharged. Besides providing the sweeping performance of traditional street sweepers, its 100% electric operation results in massive reductions in maintenance and power costs.
Zero risks: The ongoing Dulevo attention for work quality and the safety of operators is well represented by the Dulevo D.zero²: it utilizes low voltage technology to reduce electrical equipment risks down to zero.

Dulevo internal assessment
---
DULEVO Dzero² BENEFITS
TO MAKE YOUR LIFE EASIER
Fully Electric City Sweeping!
Large hopper can be dumped in standard dumpster
Variable width sweeping- access everything
Comfortable Cabin with tons of features
When exposed to sunlight, the windows tint to ensure a comfortable operator
Small window in cabin's floorboard allows you to see what you sweep
Backup camera ensures safe operation
---
---
FLOOR SWEEPER RENTALS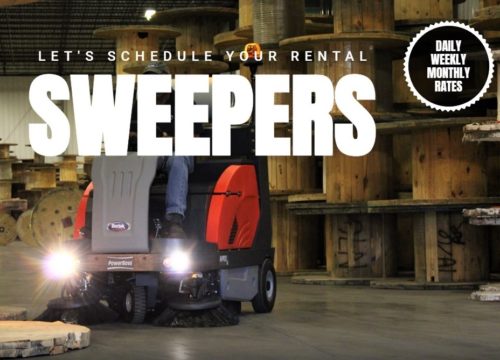 Sweep dust and debris from your floors with the ease and comfort of a ride-on sweeper. We've got indoor and outdoor sweepers – all available to rent. From parking lots to warehouses and factories, there's a cleaning machine for you, just like this Dulevo Dzero² Electric Mini Sweeper.
Choose Your Rental
---
DOCUMENTS
FOR THE DULEVO DZERO² ELECTRIC MINI SWEEPER
---