FEATURES & HIGHLIGHTS
FOCUSED ON WHAT MATTERS
Economically efficient – and suitable for every application: The large side brooms of the Sweepmaster 1500 RH effectively do the groundwork for the main sweeping cylinder. They also do a proper job when it comes to working in curves or sweeping out corners. Provides long and uninterrupted sweeping: The sweeping system works by applying the overhead throwing principle, which ensures that the dirt hopper capacity is fully utilized. You're set with a battery-powered drive system and will enjoy operating times of up to five hours. Your perfect choice for demanding indoor and outdoor applications. Even working on inclines – e.g. on access ramps or in multi-story car parks – are no problem at all for this SweepMaster.
Robust and Reliable: The outer frame of the Sweepmaster 1500 RH is made of solid steel, so, in contrast to other materials, it can take a knock or two. The frame, along with all other painted steel components of the machine, is given a two-layer corrosion protection treatment and therefore meets even the highest quality standards. Efficient filter systems and large dirt hoppers ensure long and uninterrupted working.
SPECIFICATIONS
POWERBOSS SWEEPMASTER 1500 RH SWEEPER AT A GLANCE
Working Speed:

5mph
Hopper Capacity:
Productivity (Theoretical):
Productivity (Practical):

100,000 sqft/hr
Size (L x W x H):

88" x 53" x 63"
Weight:

3,229 lbs, 3,780 lbs
System Voltage:

36 VDC
Standard Battery:

36V, 395AH
Battery Upgrade Options:

AGM, Lithium
High-Dump Clearance:

60"

POWERBOSS SWEEPMASTER 1500 RH BENEFITS
TO MAKE YOUR LIFE EASIER
Provides optimal utilization of machinery and staff capacities: up to five hours with the efficient battery-powered drive system.
Compatible with Dust Stop Broom Jacket
Enjoy the simplity, efficiency, and reliability of a powerful battery-powered drive system
Long, uninterrupted operation, thanks to efficient filter systems and large debris hoppers
Easy access to all components; the operating panel folds up easily without the needs for tools
Highest possible machine reliability thanks to the robust chassis
---
---
FLOOR SWEEPER RENTALS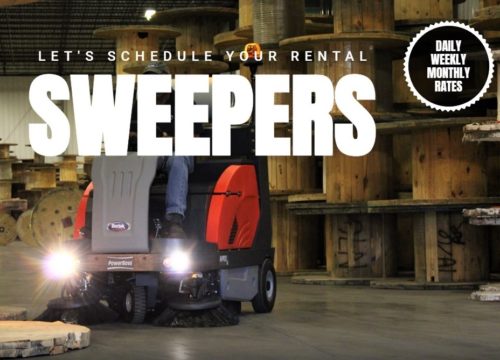 Sweep dust and debris from your floors with the ease and comfort of a ride-on sweeper. We've got indoor and outdoor sweepers – all available to rent. From parking lots to warehouses and factories, there's a cleaning machine for you, just like this PowerBoss Sweepmaster 1500 RH Sweeper.
Choose Your Rental
---
DOCUMENTS
FOR THE POWERBOSS SWEEPMASTER 1500 RH SWEEPER
---