PowerBoss Dust Stop – Side Broom Jacket
A Waterless Dust Control Option for Sweeping Machines
---
The purpose of an industrial sweeping machine is to collect and contain as much dirt, dust, and debris as possible, as efficiently as possible. To improve efficiency, most sweepers either have standard or optional side brooms which are attached to either or both of the front corners of the machine. These help to expand the sweeping width by guiding additional dirt under the sweeper for collection by the main broom and vacuum system. However, in particularly dusty environments, side brooms can have the unfortunate side effect of stirring up fine dust particles, countering your cleaning efforts. In some cases, a mist of water might be used to keep the dust down, but this can result in a muddy mess that's hard to sweep up, or may simply not be viable based on the type of facility (imagine the sticky mess of trying to control sugar manufacturing dust with water). Now for the solution: Dust Stop Broom Jackets.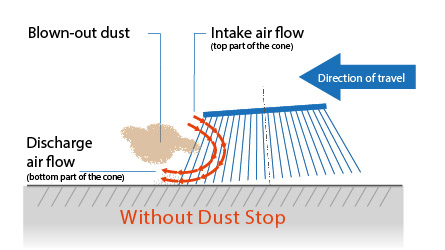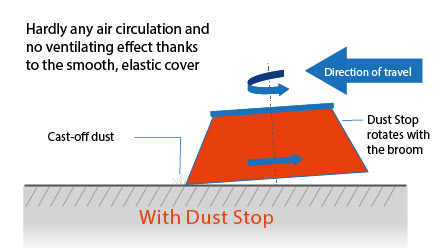 Normally, the spinning broom generates a suction and release of airflow that sprays fine dust into the air away from the machine. Dust Stop elegantly solves this problem by covering the side broom with a high-quality and eco-friendly Linatex jacket which cuts off the airflow without getting in the way of the broom's sweeping ability and extended cleaning path. That means the machine operator will be breathing in less dust, and it'll keep the dust from landing on adjacent shelves, equipment, or areas you've already cleaned. And when we say "less dust", we mean up to 90% less compared to a conventional side broom!
* Diagrams provided by Hako.
Additional Benefits
It's Clean AND Easy
---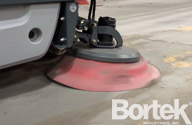 Easy installation and changing
Allows for unrestricted cleaning close to walls
Won't damage objects or leave marks on the floor
Low noise
No use of water
Purus Innovation Award Winner at CMS Berlin 2019
---
Get Equipped with Dust Stop
Compatible With Most PowerBoss Sweepers
Take a look at the latest sweepers from PowerBoss and ask us about adding Dust Stop. Contact us for a free quote and demo.
LEARN MORE ▶
Look at how much dust there isn't! Even on a dirty foundry floor, Dust Stop keeps fine particles contained like nothing we've ever seen.
WATCH HERE ▶