FEATURES & HIGHLIGHTS
FOCUSED ON WHAT MATTERS
For the cleaning of medium to large sized facilities like warehouses, industrial facilities, shopping centers, and fulfillment/distribution centers, the PowerBoss Scrubmaster is the machine for the job. It is designed for ease-of-use, with accessible parts, and a built-in chemical dilution control option. In the same vein, all of the functions on the control panel are performed at the push of a button. For example, activate Slow Mode for a focused and controlled 2.0 mph working speed, or lay down the law with the Boost Button, which activates maximum water flow and brush pressure. It's powerful enough to get rid of tough soils and agile enough for 90-degree tuns and cleaning right up to the wall.
SPECIFICATIONS
POWERBOSS SCRUBMASTER B120 R SCRUBBER AT A GLANCE
Working Speed:

4 mph
Solution Tank Capacity:
Recovery Tank Capacity:
Productivity (Theoretical):

48,438 sqft/hr, 51,667 sqft/hr, 59,202 sqft/hr, 62,431 sqft/hr
Productivity (Practical):

39,000 sqft/hr, 44,000 sqft/hr, 52,000 sqft/hr, 55,000 sqft/hr
Weight:

1,559 lbs, 1,563 lbs, 1,594 lbs, 1,627 lbs
System Voltage:

24 VDC
Power:

1 hp, 1.5 hp
Tank Material:

Poly
Brush Deck Options:
Standard Battery:

24V, 315AH
Optional Battery:

AGM 24V, 312AH

POWERBOSS SCRUBMASTER B120 R BENEFITS
TO MAKE YOUR LIFE EASIER
90-degree turning- turn around machine in tight spaces
Right-protruding scrub deck cleans along walls and edges
Fold-out side skirts for easy brush changing
Smart Chemical Control Options: Automatically add chemical according to water and machine speed. Stop brushes and water supply when stationary.
Perform actions with single-press buttons on the control panel
Super comfortable seat to make operation a pleasant experience
OPTIONAL FEATURES
MAKE IT YOUR OWN
PowerBoss Chemical on Demand: Cut chemical usage and operating costs at the press of a button, using chemical only when necessary on the toughest soils.
On-Board Dosing System: Automatically add chemical solution in the ideal proportions according to the amount of water and machine speed.
Spray/Suction Tool: A spraying/suction tool and holder can be added to the rear of the machine for cleaning hard-to-reach areas, or cleaning the machine itself.
Warning Systems & Working Light: Work safely with highly visible lights and warning systems.
Many more! We bring all our machines to you with all the options you need to effectively clean your facility. You'll receive a one-of-a-kind machine for your specific situation
---
FLOOR SCRUBBER RENTALS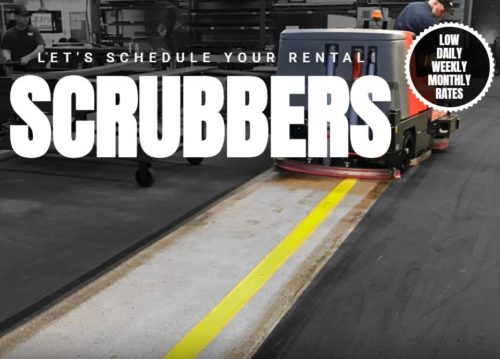 Rent your machine today! Clean your floors with efficiency and power. Our floor scrubbers cut through built-up grime and soil with ease. These maneuverable models are perfect for small or mid-sized cleaning areas or narrow, tricky spots. Choose from a wide variety of scrubber types, just like this PowerBoss Scrubmaster B120 R Scrubber to best solve the job at hand!
Choose Your Rental
---
DOCUMENTS
FOR THE POWERBOSS SCRUBMASTER B120 R SCRUBBER
---