For the cleaning of medium to large sized facilities like warehouses, industrial facilities, shopping centers, and fulfillment/distribution centers, the PowerBoss Scrubmaster is the machine for the job. It is designed for ease-of-use, with accessible parts, and a built-in chemical dilution control option. In the same vein, all of the functions on the control panel are performed at the push of a button. For example, activate Slow Mode for a focused and controlled 2.0 mph working speed, or lay down the law with the Boost Button, which activates maximum water flow and brush pressure. It's powerful enough to get rid of tough soils and agile enough for 90-degree tuns and cleaning right up to the wall.
Features
90-degree turning
Right-protruding scrub deck cleans along walls and edges
Fold-out side skirts for easy brush changing
Smart Chemical Control Options: Automatically add chemical according to water and machine speed. Stop brushes and water supply when stationary.
Perform actions with single-press buttons on the control panel
Super comfy seat
Four Sizes For All
The Scrubmaster B120 R comes in four main models which differ in cleaning width and scrub brush type. For larger options, consider the Scrubmaster B175 R.
Technical Specifications
Scrubmaster B120 R
SM2832C
SM3032D
SM3432C
SM3632D
Scrubbing Style
Cylindrical (2)
Disc (2)
Cylindrical (2)
Disc (2)
Sweep Capable
Cylindrical Wet Sweep
–
Cylindrical Wet Sweep
–
Working Width
28″
30″
34″
36″
Solution/Recovery Tank
32/32 gal
32/32 gal
32/32 gal
32/32 gal
Theoretical Cleaning Area
48,438 sq.ft/hr
51,667 sq.ft/hr
59,202 sq.ft/hr
62,431 sq.ft/hr
Working Speed (Max)
4 mph
4 mph
4 mph
4 mph
Nominal Voltage
24 V
24 V
24 V
24 V
Power Consumption Drive Motor
727 W
727 W
727 W
727 W
Power Consumption Brush Motor
2 x 876 W
2 x 876 W
2 x 876 W
2 x 876 W
Power Consumption Vacuum Motor
480 W
480 W
480 W
480 W
Brush Motor / RPM
(2) 1 HP / 850 RPM
(2) 1.5 HP / 210 RPM
(2) 1 HP / 850 RPM
(2) 1.5 HP / 210 RPM
Active Squeegee Width
37″
37″
43″
43″
Width without/with Squeegee
32″/38″
32″/38″
37″/44″
37″/44″
Total Weight ready to use
1,559 lbs.
1,594 lbs.
1,563 lbs.
1,627 lbs.
Optional Features
As with all PowerBoss scrubbers and sweepers, the Scrubmaster can be customized with a wide variety of optional features according to your needs, such as:
PowerBoss Chemical on Demand: Cut chemical usage and operating costs at the press of a button, using chemical only when necessary on the toughest soils.
Spray/Suction Tool: A spraying/suction tool and holder can be added to the rear of the machine for cleaning hard-to-reach areas, or cleaning the machine itself.
On-Board Dosing System: Automatically add chemical solution in the ideal proportions according to the amount of water and machine speed.
Warning Systems & Working Light: Work safely with highly visible lights and warning systems.
Many more!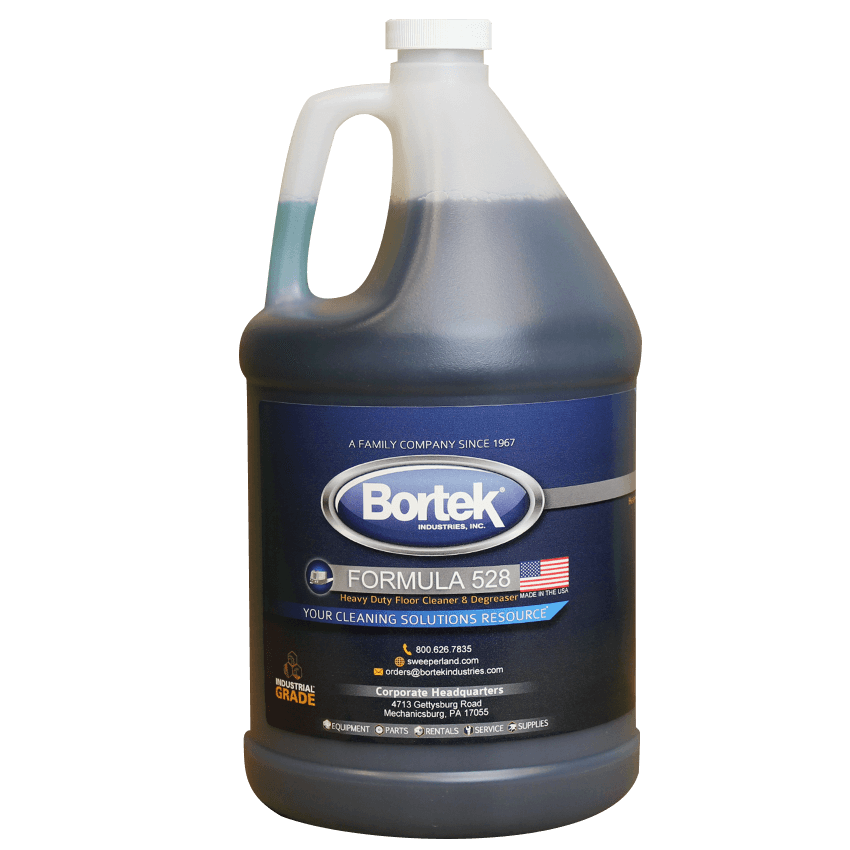 We highly recommend using Bortek brand chemical products in this machine. Our cleaning solutions are made with scrubbers in mind, and designed to be low-foaming in order to prevent hazardous overflows.