"Factory Direct" is a popular purchasing buzzword with an assumed consumer-friendly connotation. In some industries, it makes a lot of sense to attempt to cut costs in this way. But when dealing with heavy-duty cleaning equipment, the so-called "middleman" distributor can offer value with which the manufacturer can't compete. In these cases, buying from a local distributor actually results in a better deal for the consumer.
Variety, For Every Situation
You want options. As a factory direct customer, you'll have access to all of that company's products. However, one manufacturer will not necessarily have a product available for every situation. A local seller, on the other hand, is able to offer products from more than one company and cover a wider range of options. Whether you're buying or renting a whole machine, replacing parts, or getting a machine serviced, your locally owned place is going to be able to offer more as a result of not being locked into selling a single company's products.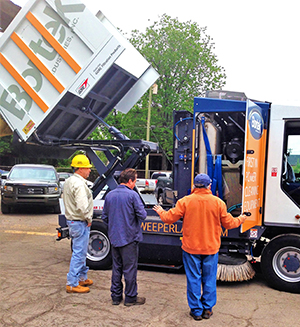 See It In Person
You may know what you want or have no clue, but it's always a good idea to try before you buy. Local sellers make this a viable option. They're able to show off products at their own location or even offer a demo at your site for no additional cost. This way, you'll know for sure how to use the machine and whether it does what you need it to do. You may even find that there are other, better options available for your unique needs that you weren't previously aware of. Furthermore, not only will you be able to see the machines up close, but you'll also be able to show off your facility in person rather than attempting to describe it from a distance. There's little chance of miscommunication when you can talk face to face and directly show what you're working with. Furthermore, if there ever is a need to talk to the manufacturer about a product, the distributor can be a knowledgeable intermediary. They'll be able to translate the industry jargon and are motivated by a desire for quality just as you are.
Local Means Fast and Affordable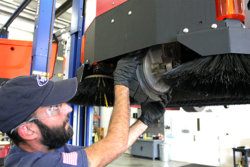 Machines need to be maintained, and it's handy to have an expert nearby who has experience on a variety of machines. Regular cleaning and maintenance may seem trivial, hardly something that requires an expert, but let's face it, most machine owners don't take care of their equipment like they should. The majority of equipment failures in the industry are caused by a lack of maintenance, and these kinds of failures tend to require repairs that may need replacement parts or service that isn't possible on-site. If that machine was purchased directly from the factory, that could mean paying to transport heavy machinery to a distant location for repairs and waiting extended periods of time for parts to arrive. On the other hand, a local distributor would be able to get the equipment in less time and a lower cost.
Customer Service Focused
If and when problems or questions spring up, you're going to want to get a response quickly, clearly, and politely. Factory direct sellers aren't necessarily equipped to deal with that kind of quality customer service. It's likely that they've got customers nationwide or even around the world. That can be a heck of a lot of people to keep track of and, once again, questions and issues would have to be explained from a distance. When the going gets rough, a manufacturer might not find in-depth customer service to be worth the trouble just to keep the future business of one client.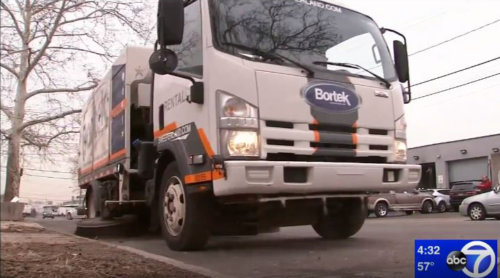 Improving the community in Newark with street sweeping (via abc7ny)
On the other hand, for a local distributor, reputation and customer satisfaction are everything. Their area of operation isn't as large as a factory direct business, so every interaction matters. If a distributor is unable to offer helpful customer support, the hit to its reputation in the community could be disastrous. While quality customer service does add value to the product, this isn't exclusively a monetary issue for either side. When dealing locally, business relationships are also personal relationships between individuals who live in the same community. There's a good chance that you could already know someone from the business in another context or through a friend, which means you may already have an idea about their trustworthiness (and care about maintaining your own). For these reasons, both parties have extra incentive for maintaining positive interactions and assuring that their actions benefit the community as a whole. Excellent customer service makes sense morally, socially, and financially.
You be the Judge
Every situation and business is a little different. When it comes to major purchasing decisions, it's important to weigh the benefits of each option before making a choice. The pros and cons of buying factory direct vary by industry, but in the case of cleaning equipment, the advantages of dealing locally are worth a second look.