Overwhelmed at your floor equipment options? We understand. These days, it's easy to get intimidated at the sheer number of seemingly-identical industrial floor scrubbers. As a typical guy or gal who simply needs to clean your floors, it can certainly be difficult to spot the differences between these machines. To further complicate things, user reviews are a challenge to come by, as this industry is relatively niche. Many buyers end up basing these large purchases on the manufacturer's own marketing material, price comparison, or something as simple as the color. As an expert in the industry, since 1967, we know a thing or two about what to look out for and which floor scrubber or sweeper will truly produce the results you're looking for. Let's see how one of the options, Kärcher, stacks up.
Ideal Applications for Kärcher Floor Scrubbers
Though marketed as "commercial and industrial" and "the cost-effective cleaning solution for any application", Kärcher scrubbers are designed for light duty, commercial applications. Time and again we're helping out folks who have put these machines into heavy-duty environments. Operators (and technicians) in those types of facilities are very… candid about what they think about the machine. And it's not the machine's fault– let's be clear here. It simply wasn't designed to be used in a highly-trafficked manufacturing facility or foundry, let alone deal with these sorts of debris. It's kinda like getting angry about a consumer-grade lawnmower for being unable to clear out a forest.
Kärcher scrubbers are designed for light duty, commercial applications.
At a basic level, both walk-behind and rider scrubbers from Kärcher do what all brands of floor scrubbers do: (1) Agitate and loosen soils from the floor with water or chemical solution and a scrub brush, then (2) collect the dirty water with a squeegee and vacuum, containing it in a recovery tank for disposal. When shopping online for a scrubber, it's difficult to see a difference between Kärcher's scrubbers and any other brand of floor scrubber. Even the technical specifications tend to be similar across brands. It's the little things that don't show up in spec sheets that add up to a difference in performance or user experience.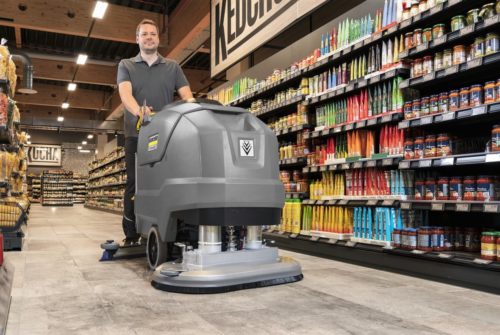 If a line of scrubbers is beating the competition based solely on price, it's all to often due to the manufacturer cutting costs in the overall build quality. Hoo boy, if you see a surprisingly low price quote, be suspicious. Manufacturers often cut costs using parts of lower quality or less durable materials, including fewer user-friendly features, or by outsourcing manufacturing and assembly, which presents its own list of headaches regarding inconsistent quality. Sadly, this is the case with Kärcher floor scrubbers and sweepers. Compared to industry-leaders like Factory Cat or PowerBoss, Kärcher scrubbers don't provide the capability to clean as well or last nearly as long due to that pursuit of lowering costs. Specifically, Kärcher uses far too much of that cheap plastic and aluminum parts that tend to easily crack or bend, especially when compared to the rugged, reliable stainless steel or tougher rotomolded plastic. Another example of poor design is how the vac hoses on larger Kärcher scrubbers are the same size as those on the walk-behind units, resulting in frequent clogging. Total headache for everyone involved.

As a result, Kärcher scrubbers are ideal for those who are limited by budget and whose floors aren't too dirty. For example, Kärcher scrubbers should be able to handle retail stores, offices, or hotel lobbies without issue, but we wouldn't recommend them for environments with tough-to-clean floors such as factories and garages, or applications where the machine will be used heavily or where it has more potential to get banged up, such as in warehouses or distribution centers. Also, make sure to sweep solid debris from floors before scrubbing. (Unless cleaning with a quality scrubber-sweeper, pre-sweeping solid debris is a necessary step regardless of the scrubber brand.) For those heavier-duty scenarios, you're better off spending a bit more for something that'll clean better and last longer.
Kärcher Scrubber Service, Support, and Parts Availability
Kärcher Scrubber Parts
Even the toughest built scrubber (which Kärcher ain't) needs to have its wearable parts replaced periodically. These commonly replaced parts are items like squeegees, brushes, filters, and hoses. Other parts one might need replaced, due to wear and tear or improper use, include the squeegee assembly, vacuum motor, or parts around the scrub deck. When researching a scrubber purchase, one should always consider a manufacturer's parts availability and pricing. Additionally, the average lead time on parts is an important factor, since a slow delivery could leave your machine inoperable for weeks or months.

There have been industry-wide supply chain troubles from 2020 to the time of this writing, so these days you can expect delays from almost any floor scrubber parts supplier. However, some brands of floor scrubbers are harder to find parts for than others. Sometimes it's through no fault of the manufacturer. For example, on March 30, 2022, Nilfisk (Advance) had a major US distribution center partly destroyed by a tornado, resulting in the loss of many parts and forcing the company to re-prioritize parts toward assembly of new equipment rather than for use as replacements.
When it comes to the availability of Kärcher parts, specifically, it can be hit or miss.
When it comes to the availability of Kärcher parts, specifically, it can be hit or miss. One part may arrive quickly while another may be on backorder for weeks or months. Backordered parts aren't uncommon in the industry these days though. Unfortunately, it is often difficult for parts suppliers to get a definitive answer from Kärcher on how long a part may be delayed, which can be frustrating for both the supplier and the machine owner. The trouble with Kärcher scrubber parts is that almost everything is a proprietary design unique to Kärcher, which significantly limits sourcing options. One scrubber owner we spoke to had the displeasure of waiting twelve months to replace a drive motor which was completely out of stock, and had to be made and shipped from Germany. Overall, Kärcher's parts availability isn't ideal for anything outside of common wear items. As an interesting side note, one of the only scrubber manufacturers that hasn't had parts supply issues recently is Factory Cat.
In general, don't expect much in terms of after-sale support on these scrubbers.
Kärcher Scrubber Repairs & Warranties
As of the time of this writing, new Kärcher scrubbers come with a 3 year parts warranty, 2 year labor warranty, and 180 day travel warranty. Wear items are excluded from the 3 year parts warranty and instead have a 90 day warranty. Impact damage or damage resulting from improper use is not covered, so be careful not to break those cheap plastic components. It's important to note that repairs and replacements under warranty must be fulfilled by Kärcher itself or an authorized Kärcher dealer (Kärcher, 2022). All of this is standard practice, but it means that one should consider the distance to a Kärcher service center when weighing the benefit of the warranty and machine itself. In general, when having a floor scrubber serviced, it is advisable to find a service center which specializes in industrial cleaning equipment and not a general forklift repair shop kind of place. When buying a new scrubber, plan for the long-term care of your machine by identifying which service centers are nearby in order to cut down on the cost and time spent on maintenance and repairs.

How to do your own research before buying a new floor scrubber
You owe it to your company to shop around a bit before purchasing a new floor scrubber. Here are some ways to do your own research, as well as general advice to keep in mind when making a buying decision.
Ask for references of other customers who own the same machine. Contact them and ask about their experience with the machine.
Contact a dedicated floor scrubber repair shop which isn't associated with a single manufacturer (in other words, not a forklift repair shop which doesn't specialize in scrubbers, and not Kärcher's own service center) and ask their technicians about any experience they've had with the scrubber model. Ask about its cleaning ability, common failure points, and parts availability.
Get demonstrations of a few different scrubber brands at your facility. Some distributors may only offer one brand of scrubber, so shop around! Pay attention to any differences in cleaning ability, ease-of-use, or build quality.
Get the scrubber that's appropriate for your use case. A sales representative should be able to advise on the ideal scrubber size and type based on the floor surface, facility size, frequency of cleaning, and type of soils / mess.
A good way to do your own research on a scrubber's durability and performance is to contact a dedicated floor scrubber repair shop that isn't associated with a single manufacturer (in other words, not a forklift repair place which doesn't specialize in scrubbers, and not Kärcher's own service center) and ask their technicians what their experience is with a particular brand of scrubbers. For example, ask about common failure points, cleaning ability, parts availability, etc.. We asked the lead service technician here at Bortek about Kärcher scrubbers and, to put it kindly, he gave them a very poor review for durability. This guy has been working on these machines for over 20 years and is an expert on the matter. To find the best machine for you, specifically, let us know. We will talk you through the whole process and get you the equipment that will work best for you, even if you don't end up going with us. We're simply here to help. Contact us today!
Review Summary
We wouldn't recommend Kärcher scrubbers, except for the most light-duty environments and low usage applications.
Due to their cheaper parts and build quality, Kärcher scrubbers don't perform as well or last as long as other scrubber options.
Lead time on replacement parts for Kärcher scrubbers varies widely. The use of proprietary parts limits supplies.
Prospective buyers should check the distance to the nearest service center before purchasing a new scrubber.
On the note of equipment service, be aware that this OEM's quality of aftermarket service is severely worrying.
Do your own research by contacting current owners of Kärcher scrubbers and by seeing a few alternatives before buying.