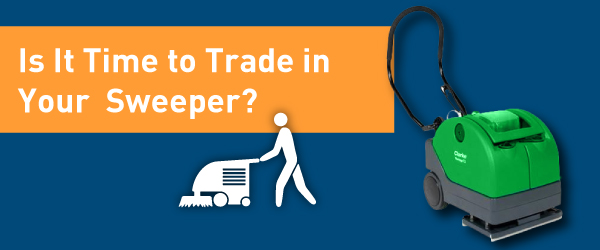 As one of the country's biggest renters of industrial cleaning equipment, Sunbelt Rentals boasts a national network that includes more than 450 rental locations that are spread out across the United States. Acquired by the Ashtead Group in 1990, Sunbelt offers an expansive collection of large equipment for all kinds of applications. The company serves customers across various verticals, including those in commercial, residential, industrial, government and other specialized industries.
Is It Time to Trade In Your Sunbelt Rental Sweeper?
By keeping your floors free from debris, you're guaranteeing a safer workplace and making sure your facilities look attractive to potential customers. This means it's essential to invest in modern industrial floor sweepers. This type of machinery allows you to rest comfortably knowing that your floors are spotless and your customers and employees are happy.
In order to get the job done correctly, it's important to choose the right sweeper. Before you move forward with any particular project, it's imperative that you figure out whether you need a ride-on sweeper or a walk-behind sweeper. Because all spaces are different, some jobs might require more than one machine of different sizes. Successful companies give their employees the right machines, streamlining the productivity of their cleaning technicians.
Are the Sunbelt rental sweepers the right machines to get the job done? If not, it might be time to stop using old rental machines and upgrade your fleet with Bortek Industries. We offer a comprehensive catalog of industrial sweeper machines, including: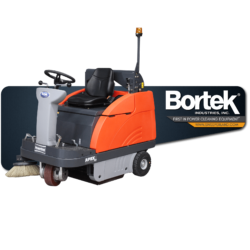 Factory Cat Model 34 — This battery-powered walk-behind sweeper will pick up everything from dust to woodchips to metal shavings, delivering high performance in all imaginable environments.
PowerBoss® Apex Series — Powered by whichever you prefer – battery, gas or LP – this machine packs quite the punch, allowing technicians to conquer large spaces quickly.
PowerBoss® Armadillo 10X — A true juggernaut, this machine boasts a 30 cubic foot hopper and an 84" sweep path, serving as the perfect cleaning machine for companies that need to constantly keep their floors spotless.
In order to enjoy reduced operating costs while sticking to cleaning schedules, businesses must leverage modern industrial floor sweepers that allow technicians to thoroughly cover the most ground in less time.
Trade In Your Sunbelt Scrubber
It's important to do everything within your power to make sure there aren't any ugly oil or grease stains on your outside grounds or the floors of your facilities. After all, your customers won't be likely to support your business if it looks filthy. Your employees might not be happy, either — if a company's not investing in the upkeep of its facilities, what does that say about its priorities?
Businesses must also clean up any spills to make sure that customers or employees don't slip on slick surfaces. By maintaining spotless floors, you'll decrease the likelihood that someone will get injured in a fall on your premises and file a lawsuit. That's on top of simply making sure your facilities look sharp.
Is your Sunbelt Rentals scrubber giving your cleaning technicians the power and versatility they need to get the job done to the best of their abilities? There's no sense in putting your employees to work with equipment that doesn't operate as well as it should. When scrubbers are working at less than optimal levels, technicians aren't able to clean floors as quickly, decreasing productivity. This causes your business to incur additional cleaning-related expenses.
If it's time to replace your Sunbelt rental equipment and look for new substitutes, Bortek Industries carries a full collection of scrubbers of all sizes. Examine and determine the full scope of your jobs, so you can match the right machines with the right technicians.
Bortek Industries carries the following scrubbers (and more):
PowerBoss Admiral Series — A compact and powerful rider-scrubber.
Factory Cat GTX Series —The best friend of many cleaning technicians, these machines can run for seven hours at a time. Technicians can cover nearly 38,000 feet each hour, and the ride-on scrubber's tanks hold an impressive 35 gallons of cleaning solution.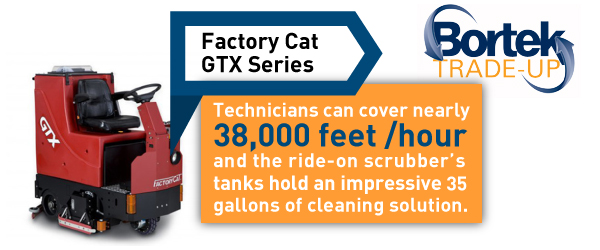 While all of these machines serve the same purpose, they each work better in different circumstances. If you're finding that your Sunbelt rental scrubber isn't increasing your productivity any longer, it might be time for you to start looking at other options.
Are You Satisfied With Your Sunbelt Sweeper Scrubber?
Sweeper scrubber machines allow cleaning technicians to cover a lot of ground, cleaning floors thoroughly without having to spend time retracing their steps. This is why many businesses choose to rent sweeper scrubber machines or buy them outright.
Just like any other piece of machinery, as technology advances and new innovations reach the market, sweeper scrubber machines evolve and become more effective. If you're using an older machine, your cleaning technicians may not be able to get as deep of a clean on the floors of your facilities.
Bortek Industries carries a wide selection of sweeper scrubber machines. By finding the sweeper scrubber machine that makes the most sense for your business, your technicians will be able to work as effectively as possible — that your cleaning costs can remain low. If you're not satisfied with your Sunbelt sweeper scrubber, consider upgrading to one of the following machines carried by Bortek:
PowerBoss® Nautilus — Powered by gas, LP or diesel, the Nautilus is easy to maneuver and simple to maintain. The mid-size ride-on boasts two hours of scrub time. It's also incredibly easy to operate and has an impressive turning radius.
Factory Cat XR Series — A compact and customizable sweeper-scrubber that packs a punch.
The right machine will make your facilities sparkle, make your employees and customers happier, and perhaps most importantly, bolster your bottom line.
View all Sweeper-Scrubbers
Looking for Replacement Parts for Your Cleaning Equipment?
Like any other piece of machinery, certain parts of your industrial cleaning equipment may need to be repaired over time. If you find your Sunbelt rental equipment, or anything other machine in your fleet, isn't working as well as it should, you may need a new replacement part to help restore it to its original glory.
When machines aren't working as well as they should, your cleaning technicians aren't able to be as effective as they'd like to be on the job. This results in jobs taking longer to finish, cleaning schedules being pushed back, and businesses having to stomach even more cleaning expenses.
Bortek Industries carries a wide assortment of replacement parts, so we have the pieces of equipment and other components you need to maximize your fleet's productivity.
Service and Repair Industrial Cleaning Equipment
If your sweepers, scrubbers and sweeper scrubber machines aren't working as well as they should, Bortek Industries offers service and repair functions. By putting your industrial cleaning equipment on a regular servicing schedule, you're committing to the productivity of your equipment so you can enjoy your fleet for years to come.
You're also reducing the likelihood that your technicians will face unplanned downtime, as machines that are properly cared for are more likely to work as designed. Neglected machines might work inefficiently or they might not work at all – neither is good for your bottom line.

Maintaining clean grounds is essential in all industries, including:
Education — Teachers can't expect children to learn if hallways and classrooms are covered with dust, dirt and other litter. Together, these add up to one thing: distractions. On the other hand, maintaining clean educational facilities helps teachers and students focus on the subjects at hand, while also reducing the likelihood that students will get sick from dirty areas.
Food and Beverage — Would you eat at a restaurant that had filthy floors? Probably not. No one wants to support a food or drink establishment that doesn't place a strong emphasis on cleanliness. By investing in or renting industrial cleaning equipment, your customers will notice nothing but clean floors.
Hospitality — Travelers don't want to pay to spend the night in a dirty building. First impressions matter, which is why business owners in the hospitality industry need to invest heavily in the upkeep of their facilities. Industrial cleaning equipment helps ensure that all floors get the deepest cleans every time.
Government — Taxpayers pay for the upkeep of municipal facilities. It wouldn't make sense for any administration to neglect the cleanliness of government buildings. Just like we keep our own homes and offices clean, government officials should also make sure municipal buildings and grounds are routinely cleaned to protect the taxpayers' investment.
Pharmaceutical — Cleanliness is particularly important in the pharmaceutical industry. After all, companies can't risk contaminating the drugs they make. You don't want patients to get sick, or find your company on the wrong end of a lawsuit.
Find the Industrial Cleaning Equipment You're Looking for at Sweeperland
For more than 40 years, Bortek Industries has helped customers find the customized cleaning solutions they need to meet their business objectives. Bortek sells brand-new and used sweepers, scrubbers, sweeper scrubber machines and other cleaning equipment. We also have a large rental fleet, meaning your company will have no problem finding the equipment necessary to clean your facilities.
Bortek Industries also has a team of skilled technicians who can service and repair virtually all kinds of cleaning equipment. Need a replacement part? Not a problem – you'll find it at Bortek. If you're unsatisfied with the Sunbelt rental equipment you have been using, it might be time to find better machines at better price points. Our team and the catalog on our website can help you find the products that are available.
Contact us today! Our technicians are experts on all the machines in our fleet, so you can be confident knowing you'll be well-informed prior to making any purchasing decisions.