FEATURES & HIGHLIGHTS
FOCUSED ON WHAT MATTERS
The new PowerBoss Scrubmaster B400 RH battery-powered rider sweeper/scrubber guarantees hours of uninterrupted working and a high area performance thanks to the 106 gallon solution and recovery tank and the maximized battery capacity provided by the optional battery changing system. Equipped with a 3-disc-brush unit making a scrubbing width of 48 inches. Sweeping capabilities reach 60″! It also comes with many extras as standard, as well as PowerBoss-specific features such as the on-board dosing system and the ergonomic back-friendly design for the workplace.
From the flexi-wall tank with a two-stage filter system for coarse dirt and fine particles to the fully integrated space-saving dirt hopper, the new Scrubmaster B400-RH Series has been designed with attention to every detail. Each Scrubmaster can be individually configured to ensure that you always have the right machine at hand for your individual cleaning tasks with optimised original accessories that provide more efficiency, environmental protection and occupational safety for perfectly hygienic cleaning results. The PowerBoss Scrubmaster B400 RH Series is ready for anything you throw at it.
SPECIFICATIONS
POWERBOSS SCRUBMASTER B400 RH SWEEPER/SCRUBBER AT A GLANCE

POWERBOSS SCRUBMASTER B400 RH BENEFITS
TO MAKE YOUR LIFE EASIER
Large, industrial, intelligent combination electric sweeper scrubber
Battery Powered – 36V – 810 AH Industrial Monoblock, standard offering
Up to 150,000 sq. ft. per hour of cleaning coverage
6 Hour Continuous Runtime on a single charge
106 gallon solution and recovery tanks, 5.3 cu ft hopper
Safely high dump debris into any container 65″ high or less
48″ Scrub Path, 3 disc brushes
60″ Dry sweeping path with dust control. Includes dual side sweeping brooms as standard equipment
All daily "touch points" are no-tools change and are easy to access & replace. Color coded in YELLOW
Debris hopper holds 5.3 cubic feet of dust and debris
DUST STOP Side Brooms Standard for dust free edge cleaning
One button operation to begin sweeping and scrubbing in one pass
One-button operating system activates all the cleaning functions. Sweep and scrub in one pass.
Length 111″ Width 54″ Height 59″ (83.46″ w/ OHG)
Individual functions can also be utilized, sweep or scrub independently. This allows to clean as needed.
Lifetime Warranty on FLEXI WALL or 10 Years
---
FLOOR SCRUBBER RENTALS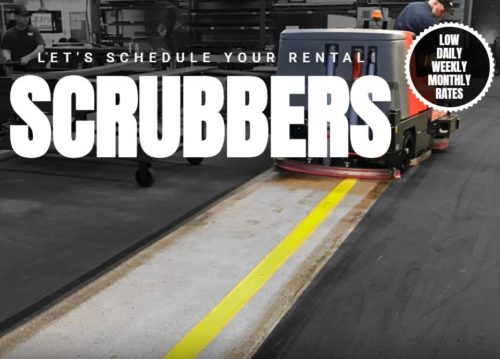 Rent your machine today! Clean your floors with efficiency and power. Our floor scrubbers cut through built-up grime and soil with ease. These maneuverable models are perfect for small or mid-sized cleaning areas or narrow, tricky spots. Choose from a wide variety of scrubber types, just like this PowerBoss Scrubmaster B400 RH Sweeper/Scrubber to best solve the job at hand!
Choose Your Rental
---
DOCUMENTS
FOR THE POWERBOSS SCRUBMASTER B400 RH SWEEPER/SCRUBBER
---