FEATURES & HIGHLIGHTS
FOCUSED ON WHAT MATTERS
Now available in a battery-powered version, the Electric PowerBoss Nautilus is a highly maneuverable mid-size ride-on scrubber/sweeper that delivers excellent cleaning results. The large water capacity means prolonged runtime operation, so you can spend more time cleaning than refilling. The Nautilus features one switch operation that turns all the selected functions on and off. Adjust water flow and change brush pressure while the machine is running. This gives you the power to remove build-up from floors and bring back the high gloss finish to dirty surfaces. An optional heavy-duty edge scrubber is available that allows the machine to clean close to walls and rack rows. In one pass, the PowerBoss Nautilus deep-cleans and a powerful vacuum quickly dries the surface, leaving floors immediately dry and safe for traffic.
Maintenance is easy with the PowerBoss Nautilus Scrubber/Sweeper. Simply remove the engine panels to have 360 degree access to all parts of the machine. No tools are required to change the scrub brushes and the squeegee tilts up for adjustments or changes. The recovery tank is easy to drain and clean. Heavy-duty stainless steel components means the Nautilus is built to last, withstanding corrosion.
SPECIFICATIONS
POWERBOSS NAUTILUS E BATTERY SCRUBBER/SWEEPER AT A GLANCE
Cleaning Path:
Cleaning Path w/ Side Brush:

55.5"
Working Speed:

4mph
Solution Tank Capacity:
Recovery Tank Capacity:
Standard Battery:

750 ah C6, 840 ah C6, 864 ah Lithium
Climbing Ability:

3 degrees
Size (L x W x H):

86" x 55" x 59"
Turning Radius:

95"
Chassis Construction:

Steel
MACHINE OVERVIEW
STANDOUT FEATURES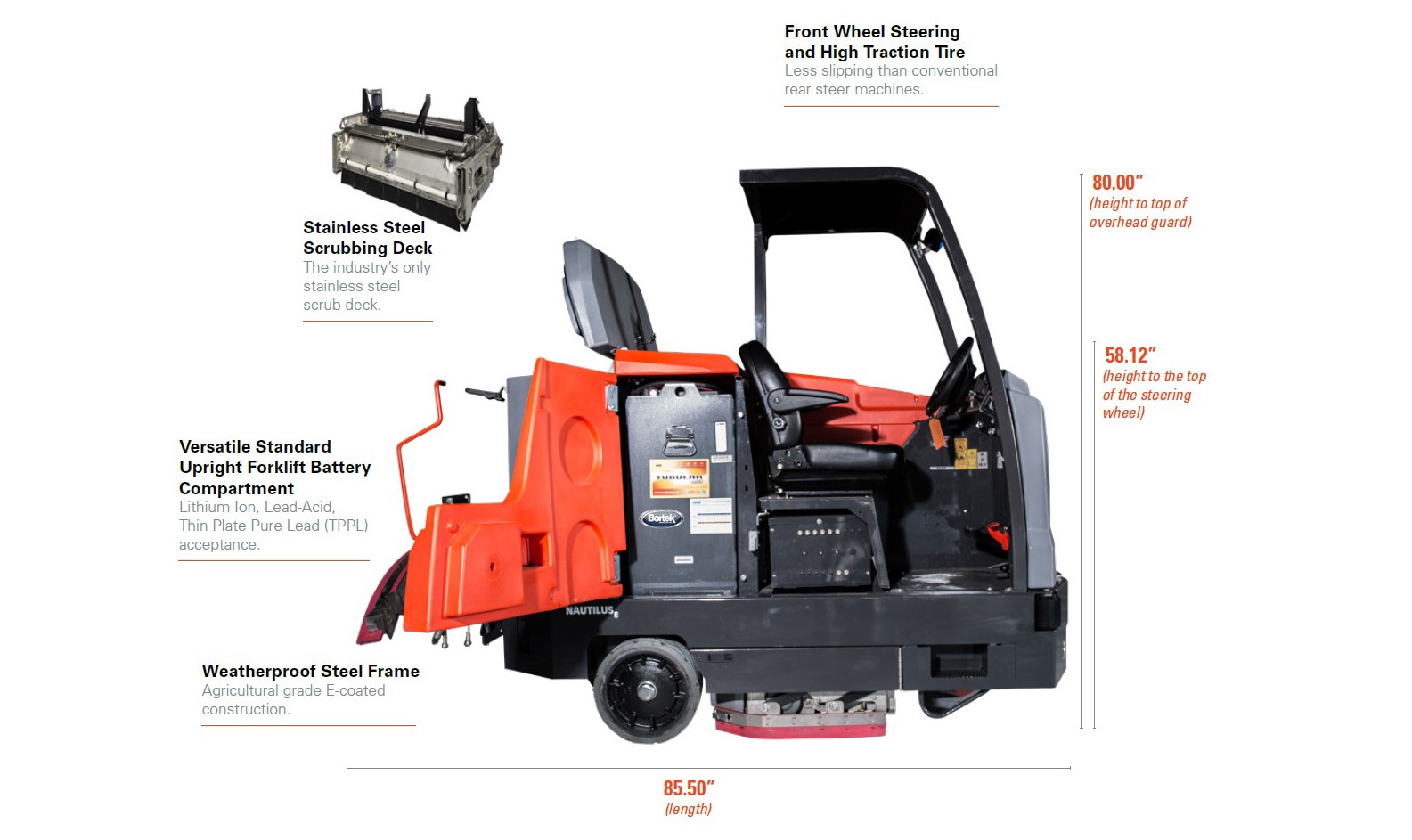 POWERBOSS NAUTILUS E BENEFITS
TO MAKE YOUR LIFE EASIER
Heavy Duty Cleaning– Fully Electric
45″ cleaning path
90 gallon solution tank
Overhead Guard, Flashing Light and Front Facing Blue Light (Rear Blue, Back-Up Alarm and Red Side Marking lights available)
Easy Access, Removable Front Hood
Simple to Empty and Refill, Full View 104 Gallon Recovery Tanks
---
FLOOR SCRUBBER RENTALS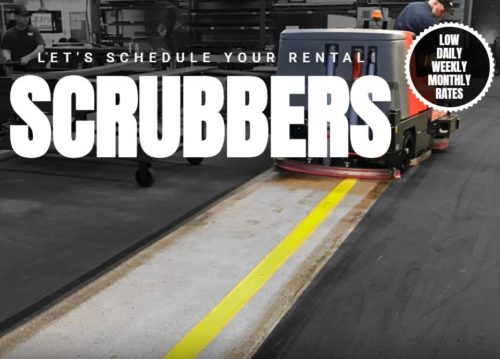 Rent your machine today! Clean your floors with efficiency and power. Our floor scrubbers cut through built-up grime and soil with ease. These maneuverable models are perfect for small or mid-sized cleaning areas or narrow, tricky spots. Choose from a wide variety of scrubber types, just like this PowerBoss Nautilus E Battery Scrubber/Sweeper to best solve the job at hand!
Choose Your Rental
---
DOCUMENTS
FOR THE POWERBOSS NAUTILUS E BATTERY SCRUBBER/SWEEPER
---