The Advance 7765 LP Variable Dump (formerly known as the American-Lincoln 7765) high capacity sweeper/scrubber is designed to maintain your Industrial facility inside and out. The Advance 7765 is the most powerful, reliable, and largest sweeper/scrubber on the planet.
The 7765 is currently cleaning 10's of millions of square feet in the toughest applications world wide. This model will perform efficiently, reliably and productively, and makes an excellent investment for any business looking for heavy-duty sweeper-scrubbers. This machine is rugged and will provide aggressive scrubbing and dust-free sweeping for the convenience of one-pass, large-area industrial cleaning.
The high capacity model offers a high level of performance that you won't find in any other model or brand. Its 16 cubic feet debris hopper, 54 inch wide scrub path, along with stainless steel 100 gallon solution and recovery tanks makes it the most productive machine in its class.
A unique tilt-out recovery tank makes the clean-up process quick and easy. A highly powerful downward scrub brush, featuring an incredible 600 pounds of pressure, allows you to demolish even the toughest grime. Maintenance is extremely easy due to an easily accessible engine, electrical and hydraulic components. This model also features the patented Accu-Track squeegee system, which provides you with a dry floor even after the tightest turns.
The 7765 High Capacity Sweeper/Scrubber is available in gas, L.P. and diesel versions, and comes loaded with impressive standard features. The Advance 7765 Rider Sweeper-Scrubber features power steering, a large debris hopper and dust collection system, and variable dump system. Other performance enhancing attributes include a heavy-gauge welded steel chassis with wraparound bumper, all-steel construction, an Accu-Track™ breakaway squeegee, and rack and pinion power steering for smooth and easy handling.
The powerful and durable 7765 from Advance can handle the roughest and toughest jobs you can put in front of it. Ideal applications include manufacturing plants, discount warehouses, and food warehouses where there's a lot of ground to be covered. The 7765 sweeper-scrubber not only sweeps up everything in its path, but it also has the scrubbing power needed to handle anything from parking garages and outdoor arenas to automotive plants.
Advance 7765 Standard Equipment
90/90 Power Steering
Accu-TrackTM Break-Away Squeegee
82″ Turn Radius, Right or Left
54″ Scrub Path
No-Tool Broom and Brush Removal
Direct Throw Sweeping
Tip Out Recovery Tank for Easy Cleanup
Heavy Gauge Steel Construction
100 gal. Stainless Steel Solution and Recovery Tanks
Heavy Duty 4 Core Steel Radiator
Ergonomically Designed Operator's Compartment
Hydraulically Driven Vacuum Fan
Fully Adjustable Deluxe Seat
Auto Squeegee Lift in Reverse
Steel Core Hydraulic Oil Cooler
16″ Diameter Front and Rear Tires
Hydraulic Fluid Sight Gauge
G, D Fuel Level Indicator
High Recovery and Low Solution Indicator Lights
LP Low Level Indicator
Brushes Off in Neutral
Heavy Duty Air Cleaner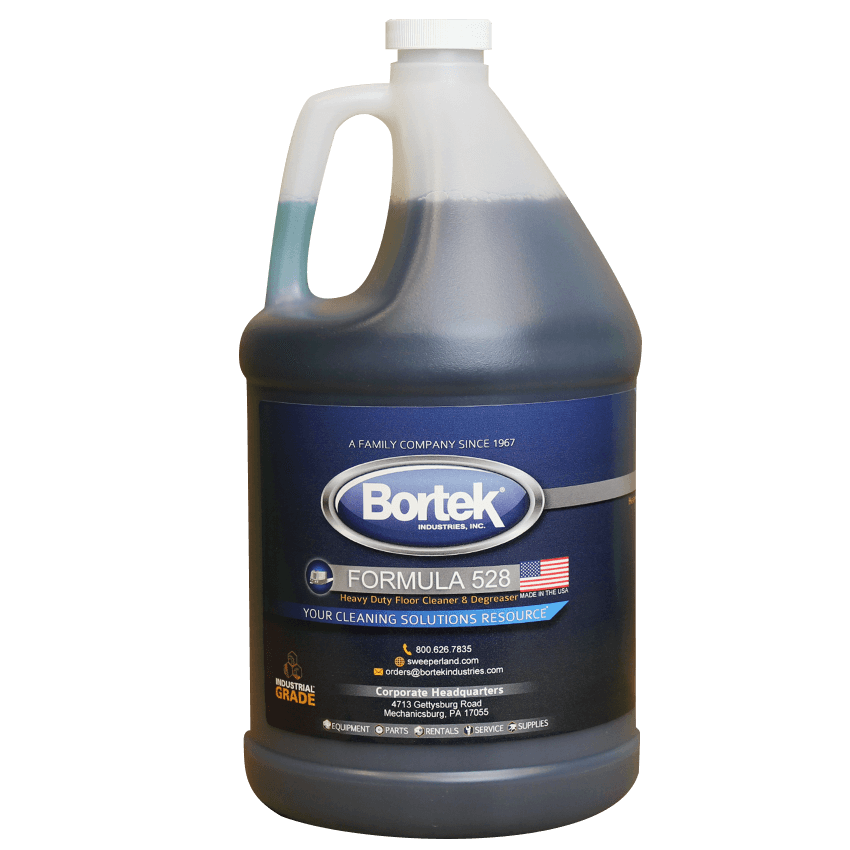 We highly recommend using Bortek brand chemical products in this machine. Our cleaning solutions are made with scrubbers in mind, and designed to be low-foaming in order to prevent hazardous overflows.