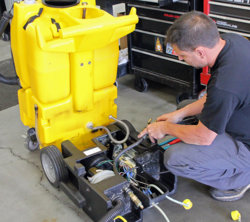 About Us
Bortek is a family company. We're not some international, faceless corporation that sees our employees by numbers alone; everyone here is part of the Bortek Family. Yeah, yeah, it sounds cliché, but it really is the best way to describe it. We're not just here to do a job. We're here to meet needs, strive for improvement, and build relationships.
Our Service Techs are some of the Best in the Business. Come and Join Our Growing Team!
At Bortek Industries, Inc., we sell the top brands of equipment in the world and service all brands of sweepers and scrubbers, including street sweepers. Training is provided by experienced technicians that are very familiar with the products.
About the Position
Field Service Technician – A fusion of mechanic and customer service representative
As a Field Service Technician, you'll be visiting a variety of sites – from a railroad car parts manufacturer to a municipality's shop – to perform planned maintenance, repairs, parts replacements, and servicing on a large range of heavy-duty cleaning equipment. As you work, you'll bring the positive and helpful Bortek attitude to each location and build relationships with customers. Thanks to you, they'll be able to look forward to not only well-running machines, but an all-around pleasant interaction as well. In this position, your communication skills will be as valuable as your mechanical skills.
Our technicians have various backgrounds. Some Auto, RV, Motorcycle, Marine, Bus, Aircraft, and even Gym/Sports equipment. The equipment we work on is powered by engines that are either gasoline, propane, or diesel. Some equipment is powered by battery. We don't expect you to have experience with cleaning machines; just the motivation and ability to learn.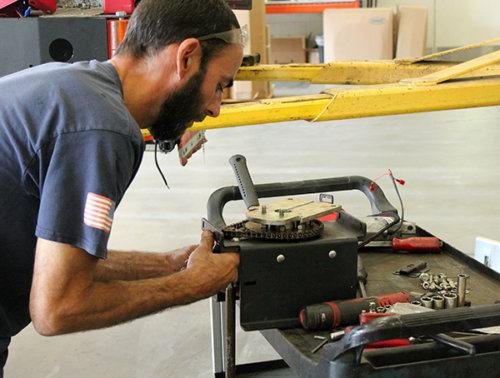 Employment Type:
Requirements:
Minimum of 2 years experience as a mechanic
Excellent Mechanical Skills – Diagnostics, Problem Solving
High School or equivalent diploma
Able to carry up to 50lbs and lift up to 75lbs
Computer literate, able to use an iPad
Good Driving Record
Self-motivated
Personable and presentable – portrays a positive image and inspires confidence
Goal oriented, customer focused – offers help and advice exceeding expectation
In other words… Be Friendly, Be Skilled, and Be Able to Figure Stuff Out
Benefits:
Technicians enjoy top pay
5-day workweek
Paid holidays
Paid vacation
Health insurance: Vision, Medical, Dental
Excellent retirement plan
We Provide:
Training (on-line and hands-on)
Technical support
Specialty tools
Uniforms
Monday – Friday work week, hours 7:00 – 4:00
For more information on our specialized, recession-proof equipment business, please browse around our website! Apply online today for immediate consideration. Hiring Now!
Bortek is a drug-free workplace. Criminal background, driving background, and drug screening will be checked on all hires. We are an Equal Opportunity Employer.
Current Openings
Click on a position of interest below to apply. Posting locations may reflect a general area for positions requiring travel.
---
---
Back to Careers Page