Servicing Street Sweepers
For streets to be safe, they need to be clear of dirt, sticks, rocks and other roadside clutter. Luckily, industrial street sweepers make the challenge of keeping even the most traveled roads clean a whole lot easier. In addition to simply cleaning roads, street sweepers are great for the environment due to the simple fact that they clear the road of litter. They also help ensure that debris doesn't clog storm drains, reducing the likelihood flooding occurs.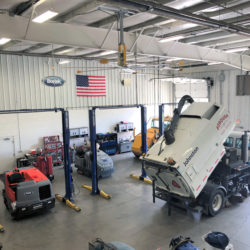 Like any other piece of equipment, in order to extend the useful life of your street sweepers, it's essential that you invest in their regular maintenance. You wouldn't buy a new car and refuse to get an oil change – to get the most out of your fleet of cleaning equipment, it's essential that you treat all vehicles the same way you would treat your personal ones.
On top of simply protecting your assets, when you decide to regularly service a street sweeper, you're ensuring that it works exactly as designed when your employees use the equipment. This allows your staff to stick to consistent cleaning schedules and doesn't incur any extended downtime to fix a problem you could have prevented through regular maintenance.
By choosing to service your street sweepers, you're taking the right steps to reduce your overall cleaning expenses over an extended period of time.
Bortek Industries – Your Street Sweeper Service Center
If you're looking for a specialized mechanic to fix or maintain your street sweeper, you've come to the right place. For over 50 years, Bortek Industries has built our strong reputation by crafting customized cleaning solutions for our customers, who come from all different industries. Our knowledgeable staff and skilled technicians know all street sweeper models inside and out. We'll provide an optimal level of care for your fleet, so you can ensure that the streets you're responsible for cleaning are as spotless as can be.
Together, we'll create a servicing schedule that makes the most sense for your particular fleet. We'll agree on a predetermined set of guidelines that our technicians will follow every time they service one of your machines. That way, you can make sure your equipment will be ready the moment your employees need it.
We Always Put Our Customers First
Our friendly staff will ensure that your fleet of cleaning equipment is always running at levels that ensure peak productivity. Our team can answer your questions, provide solutions, and share the information you need prior to making a purchasing decision.
Enjoy the level of dedication our technicians bring to every project. Contact us today! If you're looking for a street sweeper service center, look no further than Bortek Industries!
---
Service Options