FEATURES & HIGHLIGHTS
FOCUSED ON WHAT MATTERS
The Phoenix 2830 features 30 gallon solution and recovery tanks. The recovery tank is easy-to-clean and hygienic while the Anti-Foam System (AFS) protects the vacuum motor from damage. An on-board charger is convenient and allows the machine to be charged anywhere. As an added safety feature, when the on-board charger is plugged in, the machine is not operable. The Phoenix 2830 covers 37,673 sq. ft. per hour. This powerful scrubber is easy to use allowing the operator to focus on producing professional cleaning results quickly. Daily maintenance is very simple using the oversized drain hoses and tank openings for quick clean out. Contact us today for your free site survey and product demonstration.
SPECIFICATIONS
POWERBOSS PHOENIX 2830 SCRUBBER AT A GLANCE
Cleaning Path:
Solution Tank Capacity:
Recovery Tank Capacity:
Productivity (Theoretical):
Productivity (Practical):

26,000 sqft/hr
Working Speed:

3.1 mph
Weight (w/o) Batteries:

460.6 lbs
Weight:

570.6 lbs
System Voltage:

24 VDC
Power:

1.2 hp
Tank Material:

Poly
Chassis Construction:

Steel
Brush Deck Options:
POWERBOSS PHOENIX 2830 BENEFITS
TO MAKE YOUR LIFE EASIER
Cylindrical Brush Scrub Head: Cylindrical system provides sweeping and scrubbing capabilities.
Heavy Duty Scrub Deck & Squeegee: One piece, corrosion resistant scrub head and squeegee assembly. Provides a rust free long life.
Large Capacity: 30 Gallon Solution/Recovery provides long run times, less dumping and filling.
Productivity: 37,673 ft2/hr, allows for large areas to be cleaned quickly.
Ergonomic Design: Reduces operator fatigue, with excellent line of site & comfort zone hand bails. Provides maximum maneuverability & operator safety.
User Friendly Controls: Simple, easy to understand icons & selector switch plus one touch directional lever.
Durable Construction: Powder coated, epoxy painted, 11 gauge steel frame resists corrosion. Heavy-duty rotationally molded polyethylene tanks & bumper.
LED Display: Battery Gauge as well as service indicator lights thus preventing unnecessary down time.
Tool-Free: No tools required for quick squeegee blade change.
---
FLOOR SCRUBBER RENTALS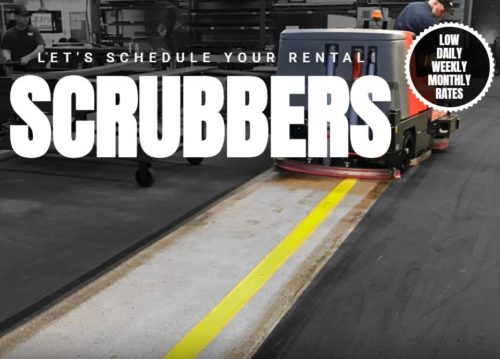 Rent your machine today! Clean your floors with efficiency and power. Our floor scrubbers cut through built-up grime and soil with ease. These maneuverable models are perfect for small or mid-sized cleaning areas or narrow, tricky spots. Choose from a wide variety of scrubber types, just like this PowerBoss Phoenix 2830 Scrubber to best solve the job at hand!
Choose Your Rental
---
DOCUMENTS
FOR THE POWERBOSS PHOENIX 2830 SCRUBBER
---