FEATURES & HIGHLIGHTS
FOCUSED ON WHAT MATTERS
With an 82-gallon tank and water/chemical-retaining Aqua-Stop System, the Admiral 48 brings a high level of chemical efficiency. The recovery tank features a large opening for easy cleaning. For that matter, the sweeper portion's hopper on the front can be easily removed and emptied tool-free as well.
The 36V battery can last up to one shift, and an optional case battery and charger are available for extended runtime if necessary. Thanks to its battery power, this sweeper/scrubber gives an impressively quiet ride and eliminates concerns of exhaust. As an additional safety feature, the machine is automatically inoperable when charging – you can't mess it up!
Driving the Admiral 48 is the next best thing to sinking into your own couch after a good day of hard work. It's easy to get on from either side and has a comfy, fully-sprung driver's seat which can be adjusted to the driver's weight. All of the operating controls are in plain view, with user-friendly labels. Maneuverability is also a breeze: it's got a tight turn radius, can climb grades of up to 20%, and provides unobstructed visibility.
And holy cannoli, is this sweeper/scrubber accessible for servicing! If you've experienced PowerBoss cleaning equipment before, you know that there are tool-free panels everywhere to give access to every component you could ever wish to tinker with. It's the same deal with the Admiral 48; virtually every surface of the machine can be effortlessly flipped open to reveal its exceedingly accessible innards. Even I could figure it out, and I'm the computer guy.
If you're looking for a cleaning machine with a wide cleaning path and all-in-one scrubbing and sweeping options, you can't go wrong with the Admiral 48 Rider Sweeper/Scrubber.
SPECIFICATIONS
POWERBOSS ADMIRAL 48 SWEEPER/SCRUBBER AT A GLANCE
Weight: 3940 lbs
Cleaning Path:
Cleaning Path w/ Side Brooms:

55"
Working Speed:

4mph
Solution Tank Capacity:
Recovery Tank Capacity:
Productivity (Theoretical):
Productivity (Practical):

50,000 sqft/hr
Size (L x W x H):

103" × 55" × 55"
Weight:

3,940 lbs
System Voltage:

36 VDC
Power:

3.2 hp
Chassis Construction:

Steel
Brush Deck Options: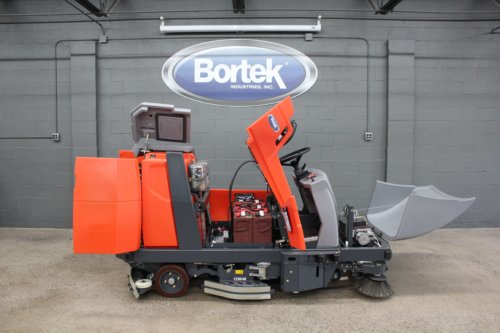 POWERBOSS ADMIRAL 48 BENEFITS
TO MAKE YOUR LIFE EASIER
82 gallon solution and recovery tanks allow extended operation time by limiting dumping and filling.
Powerful drive allows climbing ability of up to 20%.
Three separate drive motors for the scrubbing brushes guarantee an even cleaning result.
Two independent .82 HP vacuum motors provide a completely dry floor behind the machine after scrubbing.
Clear line of sight to the left or right of the operator position provides opportunity to clean closer to walls and objects producing a professional cleaning result.
---
FLOOR SCRUBBER RENTALS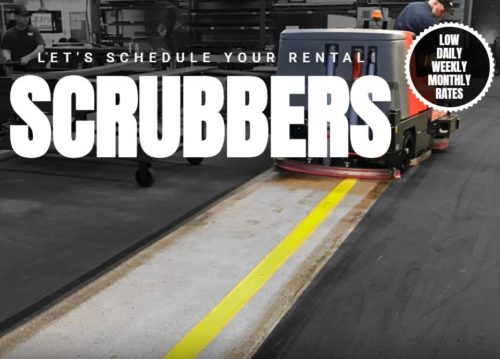 Rent your machine today! Clean your floors with efficiency and power. Our floor scrubbers cut through built-up grime and soil with ease. These maneuverable models are perfect for small or mid-sized cleaning areas or narrow, tricky spots. Choose from a wide variety of scrubber types, just like this PowerBoss Admiral 48 Sweeper/Scrubber to best solve the job at hand!
Choose Your Rental
---
DOCUMENTS
FOR THE POWERBOSS ADMIRAL 48 SWEEPER/SCRUBBER
---