FEATURES & HIGHLIGHTS
FOCUSED ON WHAT MATTERS
The brand new Factory Cat GTR XL Rider Floor Scrubber is building on the Factory Cat GTR's noteriety for its simple design and durable construction, offering unmatched value for the customer. The GTR-XL Floor Scrubber Dryer matches the GTR's effectiveness, but comes with the added benefit of larger available cleaning paths on its XL frame (that's only 3″ longer than the standard frame!). You can get this machine with either a 36″ Disk and 37″ Cylindrical decks and, like it's little brother, it also comes equipped with a powerful front-wheel drive for climbing ramps and max operator ease.
This machine is perfect for cleaning facilities with larger aisles or open areas as it will require fewer passes to completely clean. Places like shipping & distribution centers, airports, warehousing, manufacturing, etc. would all benefit from having an incredibly reliable battery-powered, heavy duty floor cleaning machine like the Factory Cat GTR-XL on hand.
SPECIFICATIONS
THE GTR-XL AT A GLANCE
Cleaning Path: 29 – 37″ (73.7 – 91.4 cm)
Run Time: Up To 5.0 Hours Battery Life
Solution Tank Capacity: 46 Gal (174.1L)
Recovery Tank Capacity: 49 Gal (185.5L)
Productivity (Theoretical): 46,875 sqft
Productivity (Practical): 21,661 sqft
Size (L x W x H): 54″ x 26″ x 55
Weight (w/o batteries): 755 – 805 lbs
System Voltage: 36 VDC
Standard Battery: 245 ah WET
Power: .75 hp
Tank Material: Poly 3/8″
---
AVAILABLE SCRUB DECKS
CHOOSE YOUR TYPE OF CLEAN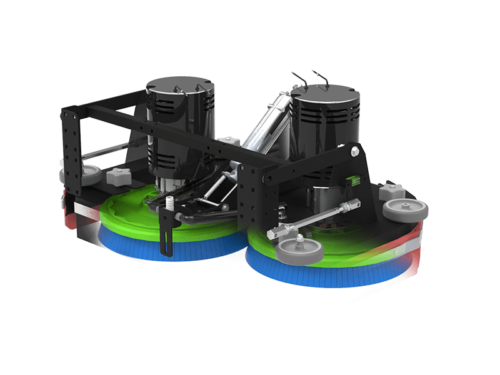 GTR 36″ Disk Deck
Brush / Pad Selection
Lowest Maintenance Cost
Gimballed Drivers Improves Cleaning On Irregular Floors
Brushes Individually Driven For Unmatched Performance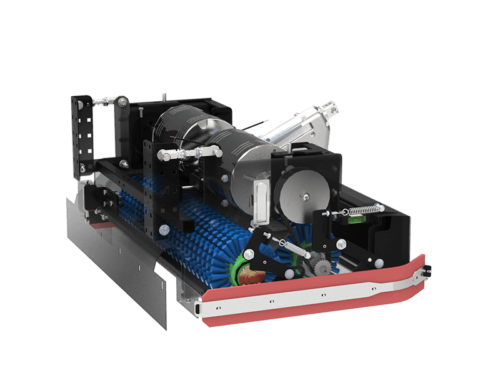 GTR 37″ Cylindrical Deck
Eliminates Dust Mopping
No Pre-Sweeping Required
Scrub & Sweep Simultaneously
Superior Expansion Joint Cleaning
FACTORY CAT GTR-XL BENEFITS
TO MAKE YOUR LIFE EASIER
Machine Control Panel uses off-the-shelf toggle and marine duty switches featuring universal icons which simplifies training.
Vacuum Muffler allows machine to consistently achieve as low as 70 dBA while thoroughly drying the floor.
Squeegee Adjustments made simple tool-less maintenance of the squeegee blade.
Fill System features a retractable hose for easy filling on standard sink-faucets and a stainless screen for bucket filling.
High Performance motors and down pressure provides an unmatched standard of cleaning.
Stainless Steel Decks and Hoppers
HD Side Doors
HD Scrub Motors
Oversized Vacuum Screen Shut-Off quickly arrests overfill issues to protect the Vacuum Motor.
Larger 12″ Front Wheel Drive
310 AH Batteries with 40 Amp Charger
Swing 45″ Squeegee
Vacuum Muffler allows machine to consistently achieve as low as 70 dBA while thoroughly drying the floor.
---
FLOOR SCRUBBER RENTALS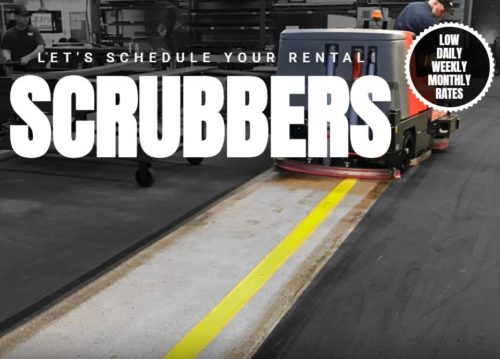 Rent your machine today! Clean your floors with efficiency and power. Our floor scrubbers cut through built-up grime and soil with ease. These maneuverable models are perfect for small or mid-sized cleaning areas or narrow, tricky spots. Choose from a wide variety of scrubber types, just like this Factory Cat GTR-XL Scrubber to best solve the job at hand!
Choose Your Rental
---