[rev_slider alias="GTR-HD-Top"][/rev_slider]
TOUGH. SMART. AMERICAN-MADE.
Factory Cat industrial floor scrubbers and sweepers are known for their brilliant engineering, powerful cleaning, compact build, and extreme durability. They offer a wide variety of options and sizes so that you get exactly what you need and nothing else.
WHY TO CHOOSE FACTORY CAT:
Built To Last – Heavy-duty steel frame, optional stainless steel scrub deck, tower rollers, adjustable steel bumper, overflow-resistant recovery tank and vac box, accessible parts.

ZerO3+ Available – Swap between chemical-free Aqueous Ozone and smart chemical dilution at the flip of a switch. (Read more)
Disc or Cylindrical, ST or HD – Available with either low-cost disc scrub deck or light-sweeping cylindrical scrub deck, and in varying power options as the ST or HD edition.
Built How You Want It – Choose from a wide variety of optional features to suit your cleaning needs and budget, including side brooms, overhead guard, additional lights, and onboard battery charger.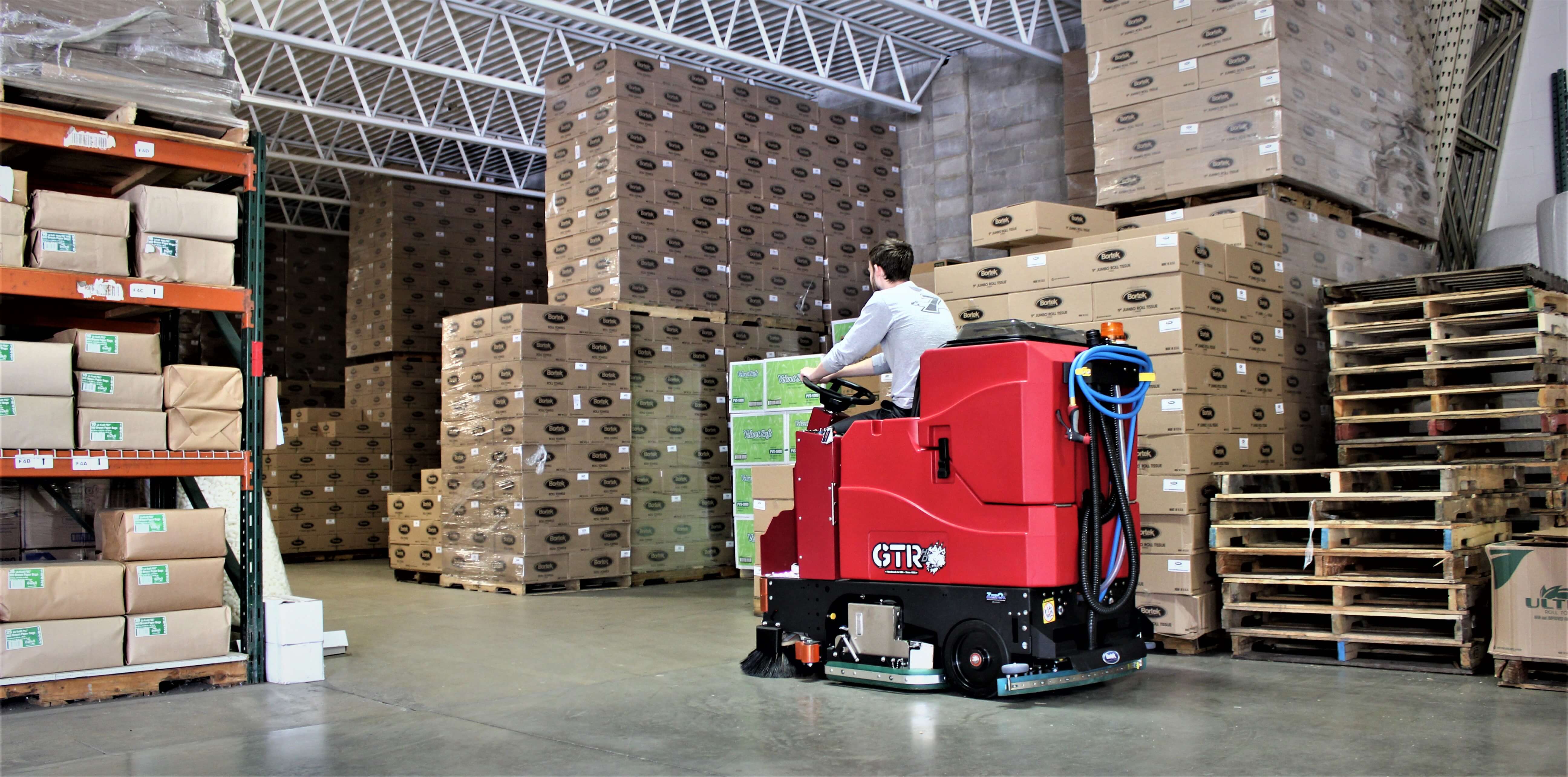 CYLINDRICAL BRUSH SIZES & SPEED
29″, 33″ @ 825 rpm (HD) or 650 rpm (ST)
Up to 225 lbs. / 500 lbs. Actuator Rating
Forward: 3.6 mph, Scrubbing: 2.9 mph
Solution Tank: 46 gal, Recovery Tank: 49 gal
HD w/ Batteries: 1,436 lbs., ST w/ Batteries: 1,186 lbs.
Ask about a free demo at your facility!
RECOVERY AND VAC BOX FILTRATION & OVERFLOW PROTECTION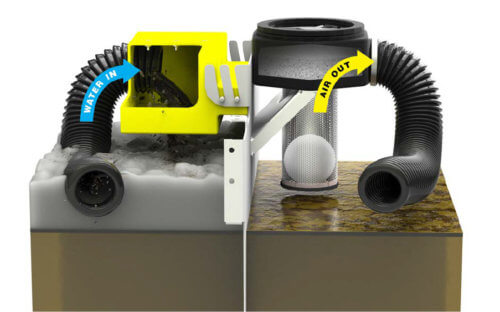 Water from the rear squeegee travels through the hose into the recovery tank. The Drain Saver Basket collects debris so it doesn't clog floor drains. As the tank fills, the Float Ball rises until it is sucked into a sealed position, cutting off airflow to the vacuum motor. When the tank becomes nearly full a red indicator light in the dashboard turns on.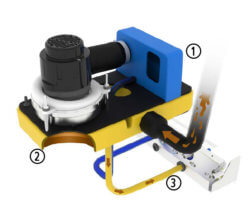 If dirty solution bypasses the Vacuum Filter Screen & White Filter, it will flow into the Yellow Vac Box.
The water stays in the Yellow Vac Box chamber due to vacuum pressure and only flows out when the vacuum turns off.
After shutting off the vacuum, any dirty water inside the Yellow Vac Box flows down to the Service Cabinet and out the unloader valve.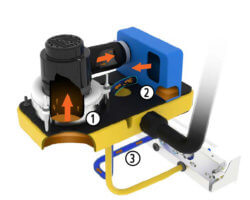 In the rare case the Yellow Vac Box overfills, water will pass through the motor.
Water passing through the Vacuum Motor exhausts in the Blue Reservoir where it will drain down to the Service Cabinet.
On the Service Cabinet, a clear bowl shows water has passed through the Vacuum Motor. There is an overflow hose so that extra water flows freely out the blue drain hose.
[rev_slider alias="factory-cat-sanitation"][/rev_slider]