FEATURES & HIGHLIGHTS
FOCUSED ON WHAT MATTERS
The sleek design of the machine gives the operator excellent line of sight, while the compact, ergonomic design focuses on operator comfort. The Phoenix 20 Scrubber is simple to learn how to use, with easy-to-understand controls. Cleaning the recovery tank is effortless. An Anti-Foam System (AFS) protects the vacuum motor from damage. With an on-board charger, the Phoenix 20 can be charged in any location and a safety feature prevents the machine from activating when the charger is plugged in. A switch loads and unloads the brushes, saving the operator from having to manually remove brushes. Squeegees require no operator adjustment. The low brush deck design is perfect for cleaning underneath obstacles, such as warehouse racks, shelves and other stationary objects.
SPECIFICATIONS
POWERBOSS PHOENIX 20 SCRUBBER AT A GLANCE
Cleaning Path:
Solution Tank Capacity:
Recovery Tank Capacity:
Productivity (Theoretical):
Productivity (Practical):

10,000 sqft/hr
Working Speed:

2.3 mph
Weight (w/o) Batteries:

203 lbs
Weight:

313 lbs
System Voltage:

24 VDC
Power:

.75 hp
Tank Material:

Poly
Chassis Construction:

Steel
Brush Deck Options:
Standard Battery:

105 Ah, 155 Ah
On-Board Battery Charger:
POWERBOSS PHOENIX 20 BENEFITS
TO MAKE YOUR LIFE EASIER
Available in disc or cylindrical models
Simplified control panel makes the Phoenix 20 easy-to-understand and easy-to-operate
Anti-Foam System (AFS)
Brush loading and unloading is as easy as the turn of a key
Low brush deck is ideal for cleaning around and underneath obstacles such as warehouse racks
On-board charger
---
FLOOR SCRUBBER RENTALS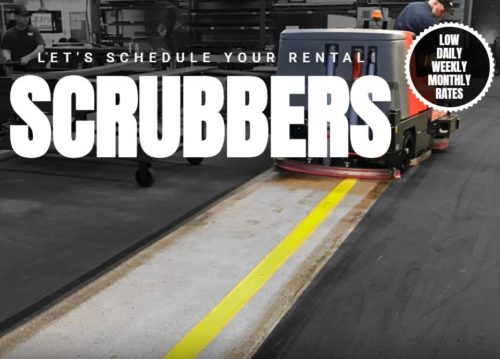 Rent your machine today! Clean your floors with efficiency and power. Our floor scrubbers cut through built-up grime and soil with ease. These maneuverable models are perfect for small or mid-sized cleaning areas or narrow, tricky spots. Choose from a wide variety of scrubber types, just like this PowerBoss Phoenix 20 Scrubber to best solve the job at hand!
Choose Your Rental
---
DOCUMENTS
FOR THE POWERBOSS PHOENIX 20 SCRUBBER
---