FEATURES & HIGHLIGHTS
FOCUSED ON WHAT MATTERS
The PowerBoss Admiral is designed for operator comfort and safety. With an ergonomically designed seat, this rider scrubber can be utilized comfortably for hours. The Admiral 28/32 Plus has tilt steering, see through solution tank lid, three electronic breaks for safety, and a safety seat that doesn't allow the machine to move unless the operator is on it. The rider scrubber offers a 180-degree view for the operator for optimum visibility. With a self-tracking squeegee, the Admiral leaves the floor virtually dry in one pass and ready for traffic. The Admiral can clean up to 45,450 square feet per hour. With a single charge, the batteries provide multiple hours of run-time for maximum productivity. An indicator on the control panel lets the operator know when charging is necessary.
An optional on-board off-aisle wand is available with the Admiral Plus. This telescopic wand can go where the machine can not, giving you the ability to clean hard to reach areas, effortlessly. The tool can be attached to the rear of the machine, so it is always available for use. With countless standard and optional features, the PowerBoss Admiral has the ability to meet all your scrubbing needs.
SPECIFICATIONS
POWERBOSS ADMIRAL SERIES AT A GLANCE
POWERBOSS ADMIRAL SERIES BENEFITS
TO MAKE YOUR LIFE EASIER
Cylindrical or disc interchangeable scrub decks
Heavy-duty steel construction and rotationally molded polyethylene solution/recovery tanks mean that this scrubber is built to last
Removable debris box on the cylindrical
Three electronic brakes: E-mag, Dynamic, Plugging
Fully variable solution flow rate
Spray jets for cylindrical scrub deck ensures uniform solution distribution on floor
Two caster wheel adjustment ensures proper squeegee alignment
OPTIONAL FEATURES
MAKE IT YOUR OWN
On-board off-aisle wand and squeegee tool
375 AH batteries available for longer run time
Rotating beacons
Linatex squeegee blade
Head lights
Many more! We bring all our machines to you with all the options you need to effectively clean your facility. You'll receive a one-of-a-kind machine for your specific situation
---
FLOOR SCRUBBER RENTALS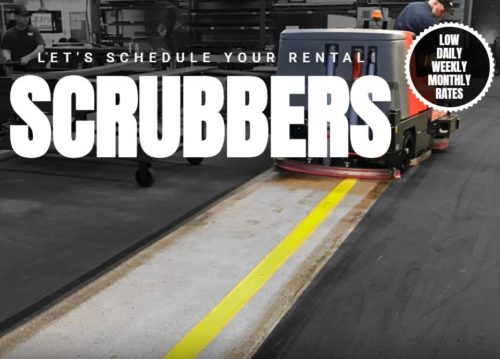 Rent your machine today! Clean your floors with efficiency and power. Our floor scrubbers cut through built-up grime and soil with ease. These maneuverable models are perfect for small or mid-sized cleaning areas or narrow, tricky spots. Choose from a wide variety of scrubber types, just like this PowerBoss Admiral Series to best solve the job at hand!
Choose Your Rental
---