Outdoor cleaning presents many different challenges. Bortek Industries™ is to here to help.
Why should you clean outdoors? Here are a few reasons:
Well-maintained parking areas and sidewalks are a key to attracting customers. Studies have shown that cleanliness ranks as one of the top factors in determining where people do business. Many people consider exterior cleanliness to be as important as the interior.
Storm water runoff is fast becoming a major factor in our environment. Sweeping your outdoor pavement and parking areas on a regular basis can greatly minimize pollutants in your storm water run-off stream.
Sand, dirt and other trash is abrasive. When dirt is allowed to stay on pavement, it quickly starts deteriorating the paving material. Replacement costs for pavement far exceed the routine expense of sweeping. Removal of these elements can save you time and money down the road.
Having clean parking lots and roadways project an image of prosperity and success in any community or business.
Whether for parking lots, roads, stadiums, playgrounds, downtown improvement districts, municipalities, cement plants, or any other paved areas, Bortek Industries has the outdoor cleaning equipment to solve your cleaning problem.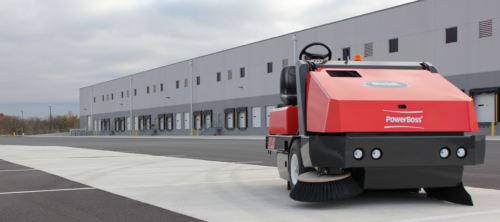 We carry a complete selection of street sweepers, parking lot sweepers, sidewalk sweepers and specialty outdoor cleaning machines. We have several street sweeper models and sizes to choose from including the exclusive Centurion waterless, dust-free street sweeper. There are many varieties of street sweepers. There are mechanical broom sweepers, regenerative air sweepers, vacuum sweepers, and combination sweepers. All of these have specific application and require expert advice to apply them correctly. Our specialists are here to help.
If you need to sweep a campus, parking deck, or any fixed base application we have numerous options as well. Our Advance purpose-built industrial grade sweepers are great for any outdoor sweeping. We also have litter vacuums like our Advance RS series that are great for outdoor cleaning sidewalks, parking lots and garages, bike paths, college campuses and numerous other outdoor applications. These highly maneuverable litter vacuums do an especially good job sweeping and vacuuming bulky trash and debris as well as leaves.
Each piece of outdoor cleaning equipment has a specific application and require expert advices to apply them correctly. Our specialists are here to help.