There are a variety of ways to scrub floors. Whether you're using the old-fashioned method of getting down on your hands and knees with a bucket of soapy water and a rag, or operating an advanced piece of machinery, there are different ways to get the job done.
While some applications may work for smaller jobs, larger industrial jobs require a set of tools that cover larger areas in a faster amount of time. With so many options out there, it might be difficult to ascertain what piece of equipment is right for you. Let's take a look at all of the different types of floor scrubbers available, starting with an explanation of where it falls under the floor cleaner / scrubber category.
Types of Floor Cleaning Machines
Floor cleaning machines, including scrubbers, are most often used in commercial and industrial applications. These machines are used to help protect and preserve a large surface area. You'll often find them in office buildings, school gymnasiums, shopping centers, warehouses, manufacturing plants, airports, and more.
There are many different types of floor cleaning machines, and depending on your specific needs, different models work best for specific applications. Some models also come with accessories that allow them to do different types of jobs.
Floor cleaning machines encompass everything from scrubbers to cleaners to industrial vacuums and extractors. They are typically able to deep clean almost any floor or carpet faster than traditional equipment. These machines are used to preserve and protect floors, assuring they last longer and look more professional.
Some examples of floor cleaning machines are:

Scrubbers
: Floor scrubbers use high-speed motor powered brushes to clean a variety of floor surfaces.

Sweepers
: You may see sweepers in use in parking lots, manufacturing plants, and stadiums.

Buffers
: If there's a scuff or scratch that needs fixing, a buffer can provide a glossy finish to floors. Industrial-sized jobs can be handled by large buffers that run on propane fuel.

Stone and marble polishers
: When you're dealing with high-grade floors like granite, limestone, and marble, these are the machines to use.

Sanders
:When a floor is imperfect, uneven, or splintering, sanders can smooth it out before the refinishing job begins.

Floor strippers
: These machines are good at removing old layers of floor finish prior to refinishing.

Carpet cleaners & extractors
: You'll most often see these machines in use in large convention centers or other vast carpeted spaces. They break down dirt and grime using a power wash, and then suck up the dirty fluids.

Carpet dryers
: These machines efficiently dry carpets and ventilate rooms.
Whether it's a dedicated cleaning company or a large business handling their own cleaning in-house, floor scrubbers are indispensable. From taking care of routine cleanings to more in-depth comprehensive jobs, these are the business cleaning workhorses. Now let's take a look at floor scrubbers specifically.
Types of Floor Scrubbers
Broadly defined, a floor scrubber could be anything from a floor mop or brush to a walk-behind or ride-on machine. If it is a device used to clean floors, then it can be classified as a floor scrubber.
More primitive devices might employ the aforementioned mop or sponge in a bucket of soapy water, though their applications are limited. For a larger surface area, modern technology has introduced machines that are both effective and efficient in handling the big jobs.
The types of floor scrubbers are usually grouped in the following two categories:
Walk-behind floor scrubbers: Walk-behind machines allow the operator to guide the machine without having to actually push it. A cleaning solution set to a specific dilution level is used on a number of scrubbing path widths, depending on the cleaning needs. A walk-behind machine can generally clean anywhere from 19,000 to 42,000 square feet per hour.
Ride-on floor scrubbers: These industrial floor scrubbers allow operators to clean large amounts of floor in a much shorter span of time. Ride-on scrubbers often also boast several different sweeping, scrubbing, and drying capabilities. Some of the larger models contain recovery tanks that allow the machine to operate for extended periods of time without needing to empty the tanks. Ride-on floor scrubbers have a cleaning range of 33,000 to 83,000 square feet per hour.
While there are different variations within these two categories, by size, model, and capability, most floor scrubbers fall under the walk-behind or ride-on umbrellas. Once you start looking into the specific types of floor scrubbers, then the differences become more apparent. Let's take a look at the different types of floor scrubbers available.
Walk-Behind and Portable Floor Scrubbers
For smaller jobs, walk-behind and portable floor scrubbers fit the bill. These are the machines most often used in office buildings, retail stores, and other businesses where space is small and the need for maneuverability is large.
We feature several varieties of walk-behind floor scrubbers. Chances are we've got one to suit your needs and budget considerations.
Our base model walk-behind floor scrubbers begin with our HammerHead series. These scrubbers are engineered to meet the highest-quality standards. They offer best-in-class levels of performance while delivering on the value and ease of operation that you're looking for.
Each model easily navigates corners and tight spaces. They have large rear wheels that allow them to tackle sizeable obstacles and stairs. They are much more efficient and effective for areas such as locker rooms, bathrooms, showrooms, classrooms, and so much more.

The HammerHead Series comes in four different varieties:
HammerHead 450RS: The base 450RS model delivers the most cleaning bang for your business buck. It is highly portable, efficient, and offers a superior level of efficiency without sacrificing cleaning quality.
HammerHead 500RS: The 500RS model boasts an easy drain and recovery system and an on-board charger. Maintenance is easy and operations come in at a quiet 70dBA.
HammerHead 650RS: The 650RS boasts an anti-microbial hygienic recovery tank and dyno-tested variable speed traction drive. It also comes with a cast-aluminum scrub deck and a break-away cast aluminum scrub deck. This machine boasts a sound level of less than 66dBA, so quiet cleaning is a cinch.
HammerHead 750RS: The 750RS has a large 30" cleaning path as well as a 20 gallon solution and recovery tank. This allows it to clean over 40,000 square feet per hour. For being a walk-behind variety, this beast performs like machines much larger and more expensive.
Walk-behind and portable scrubbers are one of the most widely used pieces of industrial cleaning equipment available today. Their compact size and ease of use makes them ideal for smaller, harder to reach spaces. But what if you've got a job that's just too big for the little guys? Let's take a closer look at the industrial floor scrubber.
Industrial Floor Scrubbers
Although walk-behind and portable floor scrubbers can technically be used in industrial settings, for the big jobs, you need industrial floor scrubbers.
When it comes to industrial use, durability, reliability, and consistency are necessities. Industrial floor scrubbers have to endure a wide variety of rough conditions and near-constant heavy use.
These are the machines operated in large warehouses, stadiums, manufacturing facilities, parking lots and streets. The term "ride-on" encompasses these industrial varieties.
Industrial floor scrubber machines generally come in three different types, designated by size:
Compact ride-on: These machines are necessary when you've got a job too big for a walk-behind scrubber, but too small for a mid-size or large floor scrubber. They are often battery powered and boast a number of customizable options.
Mid-size scrubbers: Mid-size scrubbers are ready to tackle your large industrial needs while still maintaining cost effectiveness. They most often run on diesel, gasoline, or liquid propane and are easier to maintain than larger models.
Large floor scrubbers: Sometimes a job is just too big for the little guys. Large floor scrubbers are the beasts of burden. These large ride-on, gasoline, diesel or liquid propane fueled floor cleaners aptly tackle the biggest jobs with efficiency and ease.
We have an extensive selection of these powerful machines in stock. Expect advanced varieties to come with high levels of maneuverability, large scrub paths, and multi-level high-dump hoppers. If you've got a big job, we've got the industrial floor scrubber for you.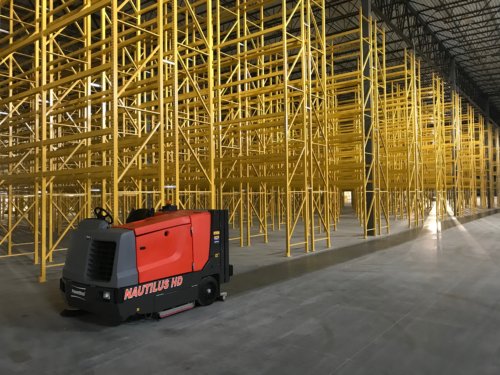 You may be reading all of this and think that these machines sound great, but what if you're working with a budget that doesn't allow for the purchase of a large, brand-new floor scrubber? Buying pre-owned or reconditioned floor scrubbers often offers the kind of affordability you're looking for while still providing the same levels of durability and operational stability that you've come to expect.
Floor scrubbers are large and complicated pieces of machinery, and buying them brand new is not in everyone's budget. Pre-owned floor scrubbers offer a cost-effective solution without sacrificing quality.
Most of the reconditioned equipment you'll find at Sweeperland has been used by us in our own rental fleet. As these machines have operated through their life cycles, they have been expertly serviced by our own qualified and meticulous technicians.
We take extra care to make sure that all of our machines are reconditioned or overhauled to the highest possible standards. Our expert technicians know how important your time is, so the quality of their work is always number one. When dealing with the different types of floor scrubbers used, our technicians know what they're doing.
As a matter of fact, Bortek Industries will routinely scrap scrubbers that others would not. We work very hard to make sure we always have an extensive list of used floor scrubbers in stock and ready to go. Each of our machines delivers the quality and strength of commitment that our customers deserve.
Why Sweeperland?
Here at Sweeperland, we rely on the quality and reliability of Bortek Industries equipment. Whether you are working in a massive warehouse or a small store, we have the floor scrubber to suit your needs, whether it is a walk-behind or ride-on model.
Bortek Industries has been in business for over 40 years. They excel in manufacturing quality cleaning machines and equipment for commercial and industrial needs. If you're looking for a product that's proven to deliver years of reliable consistent service, these are the machines for you.
Our machines are powerful, durable and ready to be put to work. We know you'll be satisfied with the exceptional cleaning results that await you. Whether you need a high level of maneuverability or larger scrub paths, we've got the equipment that will fit your needs without breaking your bank.
If you're looking for a piece of industrial cleaning equipment that is backed by top-notch service, excellent technicians, and a commitment to quality, contact us today!