FEATURES & HIGHLIGHTS
FOCUSED ON WHAT MATTERS
The ride-on Dulevo 120 has all the characteristics of the best industrial machines: A wide container, great power, excellent sweeping performance and a really efficient suction system. If dust is your problem, the ride-on Dulevo 120 sweeper is more than a simple solution, it's an extraordinary opportunity. Designed to work in any environment, the 120 is a one of a kind machine: Solid, reliable, and noiseless.
Not only does the Dulevo 120 feature three different versions, but it can also be equipped with the GORE® filtering system, which can filter up to 90% of PM2.5, freeing the environment where we live not only from dirt and dust, but also from the dangerous particulates. The special filtering GORE® materials foster a considerable increase of performance, guaranteeing a higher duration, easy cleaning, reduced maintenance, an increase in the air capacity equal to 35%: All this for a better sweeping quality. GORE dust filters installed in the industrial sweeper have 5 YEARS warranty.
When sweeping, the collection of the debris is carried out through the side brushes, which sends it toward the center of the machine, where the central cylindrical brush hurls it at high speed directly into the container. The dust is sucked and kept in the container thanks to the depression created by a high capacity and prevalence suction fan. The fabric filtering system completes the sleeping cycle, guaranteeing the introduction in the environment of only clean air. The fabric filtering system completes the sweeping cycle, guaranteeing the introduction of only clean air in the environment.
SPECIFICATIONS
DULEVO 120 SWEEPER AT A GLANCE
Cleaning Path:
Hopper Capacity:
Sweep Method:

Direct Throw
Productivity (Theoretical):
Productivity (Practical):

100,000 sqft/hr
Size (L x W x H):

99" x 62" x 61"
Weight:

4585
System Voltage:

48 Volt
Power:

.75 hp
Chassis Construction:

Steel
DULEVO 120 BENEFITS
TO MAKE YOUR LIFE EASIER
Heavy duty steel frame
Water-cooled motors suited for hot climates and long working shifts
Compaction system inside the caisson designed to increase the collection capacity
No electronics
Standard power steering, for a more comfortable and pleasant driving
Replacement of the central brush without tools.
---
FLOOR SWEEPER RENTALS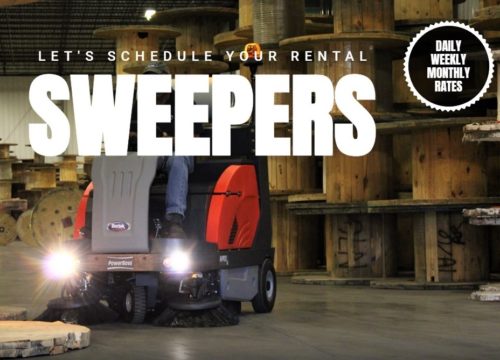 Sweep dust and debris from your floors with the ease and comfort of a ride-on sweeper. We've got indoor and outdoor sweepers – all available to rent. From parking lots to warehouses and factories, there's a cleaning machine for you, just like this Dulevo 120 Sweeper.
Choose Your Rental
---
DOCUMENTS
FOR THE DULEVO 120 SWEEPER
---