The Advance Advenger® 2805C rider-scrubber with EcoFlex™ System is cleaning at its best, giving you the power to deep clean and green clean, as well as everything in between. This machine offers the flexibility to run on any detergent, including green-certified cleaners; in addition, it can run with water-only. Advenger with EcoFlex System allows you to adjust scrubber performance to the job unlike other green automatic scrubbers that claim "one clean fits all". Offering the best of both worlds, this machine gives you the power to meet green cleaning standards and clean floors in one cleaning pass. Plus, the Advenger is available in a REV™ model, which utilizes the advanced Random Orbital Scrubbing technology. Outperforming traditional disc scrubbers, REV™ technology scrubs more efficiently with significantly less time and labor.
The EcoFlex System's onboard detergent-dispensing feature removes the need for pre-mixing. Simply set the controls to the required dilution rate. The correct amount of detergent is automatically mixed with clean water as the solution is applied to the floor. This effectively eliminates water and detergent waste, plus saves the user the time of cleaning and emptying a solution tank.
When you need the right amount of power to get the job done, the low-flow detergent-dispensing EcoFlex System is your solution. This system allows operators match performance to the amount of soil content on the floor. Temporarily increase the detergent strength, solution flow and brush pressure for deep scrubbing with EcoFlex System's unique 'burst of power' feature. This feature is ideal for high-traffic or heavily soiled areas and eliminates the need for double scrubbing or using a second machine for areas such as lobbies and entryways. In one cleaning pass, this scrubber will dispense the solution, scrub floors clean and pick up dirty solution, leaving floors dry and safe for foot traffic. Offering the tightest turning radius in the industry at 63″, the Advenger is able to easily maneuver through aisles and doorways. With the innovative technology of the EcoFlex System, the Advenger rider-scrubber delivers powerful cleaning abilities that are also safe for the environment.
The versatile Advance Advenger rider scrubber provides a "green" cleaning solution for a wide scope of applications. The Advanced Advenger is perfect for tackling jobs ranging from routine scrubbing to deep scrubbing, and is nimble and quiet enough for daytime use in busy public places like grocery stores or shopping malls.
The Advance Advenger is also designed for comfort, ease of use and safety. Smart design elements include an open operator compartment for easy boarding, low step for getting on and off, adjustable steering column and simple control system. The Safe 'n Dry™ squeegee helps guard against slip and falls with its 100% water pick-up capacity, while additional options include a seat belt kit and safety strobe light kit to further reduce the likelihood of accident or injury.
Advantages and Benefits:
Cylindrical Decks: 28″ path, two brushes operate at 900 RPM, sweeps dirt while also washing floors, and runs for a long period of time because of the 6 industrial batteries and 36 Volt scrubber.
Optional EcoFlex System: This system gives operators the option to deepen their clean by selecting the pad pressure, detergent, and water.
Automatically measures the right amount of detergent so there is no waste
63.7 dba
28 gallon solution tank and 29 gallon recovery tank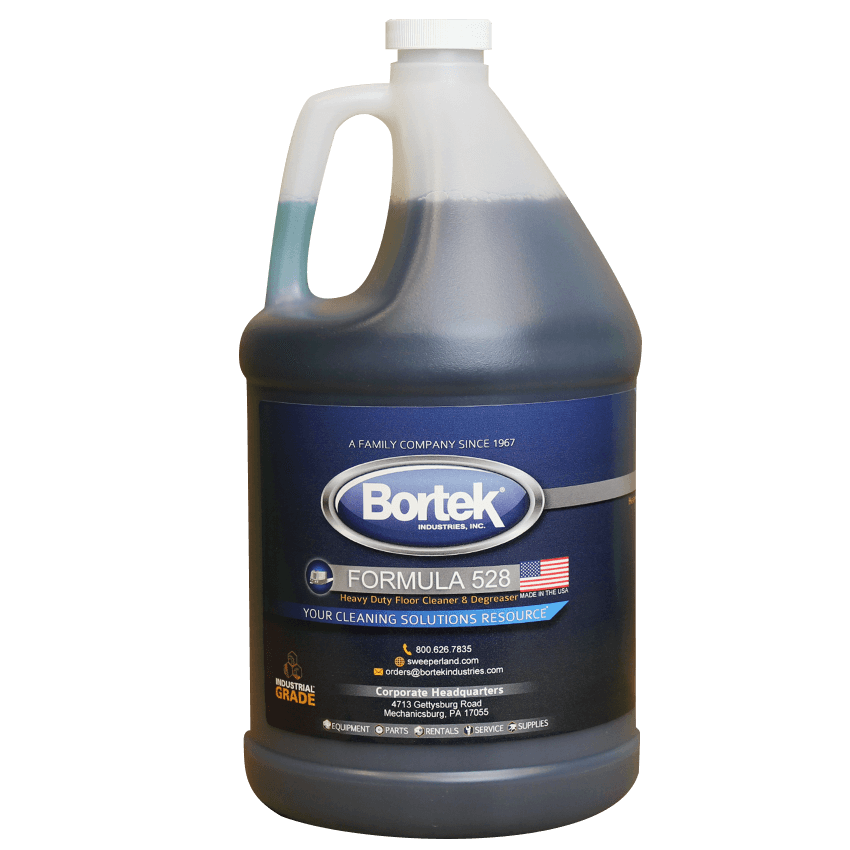 We highly recommend using Bortek brand chemical products in this machine. Our cleaning solutions are made with scrubbers in mind, and designed to be low-foaming in order to prevent hazardous overflows.