ABOUT YOUR NEW BORTEK FOAMING SOAP DISPENSER
MAKING LIFE EASIER
Your new dispenser will allow you to use a more efficient and easier to use foaming hand soap. It offers nearly twice as many uses per pouch compared to the previous model, so refills will be required less frequently. Also, foaming soap will not drip, so less will be wasted and residue won't be left on the counter-tops or floors. And, it's designed to be easily installed by anyone!
---
REMOVE YOUR EXISTING DISPENSER
TOOLS THAT YOU'LL NEED
• Power Drill with Phillips Head
• Scraper / Joint Knife
• Wire with Handles (Recommended)
1) Open the dispenser and remove the empty hand soap pouch. To avoid waste, be sure to use your remaining soap before changing dispensers.
2) Remove any screws securing the dispenser to the wall.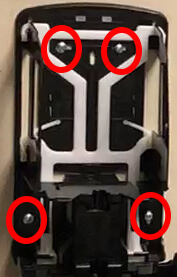 3) If the dispenser is secured with adhesive, slide a wire between the dispenser and the wall, then pull the wire downward with a side-to-side motion to safely remove the dispenser from the wall.
4) Use a scraper to remove residual adhesive from the wall.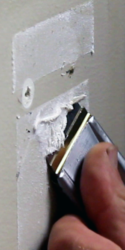 ---
ATTACH YOUR NEW SOAP DISPENSER
AS EASY AS IT SOUNDS
1) Clean the wall surface with the included wipe and dry with a paper towel.
2) Remove the paper covering the adhesive backing on the new dispenser.
3) Align the dispenser evenly to the wall and apply pressure to secure it with the attached adhesive backing. If using existing screw holes in the wall, you may wish to poke holes in the adhesive for easier placement.
4) Finish attaching with two screws at the top of the dispenser. If attaching to a mirror, the adhesive backing is sufficient; do not use screws when securing to a mirror.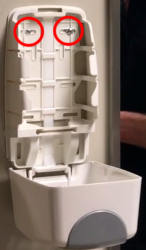 5) Remove the cap from the new soap pouch nozzle.
6) Snap the pouch into place with the label facing outward.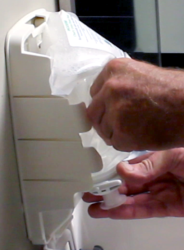 7) Test & Enjoy!

---
Need additional help or refills? Contact us! Check out our selection of hand soap dispenser programs on Bortek Shop!