The Power of Clean
The Armadillo series provides heavy-duty sweeping in a variety of sizes. Its claims to fame are its thorough dust filtration, durable steel frame, large and convenient debris hopper, and powerful climbing ability and ground clearance.
THE POWERBOSS ADVANTAGE:
Air-Moving System

Dual-phase dust filtration
Built-in pre-filtering & ultra-fine screen panel filters for dust control
Aggressive electric filter shakers
Shock-mounted hydraulic impeller
Engine area shielded from exhaust air
MERV 17 HEPA filter option for silica dust control (Read More)

Debris-Handling System

Direct throw sweeping method
Oversized hopper with RTR™ (Rotary Trash Relocation) (Hopper can be tilted to shift debris away from opening)
Quick-change brooms
Dual-speed sweeping
Multi-level high dump

PowerSwing™

A patented system which allows for the engine to be rotated out of the body of the sweeper for bench-like maintenance access to all parts. Available as an option on the 9XR.

PowerClimb™

Oversized tires and high ground clearance allow the Armadillo to pass over rough terrain, speed bumps, and even climb sidewalk curbs.

PowerFlex™

Automotive-type rear wheel suspension minimizes vibration for operator comfort and longer machine life. Standard on the 10XV, optional on the 9XV.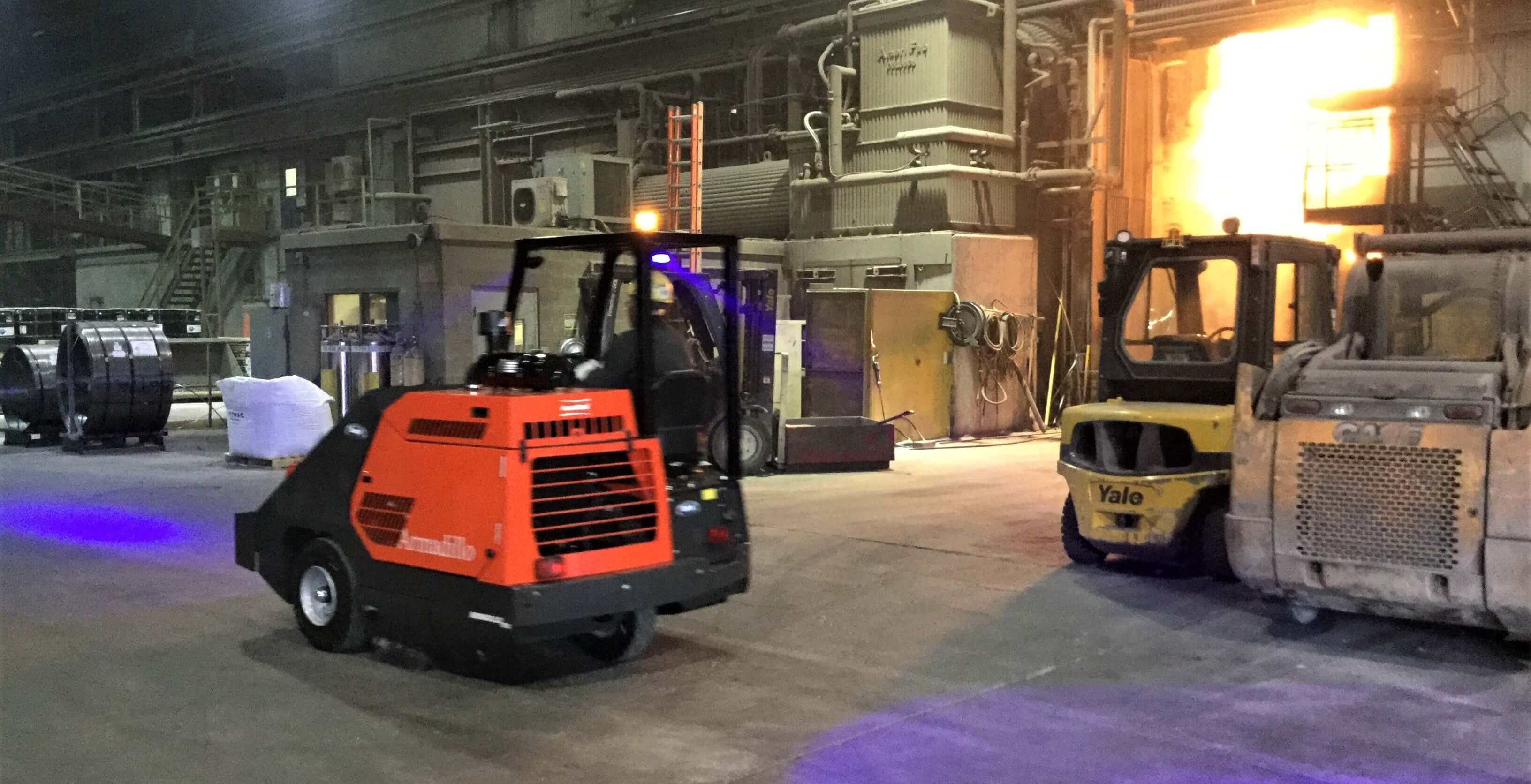 6X: 53″
9X: 62″
10X: 72″/84″
6X: 10 ft3
9X: 22 ft3
10X: 30 ft3
6X: 650 lbs.
9X: 1500 lbs.
10X: 2000 lbs.
6X: 79″ x 53″ x 53″
9X: 105″ x 60″ x 55.38″
10X: 105.88″ x 68″ x 55.38″
6X: 2550 lbs.
9X: 3500 lbs.
10X: 4575 lbs.
Ask about a free demo at your facility!
POWERFUL OPTIONS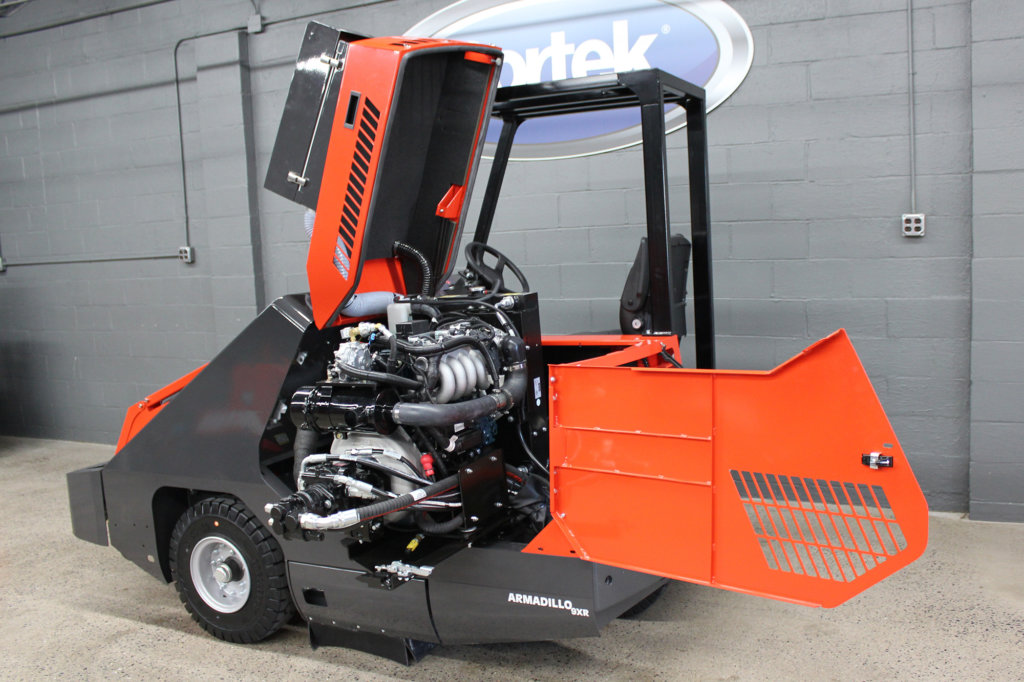 HIGH DUMPING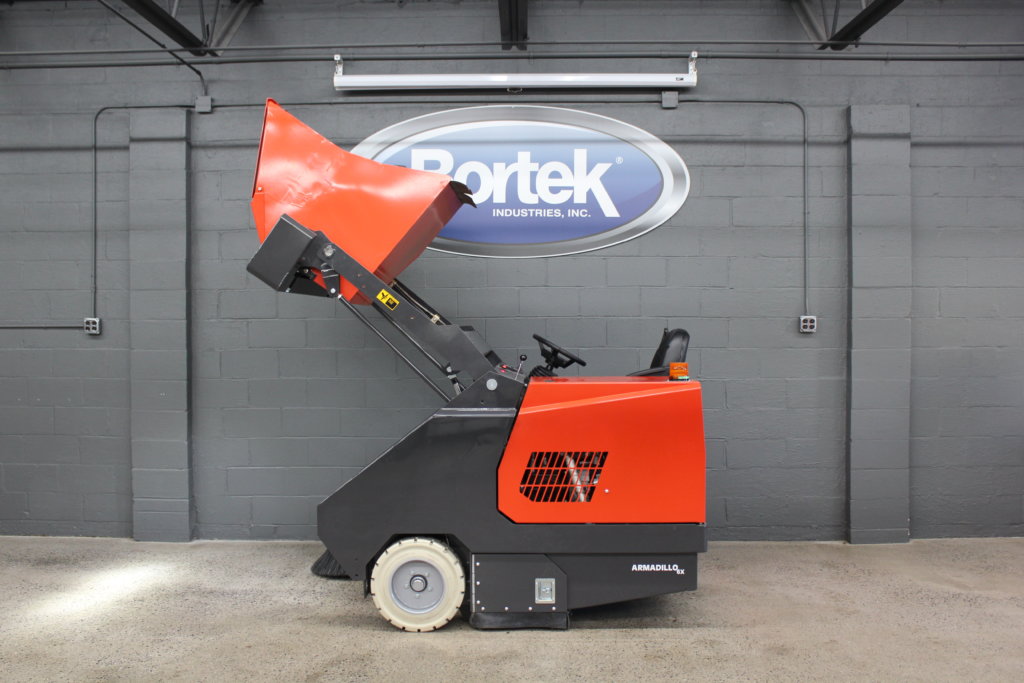 DUST FILTRATION