What Will It Take to Clean Your Warehouse?
Your company recently purchased an expansive warehouse. It's your job to maintain this facility and ensure that it meets regulatory standards.
It may seem like a daunting job due to the sheer magnitude of it. But don't be deterred by the number of tasks that you need to accomplish. With smart planning, a dedicated staff and the right equipment, you can keep your company's warehouse looking great and operating smoothly.
So, where do you even begin?
First, you need to come up with a plan.
Preliminary Steps
Think about your basic job duties and goals. Break down your responsibilities into different categories, in order of importance.
Here are some things to consider during this process:

Safety: Warehouse injuries can be very serious. According to the Occupational Safety and Health Administration (OSHA), the fatal injury rate for warehouses is higher than the national average for all other injuries.You should work to reduce warehouse injuries by staying in compliance with the OSHA requirements for a safe warehouse working environment. These federal requirements ensure that your employees have access to safe work zones, as well as sanitary conditions and basic functioning amenities such as restrooms and heat. Other requirements include up-to-date fire detection systems and hazard response communication training.
Your industry could also have additional local, state or federal safety and environmental requirements that you need to be aware of.

Efficiency: Think about your company in regard to its overall position in the supply chain. If your company slows down due to disrepair or inefficiency, multiple businesses — and customers — will be impacted.Therefore, you need to make sure that all pathways in and out of your facility are clear for use at all times, so that vehicles and customers can come and go throughout the day. This can be particularly difficult for businesses that operate in areas prone to seasonal weather challenges such as heavy snow and rainfall.
Likewise, interior walkways need to be thoroughly cleaned and cleared of debris on a regular basis. It's also your job to ensure that industrial infrastructure is maintained in order to reduce accidents and prolong equipment lifecycles.
It doesn't matter what industry you are in — these requirements apply whether you are a small food distributor or a massive organization that manufactures and ships industrial piping. They need to be met without going over budget, too.
Now, let's break down your responsibilities into two categories: interior and exterior maintenance.
Exterior Maintenance
Remember that your exterior responsibilities include not only the roof and walls of your facility, but also the adjacent parking lots and any roads that connect it to the rest of your complex or main streets.
Roads/parking lots:
If these areas are filled with dirt, garbage or manufacturing debris, it will reflect negatively on your organization.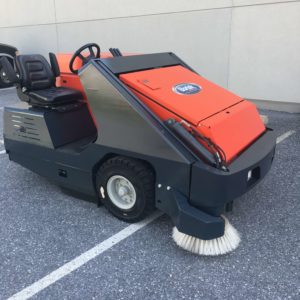 It could also be dangerous. Suppose, for instance, a forklift carrying a heavy load drives over a sharp object and blows a tire. This could result in a potentially life-threatening accident.
Street sweepers and parking lot sweepers are essential for maintaining your outdoor, asphalt-covered surfaces. Look for vehicles that are easy to maneuver and equipped with helpful accessories such as rear-facing cameras and dust-control devices. These features will help vehicle operators get the job done the first time around, thereby increasing productivity.
Browse our selection of Parking Lot Sweepers >>
Cleaning your exterior walls:
The easiest way to keep your exterior warehouse walls free of grime is to invest in a high-powered pressure washer. A pressure washer is a mechanical water sprayer that provides thousands of pounds of water for every square-inch of surface. This tool allows you to clean your facility using the sheer force of water pressure, eliminating the need to invest in toxic cleaning chemicals that can be harmful both to workers and the environment.
Recent advances in pressure washers have made these machines more sustainable, as they can retain water that would otherwise be sent down the drain. This makes them ideal for use even in areas that are suffering from heavy drought conditions, where business owners need to reduce their water consumption yet still maintain clean facilities.
Browse our selection of Pressure Washers >>
Scheduling exterior maintenance:
Are these everyday tasks or can they be completed as needed?
Street and parking lot sweeping should generally be part of your regular maintenance routine in order to prevent debris from accumulating to the point of causing problems. However, the frequency required depends entirely on your resources and needs. Very often it is more cost-effective to keep sweeping equipment in-house.
You should also be prepared to deal with snowfall before it happens. Don't wait for an unexpected winter storm to realize that your business is not prepared. Equipment such as snow plows and sweepers will help keep warehouses free and clear when storms arise.
As for the frequency in which you should power wash your business, this will depend heavily on where your business is located. Businesses that operate in humid climates will have to combat mildew and algae, which can accumulate quickly. Therefore, power washing should be done regularly in order to prevent buildup from occurring.
Devise an exterior cleaning schedule that aligns with your needs and budget. Remember that while you don't want to burn your entire budget on the appearance of your organization, investing in the right equipment can go a long way in reducing accidents and building trust with your customers and members of your community.
Browse our selection of Sweepers >>
Interior Maintenance
Now, let's take a look at interior warehouse maintenance.
The last thing you want is for a customer to tour your facility, only to be put off by a sloppy, unprofessional environment. So it's just as important to keep the inside of your building looking sharp as it is the outside. This is true for safety reasons, too.
Flooring: First and foremost, make sure that your floors are free of clutter and debris, such as dust, excess waste, power cords and spills. This will greatly reduce the likelihood of industrial accidents occurring. Work to establish a "clean culture," where employees pitch in to keep floors clean and clear. Let your employees know that time spent eliminating messes as they occur will actually save them time at the end of the day.
What's the best way to keep the floor clear of dirt and grime? For hard surfaces, there are a variety of chemicals and finishes that can be used to not only clean, but to also enhance the aesthetic appearance of your warehouse and showroom surfaces. These chemicals can add luster and shine to your surfaces and equipment, working to both restore and protect them from daily stresses.
Make sure that the floor cleaner you use is safe for the type of surface you are applying it to. Most leading floor cleaners are either synthetic or citrus-based and come with specific requirements about where they can be used. Not sure what you need, try this chemical finder tool.
Furthermore, these chemicals will need to be stripped periodically as layers can add up quickly. When this happens, an automatic floor stripper can help restore original surfaces quickly and easily. This machine can save hours of manual labor, while also reducing operator costs by up to 34 percent.
Tip: Looking to save time and money? Consider investing in a floor sweeper/scrubber, an automatic floor cleaning machine that can help both sweep and scrub a large amount of space in a small amount of time. This will increase productivity, as employees can avoid having to manually sweep and then mop — a process that can waste several hours every week.
Some floor sweepers and scrubbers even come with sound controls so that they can be run during the day without impacting employees. Other features to look for include advanced power and water-saving options as well as good maneuverability. Your floor sweeper/scrubber should be able to clean in tight spaces and corners, as well as on stairs and around obstacles.
When it comes time to invest in an automatic floor scrubber or sweeper, don't rush into the decision. Browse online to make sure you find a model that aligns with your company's needs.
Some of the most popular brands on the market include the FactoryCat Automatic Floor Scrubber, which boasts the most path options for scrubbing when compared to others in its group, as well as the PowerBoss Floor Scrubber Machine. The Boost 28 & 32 Used Floor Scrubber Machine is another model that you should consider.
For carpeted surfaces: Are areas of your facility carpeted? If so, it's important to keep a reliable suite of vacuums on hand, as well as hot water extractors for deep-cleaning purposes. A hot water extractor uses steam, pressure and suction to extract particles that wedge themselves deep below the surface.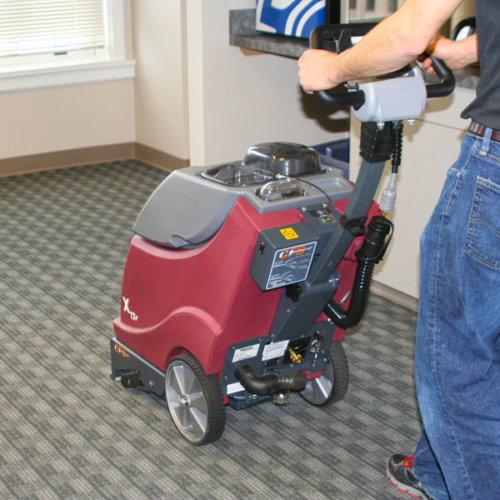 Here are some of the different types of vacuums that you can choose from:
Backpack: Just like the name suggests, this type of vacuum can be attached to the back via shoulder straps, which can save ground space. These vacuums average about 10 lbs. each, making them ultra-lightweight and convenient.
Canister: This traditional vacuum includes a central "canister" that stores dust as it is collected and is pulled behind the operator on wheels.
Explosion-proof: Make sure you stay protected against combustible dust, which can present a fire or explosion hazard when suspended in the air or other oxidizing medium. Explosion-proof vacuums are the best way to prevent this problem, as they collect and store it without further spreading the dust around.
Pneumatic: A pneumatic vacuum uses compressed air to transmit materials through a tube and into a central canister. It's ideal for transporting solid materials, such as industrial scrap.
Three-phase: A three-phase power vacuum provides greater power and circuit overload protection. Use this for heavy-duty vacuuming jobs.
Wet/dry: Does your manufacturing environment produce a variety of wet and dry waste? A wet/dry vacuum can be used to pick up both solids and liquids without the threat of electric shock.
Rider: Much like a sit-down lawn mower, rider vacuums will transport the vehicle operator. They are the best for large spaces.
Upright: This vacuum cleaner places the canister in front of the operator and is designed to be used in a push/pull style.
Walk behind: A heavier-duty version of the upright vacuum, the walk-behind vacuum allows for heavier waste pickup while still providing easy maneuverability.
Industrial equipment: If you want to keep your industrial equipment operating at peak performance, it's vital that you implement a regular cleaning schedule. Don't let grime, oil, grease, carbon or ink accumulate on your machines.
Furthermore, bathrooms, kitchen surfaces and all customer-facing areas should be regularly disinfected and polished in order to maintain a pristine and professional image. Always keep a full stock of grime removers and degreasers handy so that you never let a mess sit for an extended period of time.
Odor prevention: There are a few reasons to keep your facility odor-free. A continuous-duty environment that uses heavy amounts of electricity will produce large amounts of ozone. Aside from being harmful to employees, this can also degrade and damage certain equipment over time. Other gases may also be created that need to be collected and filtered in order to maintain a safe operating environment.
Invest in an air scrubber that can extract multiple types of gases and toxins from the air, including mold and mildew, smoke and other organic odors. An air scrubber is a portable air filtration system that can automatically draw in air from its surrounding environment, filter it and pump it back out.
Escalators: If your facility has moving walkways or escalators, it's best to avoid cleaning them manually as doing so can be hazardous for your employees.
Instead, consider investing in an automatic cleaner that can remove substances from each tread quickly and efficiently. You will reduce the likelihood of accidents and increase efficiency at the same time. Automatic escalator cleaners can restore luster to your moving sidewalks and escalators without any supervision, allowing you to better allocate your cleaning staff.
These machines are often lightweight and portable, making them ideal for use in any industrial setting where a large amount of moving interior walkways need to be maintained.
The Bortek Way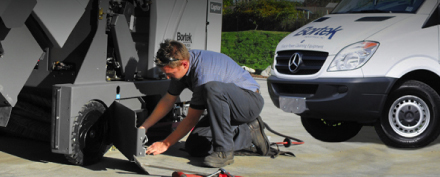 Here at Bortek, we understand that your business requires more than just access to basic cleaning equipment. You need a provider who can work with you to ensure that your facility has everything it needs to remain in proper working condition.
Bortek Industries is a leading industrial cleaning provider specializing in advanced service as well as cutting-edge equipment, rentals, parts and supplies. With seven service and distribution centers located across the Northeast, Bortek is ready to help you meet your maintenance needs while staying under budget.
Unlike others, our team is comprised of local expert field technicians who can work closely with you in order to understand your needs and realize your goals. This sets us apart from larger industrial cleaning providers, such as Tennant, who just can't provide the level of personalized service that we specialize in.
Whether you're looking for advanced planning, or you need an emergency repair, the Bortek team can help you along every step of the way with our exceptional service and advice. It's this dedication to customer service that truly differentiates us from the crowd.
Need more tips on cleaning your warehouse? Keep reading here.
Learn more about how Bortek Industries can help your business.