If your organization needs a ride-on sweeper or other cleaning equipment, you have several options. You can buy new, lease or rent a product, or buy used equipment.
Buying new may get you the latest and newest equipment with a warranty, but it can also take a big dent out of your budget. It can also take longer than you expect, since some manufacturers practice just-in-time delivery and may take weeks to deliver your new sweeper or scrubber to your door.
Leasing a product is less of an initial investment, but you will need to keep paying for an extended period of time, which can add up. At the end of the lease or rental period, you may be back where you started in your search for a replacement product. Cleaning services are another option, but may not be viable if you need to have equipment on hand to help you clean as needed.
For many organizations, buying used cleaning equipment is a strong investment. It offers a cost savings over buying new and in many cases the quality and selection remain high. You can choose a range of models and even find reliable, newer equipment, so you don't face unexpected repair costs.
Could Your Team Benefit From Used Cleaning Equipment?
Used cleaning equipment isn't just about a budget. Buying used equipment offers several advantages. It allows you to enjoy a fleet of cleaning machines whenever you need them — without tangling up your overhead and cash flow with leases or larger loans for new equipment. Many types of organizations choose used cleaning equipment for their needs, including:
Schools
Hospitals
Restaurants and food-related companies
Clinics
Warehouses
Hotels
Parking lots and outdoor areas
Conference centers
Sporting facilities
Stores and shopping centers
All of these businesses and facilities can benefit from used floor scrubbers, sweepers and other equipment.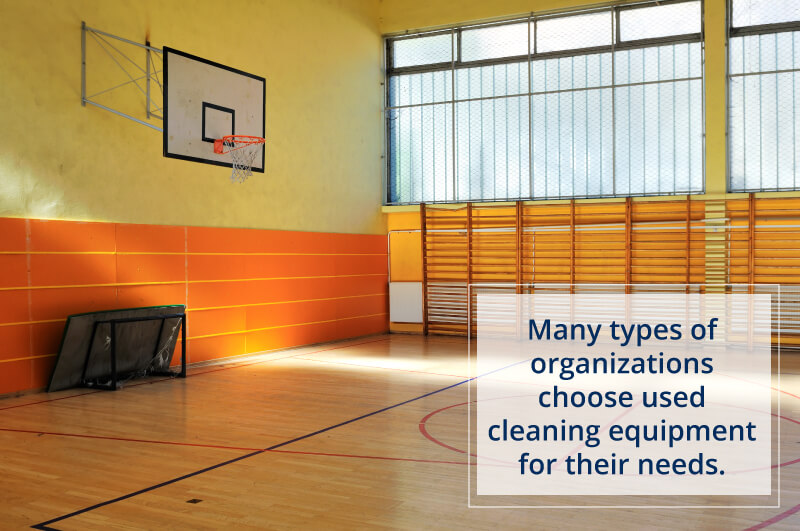 Virtually any industry can benefit from the cleanliness and efficiency used cleaning equipment can offer: Even smaller businesses can reap advantages from the high power available from commercial or industrial sweepers and scrubbers.
A small restaurant, for example, can technically be cleaned with a mop and bucket. However, buying a walk-behind combination sweeper and scrubber can be an excellent business decision since it can offer faster cleaning and a higher standard of cleanliness — which might be important when it's time for a health inspection or a large crowd of hungry patrons. A quality machine can also help keep the restaurant cleaner, preventing slip and fall accidents (and expensive lawsuits) or even pest infestations.


It's almost impossible to overstate the importance of cleanliness in the food and health industries, but proper cleaning is essential for all organizations, large and small. Used cleaning equipment has made owning equipment a reality for more businesses and facilities.
No matter what kind of organization you operate, many types of used cleaning equipment are available for sale, including:
Combination sweeper/scrubber machines
Floor scrubbers
Commercial equipment
Industrial equipment
Parking lot sweepers
Hip vacuums
Outdoor equipment
Sweepers
Street sweepers
How to Buy Used Scrubbers, Sweepers and Cleaning Equipment
Before you head out and spend money on a used floor scrubber or other piece of commercial or industrial cleaning equipment, make sure you take the time for due diligence. Before you buy, you'll want to:
1. Consider Your Needs
Just as with any piece of cleaning equipment, you'll first want to consider what you're looking for. Used equipment sales today offer a large selection, so you can get overwhelmed if you simply go hunting for what's in stock. Before you look at any models, ask yourself a few questions:
How many hours will this piece of equipment need to work per month? Per year?
What are some of the biggest cleaning challenges your organization faces?
What sort of square footage will the equipment need to cover?
Do you have special needs for hygiene? Perhaps your organization is a restaurant, nursing home or hospital.
Will the equipment be used in low-visibility conditions?
Are you considering walk-behind sweepers, ride-on floor sweepers or other equipment? Are you open to other solutions?
After taking stock, you'll be able to recognize the right equipment when you see it. If you're interested in talking to someone about your needs and the equipment that might meet those needs, contact Bortek Industries to find out about our used equipment sales.
2. Create a Budget — And Don't Forget Long-Term Costs
When organizations consider buying used cleaning equipment, they may be thinking of the bottom line. However, it's important to also budget for ongoing additional costs. You may need to pay for maintenance and repairs or for training your staff on how to use the equipment.
A sweeper may need fuel, defoaming products and detergent blends — and the costs of these items can vary by brand and model. One type of sweeper may have a longer life expectancy than another, lowering replacement costs over time. Consider these long-term costs when planning how much to spend. You may find it easier to compare models and types of equipment if you can see the breakdown of costs today and those over months or years.
When budgeting, keep in mind that your cleaning equipment may be a deductible. If it is, you might want to speak to your accountant. What budget range makes sense for your organization? Are there other cost benefits you may be able to reap by buying used machinery?
Consider your current solutions and the cleaning equipment you're thinking of buying. Is there a possibility of cost savings there? For example, if your cleaning team is currently working with mops and buckets, getting a ride-on floor sweeper might save you some labor costs over time, allowing you to reap the benefits of having a more efficient cleaning system. When budgeting, you need to consider these savings to determine the true cost of your purchase.
3. Try Equipment Out
There's nothing like seeing a sweeper or scrubber in action to offer a sense of how the equipment handles. Is it too noisy for your environment? Is it larger than you expected? Does it have a "quiet" mode or "burst cleaning" mode for tough spots?
You might not always be able to test before you buy, but you can always look at similar models. You can compare the difference between manual control of squeegees and scrub decks or automated handling. These factors can make a big difference. Testing lets you compare brands, models, features and styles so you can hone in on equipment that handles right for your needs.
4. Look for Brands You Trust
Brands matter. Some equipment brands offer an excellent reputation alongside terrific warranties and support — even for used models. If you want to buy used equipment and eventually re-sell it, buying a trusted brand can also boost the resale value, making the investment more solid.
Brands such as Power Boss and Factory Cat are reputable brands of sweepers and scrubbers. These companies work hard to manufacture and design equipment built to last. To maintain their brand integrity, they don't cut corners and they stand behind their products. Buying these brands can yield a better return on investment in comparison to no-name cleaners and sweepers.
5. Shop Online
When you buy new, you can simply walk into a vendor's offices to look at the latest sweepers, scrubbers and other equipment. When you buy used, that selection can vary widely. At Bortek Industries, the used cleaning equipment we offer changes all the time.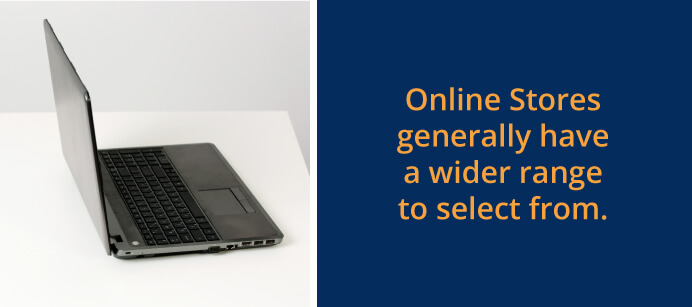 The wide range means it's better to shop online than at a bricks-and-mortar retailer. It's easier to browse a large selection of equipment online and to compare features, warranties and prices. At Bortek Industries, we make sure to include extensive details and photos where possible on our site, so you get a strong sense of each item.
6. Look for a Reliable Seller
Not all used cleaning equipment sellers are the same. Some will simply fix up machines and sell them with only minimal upgrades — even if those machines are unlikely to last. Other companies are interested in offering rock-bottom prices on used equipment sales but don't seem as interested in providing the highest quality cleaning equipment or service.
In other cases, you might truly not know what you're getting. When you buy through a classified site or an online auction site, you could end up with cleaning equipment that doesn't work right or doesn't work at all. Since this is an investment in your company's future, you'll want to buy from a business specializing in cleaning equipment sales and service.
At Bortek Industries, we're not afraid to throw out cleaning equipment if it doesn't meet our high standards. In fact, we routinely get rid of used cleaning equipment other companies would continue to sell. We only sell machines and equipment we're confident will do a good job or will help you get the cleaning power you want. Bortek Industries is known in the industry for standing behind its products and for offering high quality every time.
7. Consider Going Bigger
One of the biggest advantages of buying used cleaning equipment is the cost. There are substantial cost savings with buying used sweepers and cleaners compared with buying new equipment. You can translate those cost savings into a more advanced, newer, or more feature-rich machine.
For example, you might only be able to afford a walk-behind scrubber if you buy new — but if buying used equipment, you may be able to budget for a quality ride-on sweeper. If it makes sense given your cleaning needs, you may find buying more power or more convenience helps you complete your cleaning more efficiently and with fewer breaks.
8. Don't Overlook Intangibles
Sweepers, scrubbers, parking lot sweepers and other equipment aren't just about cleaning. The cleaning equipment you choose can also have a big impact on your organization.
For example, if your team will be using scrubbers during business hours, a professional-looking and quiet machine will create a positive image for your business. It shows clients and other visitors that your team is serious about investing in the organization and offering quality services — even when it comes to cleaning.
How sweepers and scrubbers operate can also have a big impact on employee satisfaction. The workers who have to actually operate the equipment may appreciate newer and easier-to-use models, since this equipment is more likely to make their job easier. At any organization, happy employees are an important asset.
Another intangible to consider when buying used sweepers and cleaners is the green factor — and we're not talking about dollar bills. Buying used cleaning equipment is a more environmentally-friendly choice than buying new. If you're trying to build a socially conscious business, this can be an important factor to consider.
The manufacturing process for new cleaning equipment can involve toxins, heavy machinery, fossil fuels and factories producing emissions. Buying used equipment means you avoid creating more demand for new machines and you prevent machinery from heading for the landfills or junkyards. By buying used equipment, you're creating jobs for technicians while also reusing old machinery and giving it a new purpose.
If this aspect of used cleaning equipment interests you, check used models for more eco-friendly options and features — such as fuel efficiency — to make your investment even greener.
9. Buy Newer When Possible
All things being relative, newer scrubbers and sweepers are more likely to have the latest features and are more likely to have automated features, making cleaning easier. Keep service in mind, too. Older models may mean a smaller initial investment, but it may be harder to find parts if they do need maintenance. In some cases, it can even be a challenge to find technicians familiar with much older models.
10. Consider Your Business Insurance
What happens if you buy used cleaning equipment and it gets damaged or stolen due to a fire, theft or other mishap? You probably have property insurance for your business and this will likely cover your cleaning equipment as well. If you're making an investment by buying quality used sweepers, scrubbers or other machines, you'll want to review your insurance policy. Is your cleaning equipment covered? Will you need to let your insurer know if you add valuable equipment to your fleet?
If you're not sure how your purchase will impact your insurance policy, contact your insurer before you buy. At the very least, you'll want to find out whether you need to switch from a replacement value to actual cash value policy. For used cleaning equipment, actual cash value policies can make the most sense, since the insurer will reimburse you for the current value of the equipment. The premiums may be lower, too.
With replacement value policies, you'll payer higher premiums so the insurance company will replace your equipment with a new model. If you've decided to buy used, this might not make sense for you.
Could Used Cleaning Equipment Be Right for Your Business or Organization?
Bortek Industries offers a range of used and reconditioned sweepers, scrubbers and other used cleaning equipment from a variety of brands. All of our used equipment have been inspected, serviced and either reconditioned or overhauled so that they meet our high standards. Many of our sweepers and scrubbers are near-new and are ready to be used.
At Bortek Industries, our used cleaning equipment comes from our large selection of long-term leases or rentals, so all the machines have been routinely maintained by our professional technicians. When you buy used cleaning equipment from Bortek Industries, you have the assurance of our more than four decades of expertise standing behind each product. Visit our selection of used cleaning equipment. If you don't see the models or styles you need, contact Bortek Industries and one of our professional associates would be pleased to assist you.