New Equipment or Pre-Owned – What's Right For You?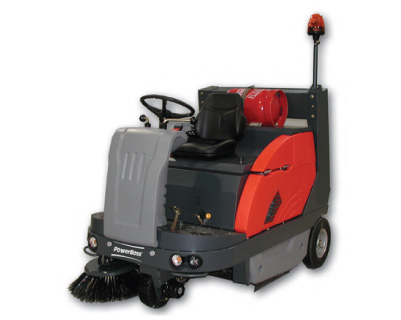 For some companies, it makes perfect sense to buy, maintain and store their own fleet of industrial cleaning equipment – particularly when they need to use such machinery on a regular basis. By buying their own fleets, companies can save money in the long run. And they also have the peace of mind that comes with knowing they always have the cleaning equipment on hand they need to keep their facilities spotless.
But not every company that wishes to keep their grounds clean needs to acquire its own fleet of new industrial cleaning equipment. While at first glance it might seem more practical to buy new equipment, such purchases often carry considerable price tags. So before deciding to splurge on new sweepers, scrubbers or floor machines, it's probably worth your while to consider whether used janitorial equipment makes the most sense for your specific operations.
Are you wondering whether your company is better suited to buying used commercial cleaning equipment instead of spending the big bucks on new machinery? If so, consider the following:
You can get near-new equipment at considerably reduced prices. While you might be tempted to grab the newest industrial cleaning equipment that's on the market, oftentimes those models are considerably expensive. What's more, because they've just been released, they might not be readily available as many other customers want them, too. On the other hand, used equipment – which is essentially just new equipment that's been put to work a little bit – is easy to get. And believe it or not, you're often able to acquire it at prices that are beyond reasonable, maybe as much as more than half off its original cost.
As a result, your cash flow will remain healthy. Instead of tying up your capital in new equipment, you can save a lot of cash by choosing to go with used machinery instead. As a result, your business will benefit from a healthier cash flow. With more cash on hand, your company will be able to grow. You can respond to new opportunities, pay your bills with ease and even open new locations if it makes sense for your operations. There's no reason to tie up your cash in new equipment when used machines do the same job at a noticeably discounted price.
Used equipment is durable. While new industrial cleaning equipment will likely help you keep the floors of your facilities clean, new models aren't proven until they've been on the market for some time. When you decide to invest in used commercial cleaning equipment, you're getting machines that have been put to work and delivered the advertised results. When you buy used cleaning equipment from Bortek Industries, you can do so with the confidence that comes with knowing you're getting machinery that's been approved by our skilled technicians who test and certify it.
And you won't have to compromise on functionality. You'll easily find the machines you need to deliver the outcomes you desire when you shop at Bortek Industries. We're pleased to carry a full catalog of used cleaning equipment – everything from scrubbers to sweepers to parking lot sweepers and everything in between – so you can grab like-new machines capable of getting your areas spotless quickly and efficiently.
Though you might be tempted to go ahead and splurge on new industrial cleaning equipment – and in some cases it might make sense to do so – as you can see, there's no shortage of reasons as to why you should consider used machinery as well.

Bortek Industries – Your Source for Used Commercial Cleaning Equipment
For more than four decades, Bortek Industries has provided commercial and industrial clients with the cleaning equipment they need to keep their facilities spotless. We pride ourselves on ensuring our customers are beyond satisfied each and every time they do business with us.
As you go about your search for the used commercial cleaning equipment you need, there's a good chance you'll have some questions. With so many makes and models – not to mention the different kinds of machines available – you might have a hard time picking out the right sweeper or the right scrubber for your applications.
Don't worry – that's where we come into the equation. Our team of knowledgeable and friendly associates will answer any questions you might have. Together, we'll work to find you the used floor scrubbers, used floor sweepers, used parking lot sweepers and other equipment you need to keep your grounds sparkling.
Bortek Industries has all your needs covered. If you don't have the budget to splurge on a new fleet of industrial cleaning equipment, rest assured you'll find the used machines you're looking for at Bortek Industries.
Our Full Catalog of Used Commerical Cleaning Equipment Includes:

Commercial equipment. Not every business needs the largest specimens of cleaning equipment to get the job done. Sometimes, something as small, compact and flexible as a hip vacuum can rid your floors of dirt, dust and other debris with precision. All retailers and small business owners need to keep their facilities clean. Bortek Industries has the used supplies you need to keep your workers and customers satisfied.

Floor scrubbers. Whether you're operating a restaurant, a research and development complex or an industrial manufacturing plant, you need to make sure your floors are always scrubbed thoroughly. In addition to enhancing the aesthetics of your facilities, you're also able to reduce the likelihood your employees or customers will slip and get injured on a dirty, sticky or slippery floor. At Bortek Industries, we have a wide assortment of used scrubbers for sale, including models from Advance, Clarke, Factory Cat and Viper. We have both walk-behind and ride-on used scrubbers in our inventory, so you'll have no problem finding the exact machines your company needs.

Outdoor equipment. Since outdoor equipment is subject to the elements and rougher conditions than indoor machinery, it needs to be rigid, tough and durable. At Bortek Industries, we carry an assortment of used outdoor cleaning equipment, including machines made by American-Lincoln and Mad Vac. All of the pre-owned outdoor equipment has been certified by our skilled technicians, so you can be confident you're getting the powerful and reliable cleaning machines you need to accomplish your objectives.

Parking lot sweepers. While you might not think much of it at first, your parking lot is the first thing customers and employees see when they arrive on your property. What kind of first impression do you want to give them? By routinely cleaning your grounds with a parking lot sweeper, you're able to increase the chances your visitors' first impressions are positive ones. On top of that, by regularly cleaning your lots, you're able to reduce the likelihood anyone will trip over debris and get injured or ding up their cars. If you're in the market for used parking lot sweepers, look no further than Bortek Industries – we've got you covered.

Street sweepers. If your corporate or industrial facility has streets of its own – or even if you oversee the roads of a city or town – you need to make sure they're routinely cleaned. In addition to increasing the aesthetics of your property, you're also reducing the likelihood accidents will occur due to cars running over large chunks of debris. When purchased new, street sweepers can carry pretty hefty price tags. However, used street sweepers – those that have passed rigorous inspections and are certified by expert technicians – provide all of the functionality of brand-new ones, but at a fraction of the cost. Bortek Industries carries a fleet of used street sweepers, so give us a call, and we'll help you find the machinery you need to keep your roads clean.

Sweepers. A broom can get the floors of some small stores and facilities clean. But if yours is an environment that's a bit more demanding, you're going to need a high-quality sweeper to get the job done. Bortek Industries is proud to carry a full line of used floor sweepers, including machines made by PowerBoss and Factory Cat. Your technicians are bound to love these dependable and durable machines – and your company's wallet will like them, too. Whether you are in need of a walk-behind sweeper or a ride-on sweeper, we've got you covered. And our inventory includes machines built to tackle all kinds of floor space, both large and small, so you won't have a problem finding the equipment you need to rid your grounds of dirt and debris. We also have diesel-, propane- and gasoline-powered machines, so choose accordingly.

Sweeper/scrubbers. Instead of buying separate floor sweepers and floor scrubbers, many business owners choose to go with combination sweeper/scrubber equipment instead. These machines can increase the productivity of cleaning technicians, allowing them to cover a whole lot more ground in significantly less time. At Bortek Industries, we're pleased to carry a complete line of used sweeper/scrubber machines. Choose between battery-powered, gas-powered, or propane-powered used sweeper/scrubbers. Your floors are certain to shine.
If you're in the market for used commercial cleaning equipment, you've come to the right place. Not sure what you want? Not a problem. Our technicians will show up for a free on-site evaluation of your applications. Our team will demonstrate the used equipment we have on hand, so you can see exactly how it'll perform on your own floors.
No Matter the Industry, Your Floors Need to Be Clean
The applications of industrial and commercial cleaning equipment really carry over to every industry. After all, business owners are certainly interested in making sure their facilities are spotless so customers aren't turned away by unkempt appearances. Additionally, governments, schools and businesses need to make sure their floors are clean so employees, staff and students are less likely to get sick or injured.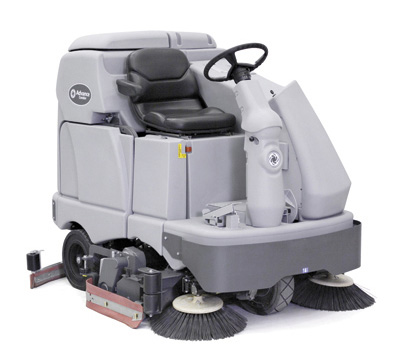 When you buy used janitorial equipment from Bortek Industries, you can rest comfortably knowing you're getting some of the best machines on the market. Our equipment keeps facilities spotless in a variety of industries:
Education. Today's students are distracted by enough as it is. Educators needn't make it any harder for them to learn. Rather than having cluttered and dirty classrooms and hallways, school administrators should strive to keep their facilities as clean and organized as possible. In addition to creating an environment that's more conducive to learning, you're also reducing the likelihood that teachers, administrators, staff and – most importantly – students will get injured by slipping and falling.
Healthcare. Doctors, nurses and medical staff are charged with ensuring patients are given the best care possible. Simply put, if healthcare facilities aren't spotless, that just can't happen. As such, it's imperative that those who manage healthcare facilities invest in their cleaning operations. By choosing to buy used commercial cleaning equipment, you're able to add a whole lot more machines to your fleet. That way, you'll be able to cover more ground in less time, lessening the disruption for your patients while also making it easier for staff members to do their jobs.
Food and beverage. To make sure customers enjoy their meals and experiences to the point they want to come back, restaurant, coffee shop and bakery owners, as well as any other food-serving entity, should strive to keep their floors immaculate. By investing in the used floor scrubbers and used floor sweepers necessary to rid your floors of dirt and grime, you can establish and maintain the exact atmosphere you wish to convey to your customers. It's also less likely a patron or staff member will trip on a sticky or cluttered surface.
Hospitality. Nobody wants to stay at a dirty hotel. Thanks to social media and smartphones, one customer's poor experience has the power to cripple a brand. As such, hoteliers can't afford to risk compromising on the attention they pay to the cleanliness of their facilities – which includes the hallways and foyer. Choosing used floor cleaning equipment means you're able to build a larger fleet, allowing your staff to tackle more ground in less time. You'll be able to make sure your guests feel right at home the moment they walk through the door.
Retail. You can't expect customers to come lining up to support your business if you don't keep your store in perfect condition. For example, most grocery shoppers probably wouldn't be too keen on stepping inside a market that has floors that are sticky from fractured gallons of milk not being properly cleaned up. Similarly, customers might not want to buy clothes from a store that has filthy carpets. When you make use of high-quality floor scrubbers, floor sweepers, carpet extractors and other cleaning equipment, you won't have to worry about scaring your customers away on sight alone.
Sporting facilities. If you've ever been to a live sporting event, chances are you've dealt with a sticky chair or ground before. It's certainly not an optimal experience. By investing in cleaning your facilities, you're able to ensure your guests have an enjoyable time while also reducing the possibility someone will hurt themselves on compromised floors.
Our used industrial and commercial cleaning equipment also has applications in:
High-tech
Electronics
Manufacturing
Warehousing and logistics
Government
Pharmaceuticals
Transportation
And more
Bortek Industries™ Provides Only the Highest Quality Pre-Owned Sweepers and Scrubbers That are Ready to Clean
We maintain an extensive inventory of used cleaning equipment in stock.
These include used floor scrubbers, used street sweepers, and used floor sweepers, used ride on scrubbers, used walk-behind sweepers, used walk-behind scrubbers, used ride on sweepers, and used ride on sweeper-scrubbers. Each piece of used cleaning equipment represents the quality and performance that our customers have come to expect from Bortek Industries . Because we are constantly receiving additional used cleaning equipment, please check back to view updates to this page.
We routinely recondition Tennant sweepers, Tennant scrubbers, Power Boss Sweepers, Power Boss Scrubbers, Factory Cat, Clarke, Windsor, and Nobles sweepers and scrubbers. One thing is very certain: we will only provide our customers with very good, certified cleaning machines. In fact Bortek Industries routinely scraps sweepers and scrubbers that most companies would sell as good machines. The reality is that there really are no so-called "deals" on used sweepers and scrubbers. Be wary, we often see customers throw away a lot of money on machines that have been polished over.
If you need any new or pre-owned industrial sweeper or floor scrubber Bortek Industries is you best choice. If your budget does not allow for a new piece of equipment then a pre-owned unit may be perfect for you. Most of our reconditioned machines are off lease or trade-ins. All of our machines have been reconditioned or completely overhauled by our expert team of Technicians.
We work to keep an extensive list of used cleaning equipment in stock. These include used floor scrubbers, used street sweepers, and used floor sweepers. Each machine represents the quality and strength that our customers have come to expect from Bortek Industries. Because we are constantly receiving additional used cleaning equipment, please check back to view updates to this page.
If you do not see a machine on our list which will fit your cleaning application, please contact us.