By Kevin Mahoney, Twin Cities Business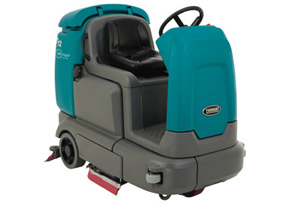 A German court ruled in favor of Tennant's competitor, which claimed that some of Tennant's advertising claims were misleading; Tennant is considering an appeal.
Tennant Company, which on Friday lost a legal battle with German competitor Alfred Kärcher GmbH & Company, said it's considering an appeal.
Kärcher sued Tennant in 2011 over the Golden Valley-based company's advertising claims for its "scrubber dryers" and proprietary ec-H2O technology. Tennant claims that its ec-H2O technology, a chemical-free cleaning solution, electrically converts ordinary tap water into a detergent that cleans effectively, saves money, and reduces environmental impact compared to traditional floor-cleaning chemicals.
Kärcher, however, disputed those advertising claims, and spokespeople from both companies confirmed Monday that a German court sided with Kärcher and ruled that Tennant must change its advertising language.
According to Kärcher, the court ruled that chemical cleaning products are more effective than Tennant's water-based solution and that, as a result, Tennant's advertisements were misleading. In a statement, Kärcher quoted the German judge as stating, "Whether it works at all is open to dispute," referring to Tennant's ec-H2O technology.
Tennant, however, said Monday that it believes testing evidence presented in the case was "seriously flawed," and the company said it will likely appeal the court decision.
"Although we have not seen the final written decision of the court, we believe it is, respectfully, based on incomplete and inaccurate information," Tennant President and CEO Chris Killingstad said in a statement.
According to Tennant spokeswoman Kathryn Lovik, the company has not seen the final court ruling but was notified of the result from its attorneys. "We haven't heard the rational or the reason behind the decision; what we assume is that the court made its decision based on the testing ordered by the court-appointed advisor," Lovik told Twin Cities Business.
"The two laboratory bench tests performed by the court appointed advisor had no or too little correlation to cleaning with a scrubber-dryer using Tennant's ec-H2O chemical-free technology," Killingstad said in a statement.
In April 2012, Tennant filed an injunction against Kärcher after the German company claimed that Tennant was already changing its advertising based on the accusations in Kärcher's lawsuit. Tennant argued that any changes were the result of an evolving marketplace and had no connection to the lawsuits. As a result, the injunction prohibited Kärcher from making such claims moving forward or face $327,000 in fines.
That same month, Tennant drew criticism for its ec-H2O technology from a different competitor. Denmark-based Nilfisk-Advance took the issue to the Council of Better Business Bureaus' National Advertising Division (NAD)—which investigated Tennant's claims. The NAD found that the company's statements that the technology converts water into a "superior cleaning solution" that "outperforms" many conventional chemicals were not supported by evidence—and it asked Tennant to stop making those specific claims.
Tennant introduced its ec-H2O technology in 2008, and it is now the company's highest-grossing product. Sales of its scrubbers equipped with ec-H2O technology have increased from $17 million in 2008 to $141 million in 2012, with $444 million in cumulative sales since the company released the product.
Supervalu, Kroger, Whole Foods, and IKEA are among Tennant's customers that use the ec-H2O scrubber, according to Lovik. Tennant is among Minnesota's 35 largest public companies based on revenue, which totaled $739 million in 2012.