It's been a long, cold Winter, and Spring fever is stronger than ever. The roads, warehouse floors, and other surfaces have been taking a beating from the snow and ice. Time to shake off the cobwebs and get your equipment out for some Spring cleaning! But before we do that, every piece of equipment requires a little bit of seasonal maintenance. If you want the machines that you value to be around for the long haul, its very important to stay up to date on all maintenance and service. For the best clean this Spring, check out these preparation tips to ensure all components of your machine are working properly to get maximum performance.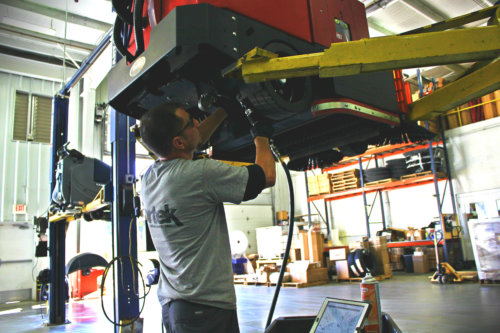 Evaluation: First, you should perform a general walk-around of your machine. Check for any obvious imperfections before really getting your hands dirty. Make note of anything that looks damaged, worn down, or possibly needing replacement parts before checking specific components.
Check all general components: It's also very important that you do a thorough check of your machines specific features. First, check the water/dust control system. Clean the filter and inspect all of the spray tips to ensure that they are functioning correctly and haven't become clogged. Make sure that the water pump is putting out the proper pressure. Look for any ware on the brooms or squeegees. Lastly, check the battery and any other unique features on your machine.
Inspect machine specific components: Follow the links provided for more information on specific power cleaning equipment. If you are seeking professional service, schedule service with a Bortek specialist today!
Street Sweepers– Inspect the pickup head. Check the heads overall condition, making sure that there is no damage which may require repairs. Check that the seal curtains are making solid contact with the pavement to keep the dust under control. We don't want to leave a dust trail heading down the road! Check the skid plate settings and ensure that the blast orifice is properly adjusted, clear of dirt and debris, and in good condition. Inside the hopper, check the dust separator for wear and make sure the door is closing properly. While in the hopper, check the screen, making sure that it is clean with no damage. If the screen has not been removed in the last six months, it should be dropped down and cleaned. Inspect the gutter brooms for buildup around the motor shaft. Keeping this area clean will prevent damage to the motor seal from occurring. For maximum sweeping performance, refer to your service manual or contact a Bortek representative for proper broom spring tension adjustment and contact pattern.
Floor Scrubbers and Floor Sweepers– Unlike street sweepers, scrubbers run on batteries, which you need to inspect and maintain regularly. Be selective in choosing your battery, such as a gel-type battery. Also, always remember to not completely drain your battery charge and keep them well charged prolong their life. No battery, no clean floors! The attached brushes under the machine collect gobs of dirt and debris. Be sure to clean the brushes regularly to avoid buildup and prevent any machine malfunction. The same goes for the squeegee. A dirty squeegee will leave marks all over your clean floors. So whats the point? Before using the machine, double check that the squeegee is clean as a whistle to leave your floors streak free.
The service manual for your machine is your friend. Always refer back to the manual for machine specific settings. If your ever in need of a parts manual, service manual, or user manual, follow the Bortek equipment manuals page for the machine in your facility. 
Please click on the following link, Bortek Service Request, or call your nearest service center at the bottom of the page for more information!