Global M3/MX3 Street Sweeper
Request Quote/Demo
Order Parts
The Global M3/MX3 is considered one of the toughest street sweepers in the industry. Purpose-build design with safety and low operating costs headlining this machines main features.
The Global M3/MX3 Street Sweeper counts itself among the toughest and most effective 3-wheeled sweepers in the industry! The Global M3/MX3 is purpose-built and designed with reliability, superior safety, low maintenance, intuitive operation, and lowest operating cost per swept mile in mind. The GLOBAL M3 offers unique and extraordinary features that cannot be found in any other 3-wheeled sweeper. To name a few, this includes an amazing 12.5 foot turning radius, low center of gravity, exceptional visibility, and the largest hopper capacity in it's class.
The M3 and MX3 have new and unique looks. The cab has been outfitted with controls and a layout that suits the operator for maximum comfort while operating the machine. Global kept you in mind while building this reliable, affordable, innovative, and extremely effective sweeper.
Global Environmental Products have outdone themselves by producing these stellar sweeping machines. Inside and out, the M3 and MX3 integrates the latest and most advanced technology. The M3 and MX3's design, exceptional power, versatility, and overall productivity optimizes that technology. We know all about how street sweepers need to have exceptional standards when it comes to safety, ease of operation, comfort, economy of operation, and minimal maintenance. The M3 and MX3 meet and exceed those standards, through and through.
The Global MX3 pushes the envelope a little further than the M3 by offering additional options such as an AM/FM CD radio, Dual In-Cab Gutter Broom Tilt, Air  Ride Seat, Heavy Duty Sweeping Package, and Full Suspension and Stainless Steel Hopper with a Lifetime Warranty! The options of the MX3 allows it to be unmatched when it comes to performance.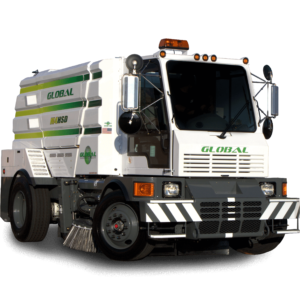 These Street Sweepers are, as the name implies, built from the ground up with the main goal of creating a machine that cleans your streets.
Their chassis-mounted brethren are built with the same goal, but unfortunately, they're forced to sacrifice in some areas due to the multitude of limitations the truck chassis poses.
Machines like the Dulevo 6000 also has the advantage of being able to be tuned to perfection when it comes to sweeping. This machine, being a
purpose-built
sweeper, has all four wheels turn at the same time, ensuring you can complete sharp turns without missing any debris on the road.
Another huge benefit to purpose-built sweepers is the main brooms are directly behind the side gutter brooms.
This, by its very design, leaves little to no room for debris to be missed while you're turning your machine around in a cul de sac or dead end.
Not only does it ensure maximum debris pickup, they tend to have much a sharper turn-radius than chassis-mounted sweepers. The image below was made for a municipal customer who asked about why his chassis-mounted sweeper leaves so much debris behind during a tight turn around in neighborhoods-- just to give you an idea of what kind of debris pickup you can achieve in a very tight turn-around area with a
purpose-built
sweeper. You would have zero issues in areas that allow for wide turns, this is really just so you can see how the placement of the rear broom really helps in this sort of situation. See the Chassis-Mounted tab below for a comparable situation.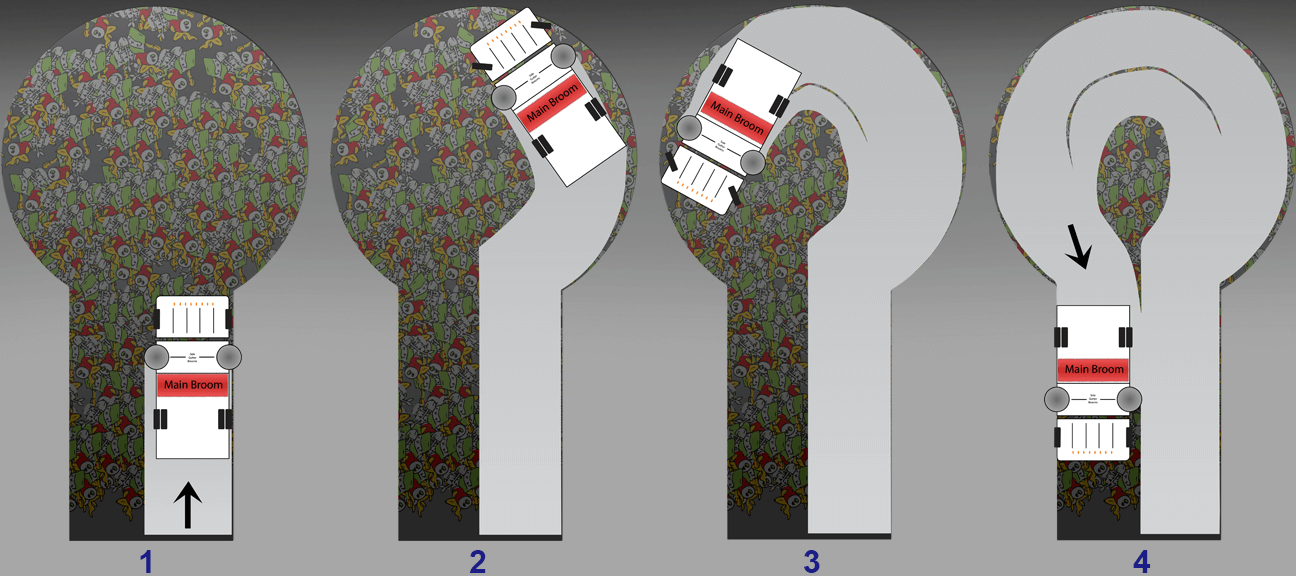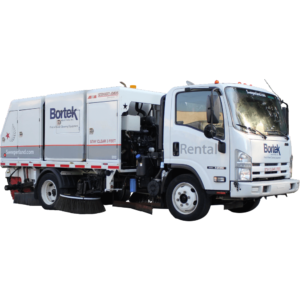 These Street Sweepers have the main body of the sweeper designed to be mounted to a truck chassis-- typically an Isuzu or Freightliner (or similar). That means that the design itself is forced to be created with the limitations of the chassis itself. For example, the chassis must remain intact so the main broom has to be mounted to the rear of the sweeper. For long, straight roads, this poses no issues. With that said, if you're sweeping roadways with a lot of sharp turns, like the ones you'll find in densely populated cities, this may not be the best bet for you.
We don't mean to discourage you, by any means, especially if this is what you're looking for. We're simply making you aware of some aspects you may wish to consider. These chassis-mounted street & parking lot sweepers are fantastic solutions for folks looking to clean up highways or major roads or for those of you who are in need of a relatively affordable machine to keep your manufacturing plant areas up to snuff regarding your cleanliness standards.
The image below was made for a municipal customer who asked about why his sweeper leaves so much debris behind when he's forced to make a sharp turn around in a cul de sac. The gap left between the main broom and gutter brooms are the culprit, unfortunately. Again, this is not an issue if you're sweeping large stretches of relatively straight roads, just be aware that in-town, this could pose a problem.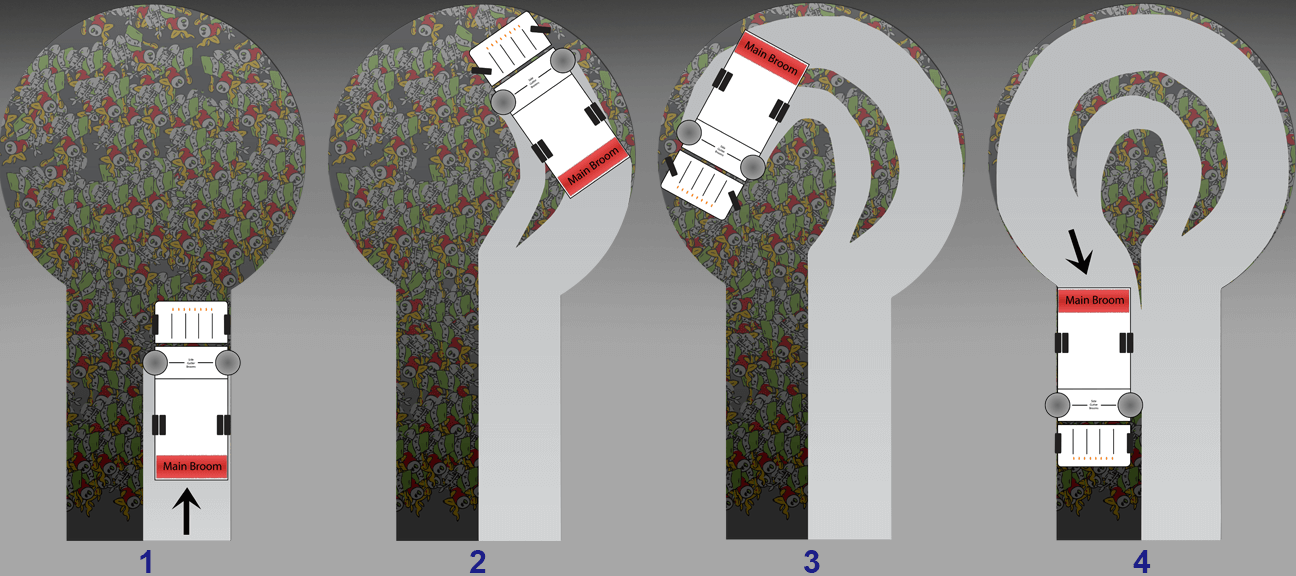 GLOBAL M3 SPECIFICATIONS

Engine:
115 HP John Deere 4045T turbo-charged diesel Tier 3/IT4
Sweeping Path:
125 in.
Hopper Size:
5.6 cu. yards
Turning Radius:
12.5 ft
Payload Capacity:
12,000 Lbs
Water Capacity:
230 gal.
Road Speed:
25 MPH
Dirt Conveying Width:
58 in.
Gradeability:
21 Degrees
Gutterbroom Diameter:
47 in.
ONE BUTTON OPERATION-ERGO SWITCH-STANDARD

 

Additional information
| | |
| --- | --- |
| Equipment Type | |
| Manufacturer | |
| Condition | |
| Power Source | |
| Surface | |
| Square Footage | |
| Cleaning Path | |
| Cleaning Method | |
| Battery Pack Volts | |
| Indoor/Outdoor Use | |
| OSHA HEPA Compliant | |
| Country of Origin | |