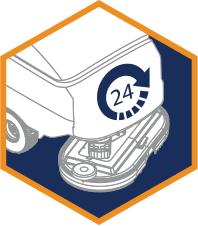 First in Power Cleaning Equipment®
Engineered Simplicity® Available Exclusively at Bortek. 
With effective and efficient cleaning power, these machines are designed to tackle even the most grueling cleaning demands your facility has. Sure, that's great and all, but what makes these such great tools to have is that they are designed with a heavy dose of the all-too-rare common sense. "Engineered Simplicity" isn't just a tagline. It's our way of thinking.

Showing 1–12 of 18 results
HammerHead 950MS Sweeper

For a machine that is not battery powered, the 950MS is extremely effective with three brushes and the main brush sweeping debris into the hopper. Plus, it is lightweight and folds up to save you storage space.

Request Demo