Parking Lot Sweeper Rentals
Often times when you think of Bortek and our equipment, you think of cleaning streets, warehouses, and other areas of your facility. And understandably so, these are our areas of expertise. However, we like to think outside the box! Given the proper equipment, our sweepers can handle any job any time. Specifically, we see parking lots and parking garages as two locations that are often overlooked for our services.
When a customer first arrives at your facility, where is the first place they go? The parking lot. Every business strives for a clean and presentable space inside their facility. But what about outside the facility? A clean parking lot and/or parking garage can make for a great first impression for customers but is sometimes overlooked. A dirty, gritty parking lot conveys a business that lacks professionalism to your customers before they even walk in the door. The asphalt and concrete surfaces in your parking lot or garage represent a significant investment, so it makes sense to keep them clean.

Our parking lot sweeper rentals are just what you need to help impress your customers. Clean parking lots are good for your business and good for the environment as well. Whatever has prompted your search for parking lot sweeper rentals, we have the experience and the equipment you need. Regularly sweeping your parking lot or parking garage sure beats the cost of repairing or repaving that same surface. Sweeping parking lots also reduces the need for interior floor maintenance. The less debris remaining in the parking lot the less your employees or customers are dragging in.
If you don't plan to use the sweeper frequently, you probably want to consider the values of renting a parking lot sweeper. When you rent parking lot sweepers, you can:
Spend less money 
Get the machines you need every time
Be more efficient
Bortek's Best
---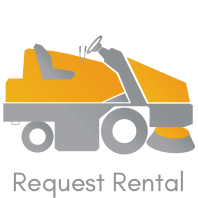 For over five decades, the friendly and knowledgeable team at Bortek Industries has worked with various customers to find the rental that makes the most sense for their particular situations. No matter how big or small your parking lots are, we have the rental parking lot sweepers you need to ensure your grounds are spotless. If you want to find the parking lot sweeper rentals that are right for your business, contact our experienced staff today! We'll point you in the right direction and recommend the best sweeper so you can be confident that you're getting the right machine!