Parking Lot Sweeper Rentals
Often times when you think of Bortek and our equipment, you think of cleaning streets, warehouses, and other areas of your facility. And understandably so, these are our areas of expertise. However, we like to think outside the box! Given the proper equipment, our sweepers can handle any job any time. Specifically, we see parking lots and parking garages as two locations that are often overlooked for our services.
When a customer first arrives at your facility, where is the first place they go? The parking lot. Every business strives for a clean and presentable space inside their facility. But what about outside the facility? A clean parking lot and/or parking garage can make for a great first impression for customers but is sometimes overlooked. A dirty, gritty parking lot conveys a business that lacks professionalism to your customers before they even walk in the door. The asphalt and concrete surfaces in your parking lot or garage represent a significant investment, so it makes sense to keep them clean.

Our parking lot sweeper rentals are just what you need to help impress your customers. Clean parking lots are good for your business and good for the environment as well. Whatever has prompted your search for parking lot sweeper rentals, we have the experience and the equipment you need. Regularly sweeping your parking lot or parking garage sure beats the cost of repairing or repaving that same surface. Sweeping parking lots also reduces the need for interior floor maintenance. The less debris remaining in the parking lot the less your employees or customers are dragging in.
If you don't plan to use the sweeper frequently, you probably want to consider the values of renting a parking lot sweeper. When you rent parking lot sweepers, you can:
Spend less money 
Get the machines you need every time
Be more efficient
Bortek's Best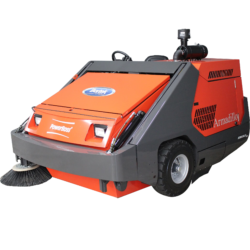 PowerBoss Armadillo 10X
Built with a heavy-equipment design criteria, the PowerBoss® Armadillo 10X is constructed to handle places where continuous sweeping is necessary. With the largest sweep path in its class, this industrial sweeper can handle parking garages as well as airports, rail yards, amusement parks, port authorities, and countless other applications that require daily cleaning.
Dulevo 850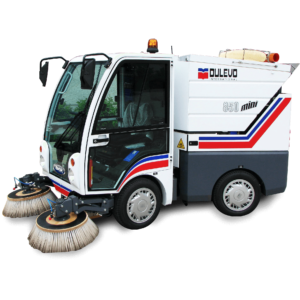 Thanks to its sweeping width of up to 63 inches, this powerful suction sweeper can cover over 72,000 square feet per hour and is backed with an impressive performance rating. The Dulevo 850 is one of the best cleaning solutions as it combines effective sweeping capabilities with a complete ease of maneuverability. You'll be thankful to have the Dulevo 850 when maneuvering through parking garages, parking lots, city centers and areas difficult to reach by traditional sweepers such as sidewalks, entry ways, pedestrian areas, warehouses, etc. The wet sweeping capabilities only adds to this machines usage. Dust control has never been easier with this machine or any of the Dulevo's. Don't let the "mini" sweeper name fool you, this machine's got it all!
Global V4 Air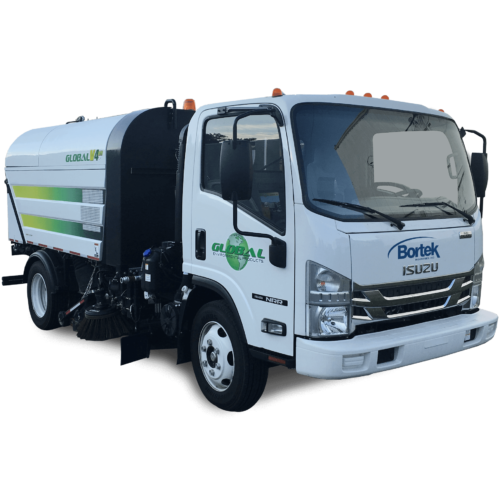 Get ready for a highly efficient and heavy duty vacuum sweeper! The fine dust emission from a Global V4 Vacuum Air Street Sweeper is 50% less than that of purely suction concepts. No dirty air is expelled into the working area at the rear and around the sweeping machine. Additional street cleaning is achieved by adding water to the recycled air. In winter the VIAJET can operate in temperatures as low as 23 °F, due to the circulating air in the system being warmed to about 59 °F, thus preventing the water in the suction shaft and hopper from freezing.
PowerBoss Atlas
The PowerBoss Atlas delivers reliable, cost-effective performance in a maneuverable and compact package. This 64″ industrial sweeper can be used indoors and outdoors in parking lots, universities, hospitals, hotels, resorts, manufacturing facilities, distribution centers and more. Using the latest, most fuel efficient engines on the market, the Atlas comes with your choice of gas/lp or diesel powered option, giving you the versatility to choose the right power source for your application. With only 83 dba noise level, this quiet machine can be utilized with little disturbance to others. By utilizing a premium hydraulic system to raise and lower the main and side brooms, the Atlas' system is designed to be more cost-effective and reliable over the life of the machine.
---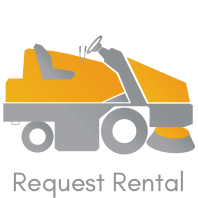 For over five decades, the friendly and knowledgeable team at Bortek Industries has worked with various customers to find the rental that makes the most sense for their particular situations. No matter how big or small your parking lots are, we have the rental parking lot sweepers you need to ensure your grounds are spotless. If you want to find the parking lot sweeper rentals that are right for your business, contact our experienced staff today! We'll point you in the right direction and recommend the best sweeper so you can be confident that you're getting the right machine!