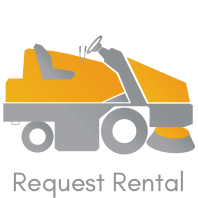 We are nearing that time of year, once again, to turn the page from Summer to Fall. Fall means trading in those swimsuits for a comfy sweatshirt. Fall means sending the kids back to school. And Fall also means gearing up for another exciting football season. But most notably for us, Fall means the leaves are changing and we're about to have a whole mess of leaves and twigs all over the place. To help you keep your streets, parking lots, and warehouses clear of any and all road debris, we've got the best equipment rentals in stock, ready to go!
We have these rentals prepped and ready for you to use but ACT FAST! Towards the end of August and into the beginning Fall months, those machines get booked in advance and go out the door, VERY quickly. Click below to find the rental for you!
Equipment Spotlight:
Dulevo 6000 Evolution Street Sweeper
The Dulevo 6000 Evolution Street Sweeper is built upon an innovative design, robust constructions, effective solutions for applications, and the unique waste hopper. The Dulevo 6000 Evolution is the definition of cleaning perfection regardless of extreme weather or beautiful sunshine, it will get the job done. Next to the typical operating spectrum of cleaning roads and parking lots, the 6000 is the solution that enlarges the spectrum of surface cleaning into all environments. Whether it be for municipal use, cement and steel industrial, power plants, or use at an airport, the 6000 is perfectly suitable for hard to reach areas due to its compact dimensions and the unique maneuverability.
The PowerBoss Atlas delivers reliable, cost-effective performance in a maneuverable and compact package. This 64″ industrial sweeper can be used indoors and outdoors in parking lots, universities, hospitals, hotels, resorts, manufacturing facilities, distribution centers and more. The Atlas comes with your choice of gas/lp or diesel powered option, giving you the versatility to choose the right power source for your application. With only 83 dba noise level, this quiet machine can be utilized with little disturbance to others. By utilizing a premium hydraulic system to raise and lower the main and side brooms, the Atlas' system is designed to be more cost-effective and reliable over the life of the machine.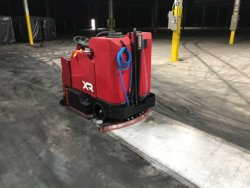 The Factory Cat XR Series rider scrubbers gives you the ability to effectively clean virtually any environment, from distribution centers, to factories, to airport hangars. Its compact size gives the XR the ability to make tight turns easily in semi-trailers and other narrow spaces. With rugged steel construction and high productivity, the XR can tackle any cleaning challenge you put in its path. The gimbaled brush drive of the Disk model delivers 45% more scrubbing power than competitive models. Cylindrical models sweep and scrub in a single pass, thereby eliminating the need to vacuum before scrubbing.
Best of the Rest:

Bortek carries an extensive array of scrubber rentals, sweeper rentals, and street sweeper rentals for you to choose from. Along with this advanced design, PowerBoss and Factory Cat products provide exceptional power, versatility, and overall productivity. We know all about how cleaning equipment needs to have exceptional standards when it comes to safety, ease of operation, comfort, economy of operation, and minimal maintenance. These machines meet and exceed those standards, through and through.
*Availability of machines in our rental fleet fluctuates often due to the high demand we experience in the Fall. CALL AND RESERVE YOUR CLEANING EQUIPMENT BEFORE ITS TOO LATE!