Make no mistake about it, the Ebola virus is a legitimate cause for concern and should be given serious attention. As much as we care about our family here at Bortek, we want to be sure that you and your employees are fully informed about the issue as well. Our goal is that you will make all of the necessary precautions to prevent the disease from spreading throughout your facility.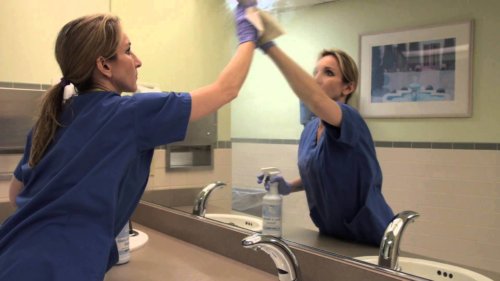 Ebola is a rare and deadly disease caused by infection with one of five Ebola virus strains. These strains cause sever fever in humans. Ebola is spread through bodily fluids and has a fatality rate of around 50%. The CDC (Centers for Disease Control) has stressed that Ebola does not transmit through air, water or food: you can only become infected through contact with contaminated bodily fluids, objects or animals. This makes places such as your office bathroom, kitchen/breakroom, and other frequent points of contact vulnerable to contamination. Take a look at our supply page for anything cleaning related to help make your facility as Ebola safe as possible.
The recommended safety measures for Ebola include PPE (personal protective equipment) as well proper disposal and disinfection procedures. PPE includes items such as clothing, helmets, goggles, and other garments or equipment designed to protect the wearer's body from injury or infection. The CDC recommends using an EPA-registered hospital disinfectant to contaminated environments and surfaces after cleaning. There are no products with specific label claims against Ebola, but disinfectants with label claims against non-enveloped viruses are more potent and capable of inactivating both enveloped and non-enveloped viruses.
Bortek Industries offers EnvirOx's products which have label claims against both enveloped and non-enveloped viruses. Disinfecting is a three-step process; surfaces must first be cleaned, sanitized, and then disinfected. H2Orange2 and Critical Care are an effective cleaning & disinfecting system for water-safe-surfaces; use H2Orange2 first to clean and sanitize any potentially contaminated surfaces, then disinfect with Critical Care. This process meets the CDC's recommendations for containing the spread of Ebola.
Cleaning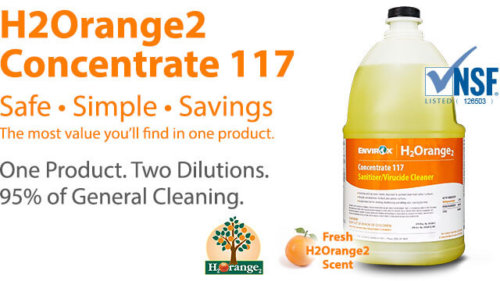 Typical disinfectants, quite frankly, don't clean very well. If a surface is not clean prior to disinfecting, forget about it. You must be certain that the surface is clean for the disinfectant to be effective. Every time you clean with H2Orange2 Concentrate 117, you restore your facility to its cleanest, safest, Ebola free state. Streak free mirrors, renovated grout and odor destruction are just the beginning. For best results, identify desired cleaning surfaces and touch points that get the most traffic. Apply heavy duty H2Orange2 Concentrate 117 to clean and sanitize at the same time. Depending on the surface, wipe or mop up excess liquid.
Sanitizing
H2Orange2 Concentrate 117 is an EPA registered Sanitizer for hard surface cleaning. H2Orange2 Concentrate 117 works best when you follow these simple steps.
Step 1: Spray Heavy Duty dilution on the hard surface then wipe clean.
Step 2: Thoroughly spray the surface again with Heavy Duty dilution. Let heavy duty sit for at least 5 minutes before wiping or let air dry. No rinsing is necessary.
Disinfecting
Use an EPA-registered disinfectant, such as the EnvirOx Critical Care, that is suitable for non-enveloped viruses to treat contamination/spills and to disinfect surfaces after bulk spill material has been removed. Non-enveloped viruses are typically more difficult to destroy than enveloped viruses, such as the Ebola virus. Stronger disinfectants used to destroy non-enveloped viruses are considered effective against more susceptible enveloped viruses. Always follow the manufacturer's instructions (concentration, application method, and contact time) for the specific disinfectant being used.