CustomerLink…an efficient way for you to do business. Sign Up today!
Today's technology has allowed it to be easier than ever to do business with Bortek Industries. Our exclusive CustomerLink provides you, our valued-customer, with an easy to access source of information. Whether it is to view your order history, repair history, place a repeat order or follow up on an existing order, this customer-focused system provides you with the ease of doing business while maximizing the accountability of Bortek Industries. It is like having your own virtual Bortek Industries representative at your finger tips any time of the day or night.
Benefits Include: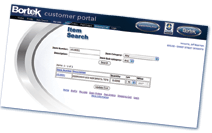 24/7 Easy Access
Order Supplies, Parts, Equipment, Rentals and Service – all in one order with the click of a button
View Order History
Purchase Accountability by Approved User
Unlimited Personalized Shopping Lists
User-Friendly System
Sign Up for Bortek Industries 's CustomerLink Program
Please complete the form below, and we will contact you shortly.