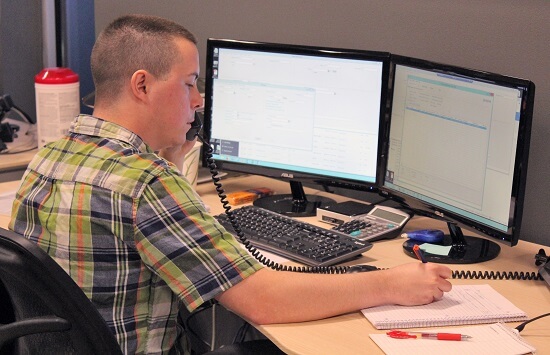 About Us
Bortek is a family company. We're not some international, faceless corporation that sees our employees by numbers alone; everyone here is part of the Bortek Family. Yeah, yeah, it sounds cliché, but it really is the best way to describe it. We're not just here to do a job. We're here to meet needs, strive for improvement, and build relationships.
Here to Help. Come and Join Our Growing Team!
At Bortek Industries, Inc., we sell the top brands of equipment in the world and service all brands of sweepers and scrubbers, including street sweepers. We don't expect you to know all about that sort of thing already, just that you're motivated and able to learn!
About the Position
Customer Service Representative – Experts of problem solving and communication
No beating around the bush – as part of our Customer Service team, you'll need to be skilled with phone communication. Also you'll be learning a lot of information across a variety of areas. Plus you'll have to multi-task, have attention to detail, and solve problems on the fly. If all that didn't scare you off, great! You could have what it takes to join our highly valued customer service team.
At Bortek, we focus on serving the customer's needs in every part of the business, from the initial sale to maintenance and beyond. Imagine a customer service experience that's actually helpful and friendly. That's what we provide, and you can be a part of it! When we get a call or walk-in customer who needs help, you'll be there with the information they need, the critical thinking skills to determine solutions, and the means to bring about positive results.

Employment Type:
Requirements:
Customer Service experience strongly preferred
High School or equivalent diploma
Ability to manage data entry on multiple screens
Comfortable in a fast-paced environment
Personable, friendly attitude – portrays a positive image and inspires confidence
Ability to multi-task
Dependable team player
Willing to learn and able to exercise professional judgement to find resolutions
Benefits:
5-day workweek
Paid holidays
Paid vacation
Health insurance: Vision, Medical, Dental
Excellent retirement plan
We Provide:
Training
Technical support
Uniforms
Monday – Friday work week, regular first shift hours
For more information on our specialized, recession-proof equipment business, please browse around our website! Apply online today for immediate consideration.
Bortek is a drug-free workplace. Criminal background, driving background, and drug screening will be checked on all hires. We are an Equal Opportunity Employer.
Current Openings
Click on a position of interest below to apply. Posting locations may reflect a general area for positions requiring travel.