Floor Scrubber Rentals
Whether you're in large industry or an individual subcontractor, whatever equipment your projects demand, Bortek Industries™ can handle your floor scrubber rental needs.
We carry an extensive array of premium brand industrial sweepers, scrubbers and sweeper/scrubbers for immediate rental on a short or long term basis. Our equipment is the perfect solution for cleaning any commercial, industrial, or outdoor floor surface, We also offer full-service facilities that are staffed by trained professionals who know the business and can work quickly to find the equipment you need to advice you want on the most effective methods.
Why Rent Floor Scrubbers from Bortek Industries?
On-time Deliveries
•
Reliable equipment
•
Safety
•
Performance
Daily, weekly, monthly and extended terms available
Sweep anything from fine dust to wood chips, nuts, bolts, etc. for any indoor or outdoor application.
Bortek Industries stocks many models from small walk-behinds to large riders.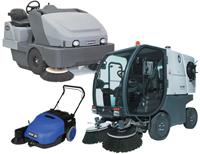 For large area sweeping and scrubbing of various debris, compacted dirt, grease, oil, etc.
Available in a variety of power sources including LP, battery, gas and diesel.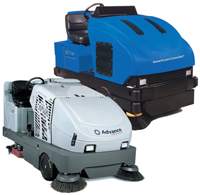 These machines scrub floors with cleaning solution then vacuum them dry. Cleaning anything from loose dirt to grease, oil, and tire marks.
Scrubbers are available in walk-behind and rider models to suit any size application.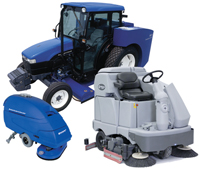 *Those pictured here are just a few examples.
" My Field Services Department recently utilized an Advance Walk Behind scrubber from Bortek Industries's Rental Fleet for a remediation job in Lancaster, PA. Bortek Industries provided me with a late model floor scrubber, appropriate cleaning chemicals for that unit, and knowledge to complete this job in a timely and efficient manner. They were easy to deal with, delivered the machine to my jobsite, and were able to adapt to my schedule change on short notice. This equipment performed at a high level and met all of my expectations.

I would strongly recommend Bortek Industries for anyone in need of Industrial Floor Cleaning Equipment. I plan to use them for any and all future scrubber or sweeper needs. "
- Rick Dom, Account Executive Environmental Recovery Corporation
Lancaster, Pennsylvania
"We recently had a 1,000,000 square foot project in Quakertown, PA for Georgia-Pacific; and rented equipment through Bortek Industries . What a fantastic experience! Bortek Industries provided two power scrubbers and they arrived clean and in excellent condition. Having the proper equipment ensures my company, KAT-Environmental, can provide quality service. Being 1,200 miles away from the job site was an initial concern. However, your personal attention to detail and Bortek Industries 's commitment to service provided a great sense of security."
- Thomas W. Payne, President Kat-Environmental — Dallas, Texas
Bortek Industries , Inc has a large fleet of Industrial Scrubbers and Sweepers to meet your Industrial Equipment needs. Whether you're in a large Industry or an individual subcontractor, whatever equipment your project demands, Bortek Industries can handle your rental needs including floor scrubber rentals, street sweeper rentals, and parking lot sweeper rentals. We have short-term rentals available on a daily, weekly, or monthly basis. If you need a long-term rental but cannot buy immediately then contact one of our rental specialists to discuss our long-term options. Bortek Industries has trained professionals who know the business and can work quickly to find the equipment you need to get the job done.
Bortek Industries carries an extensive line of industrial equipment including Ride-on Sweepers and Ride-On Scrubbers. Ride-on sweepers offer convenience to the rider while providing the power of a Bortek Industries sweeper. Ride-on sweepers and floor scrubbers are available for sale and for rent.
We offer parking lot sweepers, High productivity litter sweeper/vacs with large sweep paths, High capacity sweeper/scrubbers, Floor scrubber rentals, Glycol removal, airport tarmac scrubbers, and more for an affordable price.